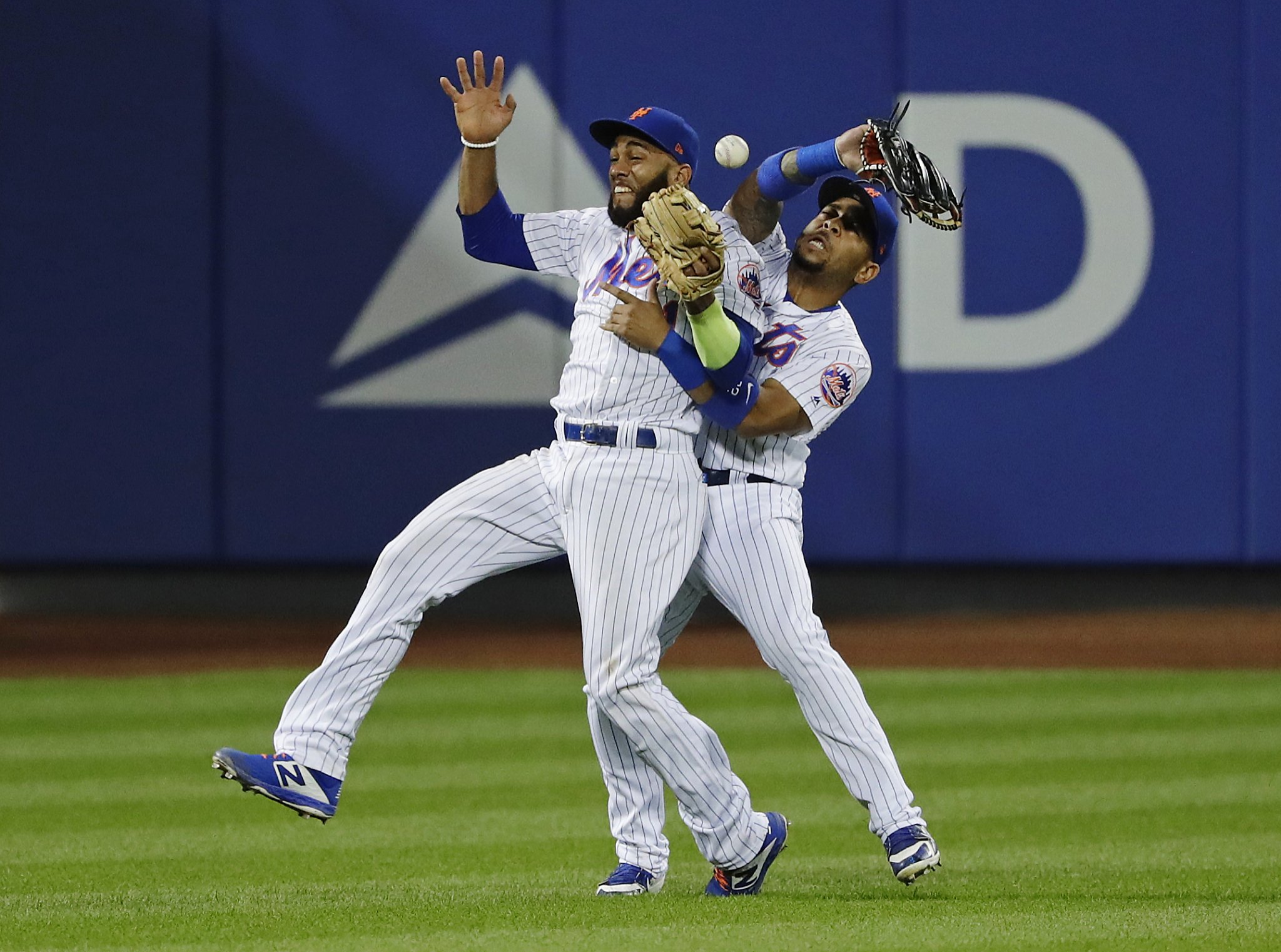 Photo: Frank Franklin II / Associated Press

NEW YORK – The ball went up, and the Giants' season was about to go further down.
That's how it seemed.
The Giants beat The Monday night saw a 2: 1 in 13 innings as two New York defenders attacked each other in a seemingly routine pop-up in the flat left field.
"Not the way you build it," said Andrew McCutchen, who made the decision in a most unusual way, "but it worked out for us."
With two outs at the top of the 13th, when Brandon Crawford's Tyler Bashlor raised above the shortstop Amed Rosario and left fielder Dominic Smith in the sky, Giants' setting went back to the bottom of the 13th.
Coach Bruce Bochy turned to pitch coach Curt Young to talk about the Bullpen strategy.
Buster Posey turned second, he would go to the shelter and carry on his gear.
Chase d & # 39; Arnaud took a few steps toward his glove and thought he was about to run for the third base.
McCutchen jogged home from third, but looked over his left shoulder just in case.
Just in case.
"You could see the game unfolded as the ball reached its peak and was on its way down," said McCutchen. Â € œYou saw the left fielder come in hard, Rosario has gone back. You're like, "Oh oh, that could happen."
It happened. Smith, who spends most of his time as the first baseman, did not realize he was being waved off by Rosario and bumped into him, causing Rosario to drop the ball. Smith got the mistake, and the Giants laughed last.
"When they dropped it, I was two steps away from the plate and stepped on it very fast, laughing all the way to the shelter," said McCutchen. "Everybody was the size of a big-eyed emoji on your phone, everyone was pretty baffled, but someone will be stunned if that happens."
An avid Bochy introduced the bullpen conversation. A shocked Posey pushed into third base – the catcher's equipment could wait. A relieved D & # 39; Arnaud attended the dugout party.
And the Giants' run of bad luck ended in four games, even though they bump badly with runners in scoring position: a hit in 12 atbats. This is Crawford's game decision slain fly who slaughtered the Mets.
"I'm honest, I missed it," Bochy said. "I figured it would get caught, I turned and talked to Curt about the bullpen, I heard screaming so I knew we'd hit."
Bochy wanted to tell Young that the pitcher was Casey Kelly should liberate. If the game went deeper into the night, Hunter Strickland would be 14th and Kelly would have left. Kelly is scheduled to start on Wednesday, but Ty Blach would have refilled.
After all, that did not matter. Derek Law, remembering Triple-A Sacramento's early Monday, finished the victory. He and five other relievers combined for eight scoreless innings. Starter Derek Holland gave up a run in five innings.
"I can not say the word I needed," said Holland, describing his feelings in Crawford pop-up. "It's just crazy how it happened."
Giants hits repeatedly raced runners on the base. An exception came in the seventh when Alen Hanson broke a double-field double that counted Crawford.
Former Giants prospect Zack Wheeler, who had won his previous six starts, hit ten more than seven innings. Another Met with Giants gangs, Austin Jackson, who appears to have reincarnated in Queens, had one of six thugs and hits with his new team on .361.
Jackson did not show much on the plate or in the field with the Giants this season. Not so with the Mets. In the second inning, he did a dive to rob Brandon Belt.
"It was good to have a break," Bochy said. "We had our problems in pretty good situations where we just needed a base ball, we got a break, you take it, it's a great feeling."
John Shea is the national baseball author of the San Francisco Chronicle , Email: jshea@sfchronicle.com Twitter: @JohnSheaHey