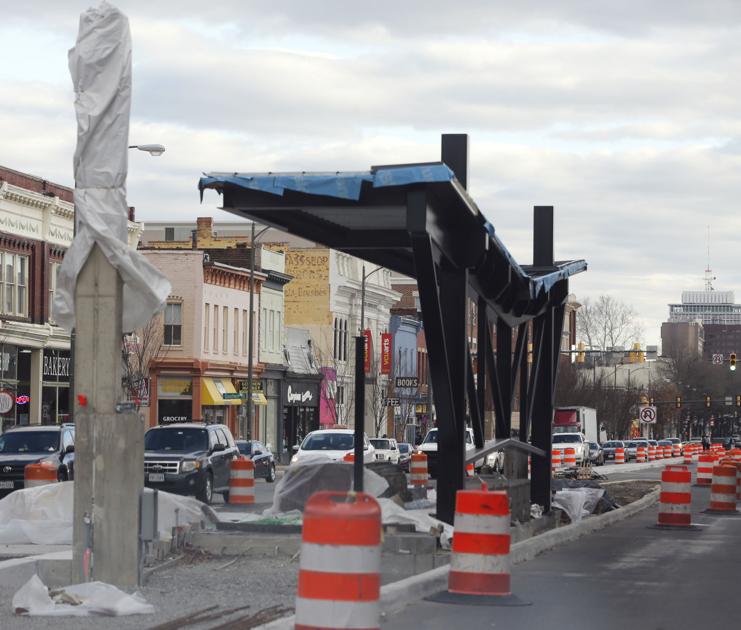 After a construction period of 22 months, the express bus line of the GRTC Pulse Bus will start on Sunday, June 24th.
The Greater Richmond Transit Corporation announced the launch date on Monday morning. The 7.6-mile route will run more often between Willow Lawn and Rocketts Landing along Broad Street and East Main Street. Prices for the service are the same as the local GRTC routes: $ 1.50 per trip.
"GRTC is committed to clean, safe and reliable transportation by asking the public for new travel patterns," said GRTC CEO David Green in the press release. "This increased awareness is crucial to the safety of all road users."
Construction of the $ 64.9-million project began in August 201
6. City officials and the GRTC originally said the project would be completed by October 2017, providing financial incentives to contractor Lane Construction. Technically, Lane has until 30 June 2018 to finish the project.
The works along the route have extended into the spring and will continue in the coming weeks when the stations of the bus line are completed. GRTC announced earlier this month to remove the orange timber barrels along the route and begin test runs on the bus route.
Traffic and parking disruptions along the route have baffled some business owners who said construction of the project had damaged their bottom
On the same day that the Pulse service begins, GRTC will introduce new local routes, the described in the Richmond Transit Network Plan. You can read more about the changes here.