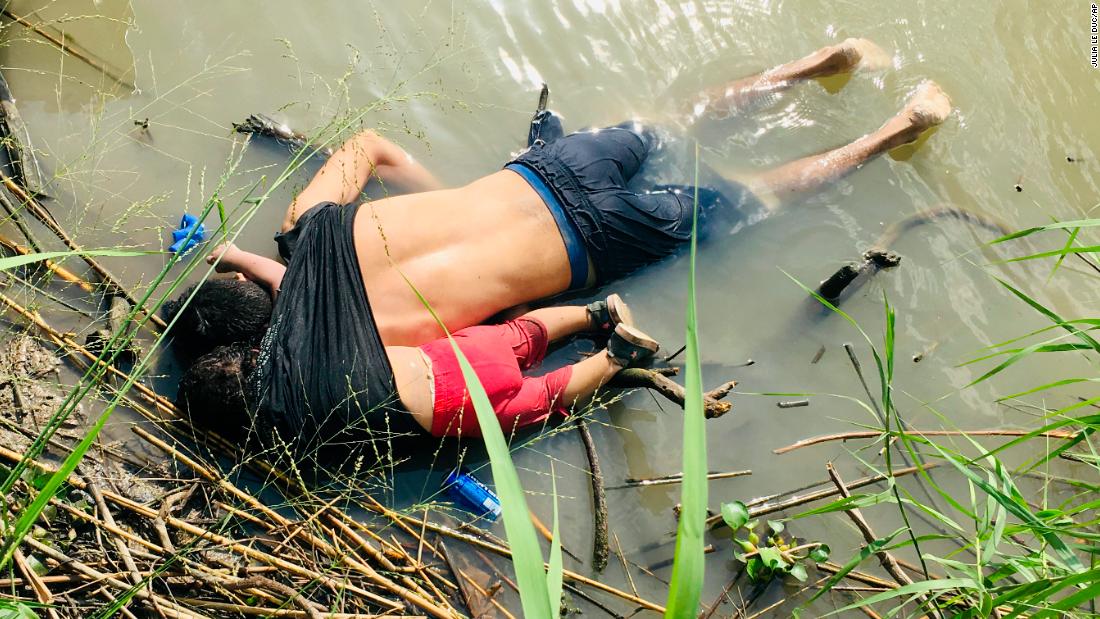 I know, it's tempting to look away. I tried. I tried to avoid the stories about the deplorable conditions in the camps near the southern border. Babies who take care of babies. Migrants ask for help. Maybe you also tried to avoid this. We can not do that.
The humanitarian crisis at the border is again high on the national news agenda. I've noticed this all month – an increase in stories and columns and sections on the situation – and now it's # 1 for several reasons. Let's take a closer look …
This photo of a father and a Daughter drowned on Sunday crossing the Rio Grande was captured by journalist Julia Le Duc and published by the Mexican newspaper La Jornada, according to The AP. It highlights the dangers that most Central American migrants face when fleeing violence and poverty and seeking asylum in the US.
CNN's team writes: "The photograph is a vivid reminder of the danger that many face when they try. It shows the human toll of a border crisis often discussed with abstract statistics and detached political arguments. "And it brings back memories," to a 3-year-old Syrian boy, Aylan Kurdi, whose body was washed ashore on a beach in Turkey, while the iconic image of the 201
5 drowned toddler remains in the sand, causing debate over politics towards migrants. "
"This image came out for a reason."
Chris Cuomo said Tuesday night in his CNN program. He noted that there was "a debate within the news organizations – whether this should be shown – [and] which is not unusual – we are worried about the startling effect of this grisly reality." But the reality is, "It's terrible, whether you're a parent or just blood pumping through your veins."
"I can not even look at it, Chris," said Don Lemon at the end of Cuomo's show.
"You have to," said Cuomo.
What do NOT we see?
There was a "press failure" in prisons, wrote Paul Farhi of the WaPo on Tuesday. The Americans are "largely in the dark about the conditions in state facilities designed for migrants who have crossed the border." Photos and television images are rare and often obsolete, and even rarer are interviews with managers and employees of federal agencies or with the children themselves . " Read Farhi's full story here …
Rely on used reports
people who have access to these facilities, "said Rachel Maddow of MSNBC on Tuesday night.
" Usually " she claimed, "Do not talk to the press about their visits. They are used in ongoing litigation and legal matters. "But" over the past week, they were so shocked and disgusted by what they found that they decided to go public and raise the alarm for the first time. "And these reports are an important reason why this topic is back Some other reasons: Ongoing litigation … Ongoing activism … The resignation of the acting border police chief of Tuesday, which led the nightly news programs … And the adoption of a new bill on border assistance on Tuesday evening … [19659005] Trump distracts …
When CNN's Abby Phillip Trump asked if he was worried about conditions at the border, Trump said, "Yes, I'm very worried. And they are way better than under President Obama by far.
He also said the children were treated "very well," which led Fox Shep Smith to reread the reports from Clint, TX Mediaite has the video …
Rescuing Soldiers Woman and Child on the US-Mexico Border
This story by Ryan Browne of CNN is a timely reminder of what Americans are doing to alleviate the suffering, with all the disquieting headlines: "Two US Soldiers On behalf of the US-Mexico border, they saved a woman and a child on Thursday to protect the migrant family from drowning when they tried to enter the country. "
Müller-Zeit
9:00 pm Surprise: The Justice and Intelligence Committees of the House of Representatives announced that Robert Mueller has agreed to publicly announce "after a summons." Date: Wednesday, July 17. TV coverage from wall to wall? Like Jeremy H erb of CNN said: "Mueller's statement
is about to be
the most anticipated congressional hearing in years …"
>> Reminder: Mueller said on May 29 that "any statement from this position would not go beyond our report … "
Trump calls Maria Bartiromo
Fox said Tuesday night that Maria Bartiromo will interview Trump on Wednesday morning on the phone. It "airs on FBN's Morning with Maria at 8 o'clock in the morning", by Fox … [194559007] Responsible Grisham
Stephanie Grisham "was longer in Team Trump than any other currently in White's House with the exception of Dan Scavino, who both started the Trump campaign in 2015, "CNN's Kate Bennett wrote on Tuesday. And now Grisham – Melania Trump's spokeswoman – both W.H. Press spokesman and communications director. She starts with Trump, who will fly to Japan for the G20. Read Bennett's Whole Story Here …
>> Katie Rogers of NYT
wrote
: "Grisham will give the First Lady a new window into a west wing where the president's children have an outsized influence … "
107 days
Wednesday is Day 107 with no White House press conference on TV. Will Grisham resume the meetings in the coming weeks?
WEDNESDAY PLANNER
– First Day of the # DemDebate Season! Michael Grynbaum of the NYT has a preview of NBC's plans here. On Wednesday evening, I will issue a special edition of the newsletter before the debate …
– Supporters of a new proposal to build a memorial for fallen journalists in DC will hold an event at 10:00 am ET at the National Press Club … [19659002] – Mark Zuckerberg will be speaking with Cass Sunstein at the Aspen Ideas Festival at 4:30 pm ET …
"You better not say I'm here"
emails from Oliver Darcy:
Some reporters seemed embarrassed to have attended the farewell party for Sarah Sanders on Monday night. A reporter spoke to the NYT and said, "You better not say I'm here." Another echoed, "Me too." What, as Max Tani of the Daily Beast
said
is a "lame answer". In fact, if these reporters were uncomfortable attending the event, why did they start? But as Amanda Darrach of CJR wrote here, some W.H. Reporters justified the weeping as part of their work …
>> Erik Wemple from WaPo showed up at the party and tried to ask Sanders for a few questions … She said, "I just do not think so the appropriate venue is … "
FOR THE PLATTER, FIRST PART
– Lachlan Cartwright's Brand-New Appearance: The NYT Tax Team Trump" Imploded When Star Reporter David Barstow Became Rogue … "(Beast)
– Ken Lerer resigns as chairman of BuzzFeed … (Axios) [19659026] – The private equity firm Genesis Park has mailed the magazine Texas Monthly to "Randa Duncan Williams, the oil and gas billionaire …" (DMN sold).
– Condé Nast sells W magazine Future Media … W's Style Director Sara Moonves, Les's daughter, becomes the new editor-in-chief … (NYPost)
The end of NRATV?
Danny Hakim's latest news for the NYT: The NRA "has stopped production at NRATV" and "cut off all business with its alienated advertising company, Ackerman McQueen, which operates NRATV, the NRA's live broadcasting arm … While NRATV may continue to broadcast content, the live broadcast will end and the on-air personalities – Ackerman's staff, including Dana Loesch – will no longer be the public faces of the organization …
FOR THE RECORD, PART TWO
– New book releases on Tuesday: Joy Reid of MSNBC starring "The Man Who Sold America," Emily Nussbaum of The New Yorker starring "I Like to Watch" and Kim Wehle, a professor and more frequent TV commentator, with "How to" on the road Read the Constitution – and why … "
– Read more about the newsletter" Reliable Sources "on Tuesday … and subscribe here, to to receive future issues in your inbox …
– LinkedIn's algorithm changes favor conversations "that target professional niche interests instead of increasing viral content …" (Axios)