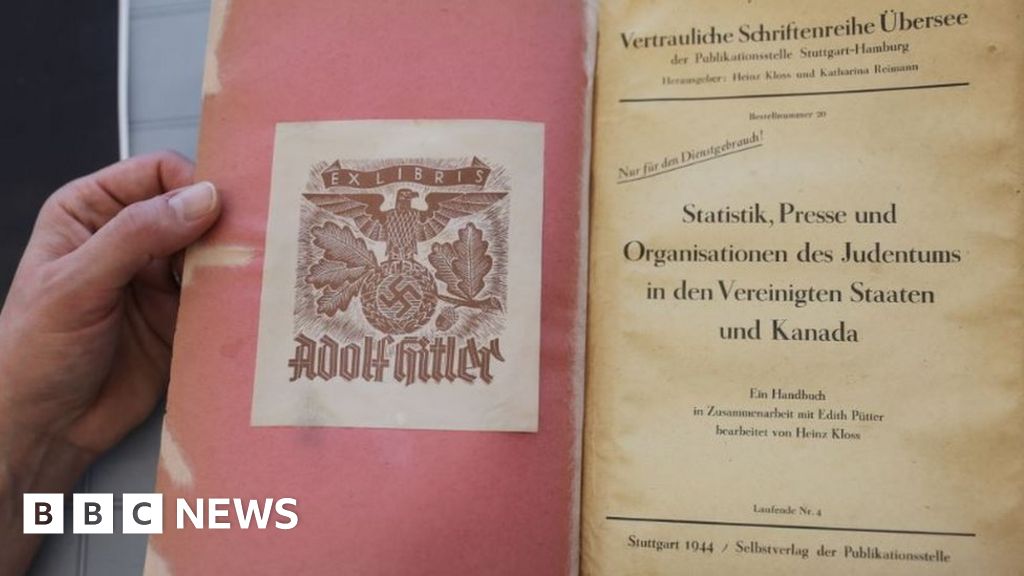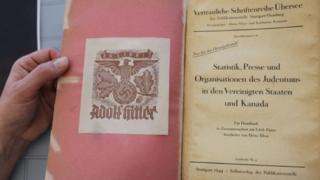 A book once owned by Adolf Hitler gives a shattering glimpse of his interest in extending the "Final Solution" to North America.
The book was written by a Nazi researcher who had previously spent in the US The outbreak of World War II.
It was acquired by the Library and Archives of Canada and was once owned by a Holocaust survivor.
The Final Solution was a code name for the Nazis' goal of committing genocide against the Jewish people.
The Nazis killed about 6 million Jews during the Holocaust, mostly from Europe.
The book – Statistics, Press and Judaism Organizations in the United States and Canada (Statistics, Media and Organizations of Judaism in the United States and Canada) – also provides information on the Jewish population in large Cities like New York and Montreal as small Jewish communities throughout North America.
"This invaluable account provides a documented affirmation of the fears so acute felt and expressed by so many Canadian Jews during the Second World War: that the Nazis would land on our shores and with them – the annihilation of Jewish life here, "said Rebecca Margolis, who is president of the Association for Canadian Jewish Studies.
"These fears may seem unfounded given the geographic distance of the Nazi Euro. The Canadian Handbook with detailed statistics of the Jewish population throughout North America underscores its nightmarish potential."
The book was written in 1944 by Heinz Kloss.
Kloss was a Nazi researcher who lived in the United States between 1936 and 1936. In 1937, and probably his research on American and Canadian Jews was supported by sympathizers of the Nazis who lived in North America.
Hitler is said to have had a huge library of 6,000 to 16,000 books.
The library believes that the book was brought as a souvenir of war by a soldier who had stormed Hitler's alpine retreat outside Berchtesgaden in 1945.
It was purchased by a respected Judaica merchant who received it from the personal collection of a Holocaust survivor.
There is much discussion about the ethics of buying Nazi artifacts.
In an interview with the CBC, curator Michael Kent of Kent and Library of Library discussed the moral dilemma of buying a book once owned by Hitler.
"While this is certainly a scary subject, the decision to buy it was easy," he told the CBC. "The opportunity to acquire such an item reminds us … of the role we play in ensuring that the memory of the Holocaust remains intact."
Source link