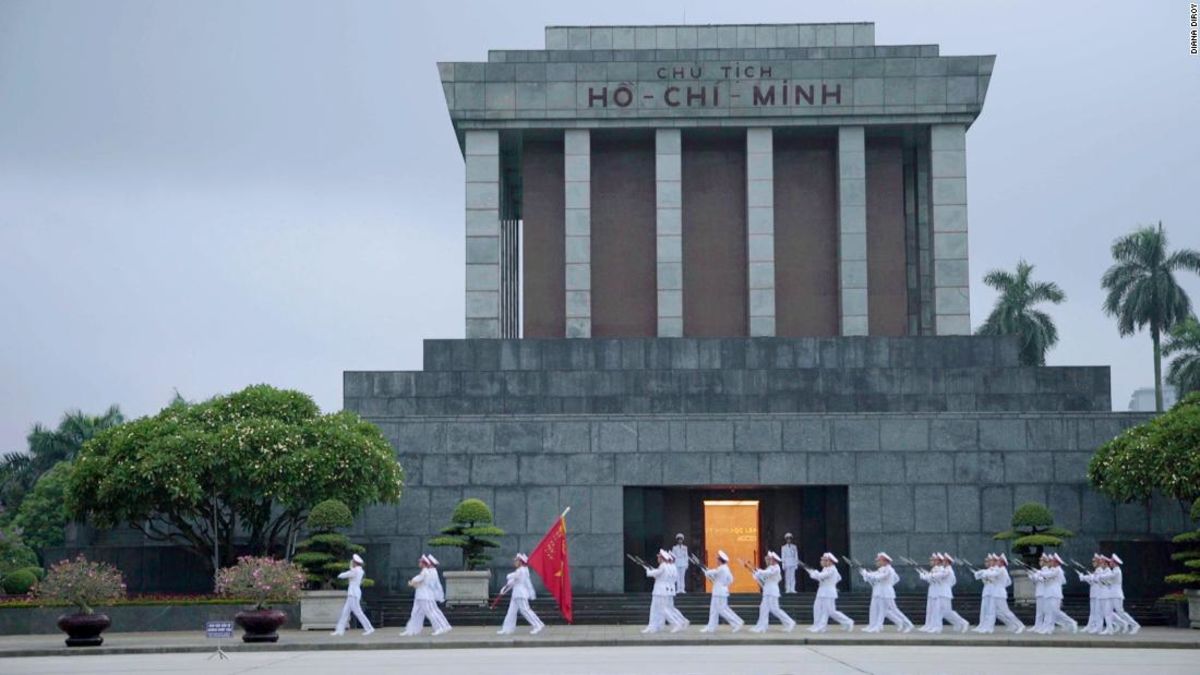 Hanoi (CNN) – Tran Thi Bao went by bus all night to the Ho Chi Minh Mausoleum, punctually to the flag raising at 6 o'clock in the morning.
It rained on this September morning. At 5:30 in the morning, just 90 minutes after Bao and other distant travelers arrived in Hanoi, the sky was dusty gray with barely a hint of sunshine.
Getting to Hanoi from Long San Village in Nghe An Province in north-central Vietnam takes a seven-hour drive on mostly rural roads. For Bao and her group of Vietnamese fellow citizens, however, it is a necessary journey to honor their deceased leader.
For foreign travelers, it is a solid tourist attraction in Hanoi, offering valuable insights into the history, values ​​and culture of Vietnam.
Ho Chi Minh, who is considered the father of Vietnam and founder of the Communist Party, is a highly acclaimed personality among the Vietnamese, while he remains a controversial topic among those who do not support communism.
The Flag Ceremony takes place daily at 6:00 am in front of the Ho Chi Minh Mausoleum.
Diana Diroy
Ho served as president of North Vietnam for 25 years; His powerful reign in the Communist country symbolizes the struggle of the Vietnamese people for independence from the anti-communist regime in the south and from the southern allies of that regime, including the United States.
Uncle Ho, like the former leader of the Communist Party, is often loved by Vietnamese, is an important historical figure, and the Vietnamese people regard the visit to the mausoleum largely as an honor – the long journey that many citizens have to endure.
Vietnam's Center
Tran Dai Loi, who lives in a north-central province, says he would come every year to allow his health and financial condition.
Stacey Lastoe / CNN
While it's not easy to track actual visitor numbers – government officials have told CNN Travel that they do not have hard statistics to offer – well over a million a year.
Since Ho died on September 2, 1969, 50 years ago, 2019 is a big anniversary year for the people of Vietnam, and foreign travelers are likely to encounter many local travelers as a result.
Bao had traveled with others from her community to "express our love and appreciation to the great Father who restored the freedom and independence of our land."
She and many others gathered in the vast grounds in front of the looming concrete mausoleum. The massive gray structure awaited the military's daily flag procession, a lively, atmospheric gathering of military personnel marching synchronously with the music.
& # 39; No chewing gum & # 39;

Tran Thi Bao took an overnight bus ride to the Ho Chi Minh Mausoleum.
Stacey Lastoe / CNN
Hanoi, with its fragrant street restaurants, quaint old town and pretty Hoàn Kiếm Lake, is often a springboard for Vietnamese travelers and therefore full of foreign travelers.
Ba Dinh Square, near the Ho Chi Minh Mausoleum, near the bustling Old Town of the capital, is a pure business district. Some traders behind the mausoleum and not on the square even sell photos and soda cans later in the day, but it's a long way from Hanoi's main artery.
The security measures in front of the mausoleum are strict and every 20 feet visitors are warned in Vietnamese and English: "Do not go in that direction", "No chewing gum", "Restricted area no intrusion".
Appreciation and reverence for Ho Chi Minh are palpable among the people – especially among the Vietnamese – who gather in the early morning hours and queue up and wait for the entrance to the mausoleum.
It's Bao's second visit to the site, which opened in 1975. Her last visit was in 1998.
"The purpose of this trip is to show" Uncle Ho our heart. "She has about 60 seconds to do so.
Free admission
Admission is free and fleeting, but for visitors like Bao and Tran Dai Loi – a veteran of the 1955- 1975 conflict between America and Vietnam – who also came from the province of Nghe An, the birthplace of Ho, the incredibly short time seems none Source of Frustration.
A few minutes before 7:30 am, when the mausoleum opens, visitors stand inside the barricades, which is only after security checks have been made, including water bottles and cameras both are not allowed in the sacred space.

Vietnamese military personnel guard the Ho Chi Minh Mausoleum in H anoi.
Manan Vatsyayna / AFP / Getty Images
Loi has been visiting once since 1979, but says he would come every year if his health and financial situation permits. Loi calls Hanoi the heart of the country and credits Ho with the beautiful, happy life that is now possible in Vietnam.
Like the women, Loi is respectfully dressed and wears military uniforms that proudly display his war medals, including one with Ho Chi Minh's image, which he calls the medal of Vietnamese military veterans.
Bao and Loi have traveled A group of 20 or 30 former teacher associations and youth volunteers, many of them older.
"We're all old now," Bao says, stressing the importance of taking the walk to pay homage while she still can.
The 50th anniversary is of course an incentive for your visit.
Visiting Ho Chi Minh's body
A red carpet leads visitors into the building and into the cool, dark room where Ho's corpse is located. There is a damp, heavy silence in the chamber. The footsteps of the people on the thin carpet were mostly muffled.
Ho is flanked by four guards, and there are five other Stoic officials monitoring the room. As visitors enter the hall, many offer a small bow to the right of Ho, waiting for their turn to turn to the body, which peacefully stands in a raised glass cabinet with soft yellow lights facing Ho and Expressing esteem – or, if you are a curious foreigner, try to take a closer look at it.
Any attempt to dwell will quickly be thwarted, as a guard watching over this key area will quickly tell you with a pat on the shoulder that it's time to move on. The visitors do not even stop in front of Ho, but take a break of a millisecond before being pushed further.
When all is said and done, visitors are barely a moment in the main hall. And there's nothing else to see in the mausoleum, though the reasons are worth exploring if you like flowers and sprawling spaces.
This strict arrangement is, however, provided with a silver stripe. The outline – rain or shine, though most of it is covered – can be quite long, but it moves fast, and anyone who wants a visit will likely have a chance to get through before the mausoleum on Tuesday at 10:30 Clock closes Thursday and 11 am on the weekend. (The mausoleum is closed on Mondays and Fridays.)
The rest of the day is available to explore Hanoi. There's plenty to see in the state capital, and after a brief visit to the mausoleum, the Ho Chi Minh pictures and references you'll find throughout your visit may even take on a new meaning.
Ho Chi Minh Mausoleum, 8 Hung Vuong, Dien Bien, Ba Dinh, Hanoi, Vietnam
Source link