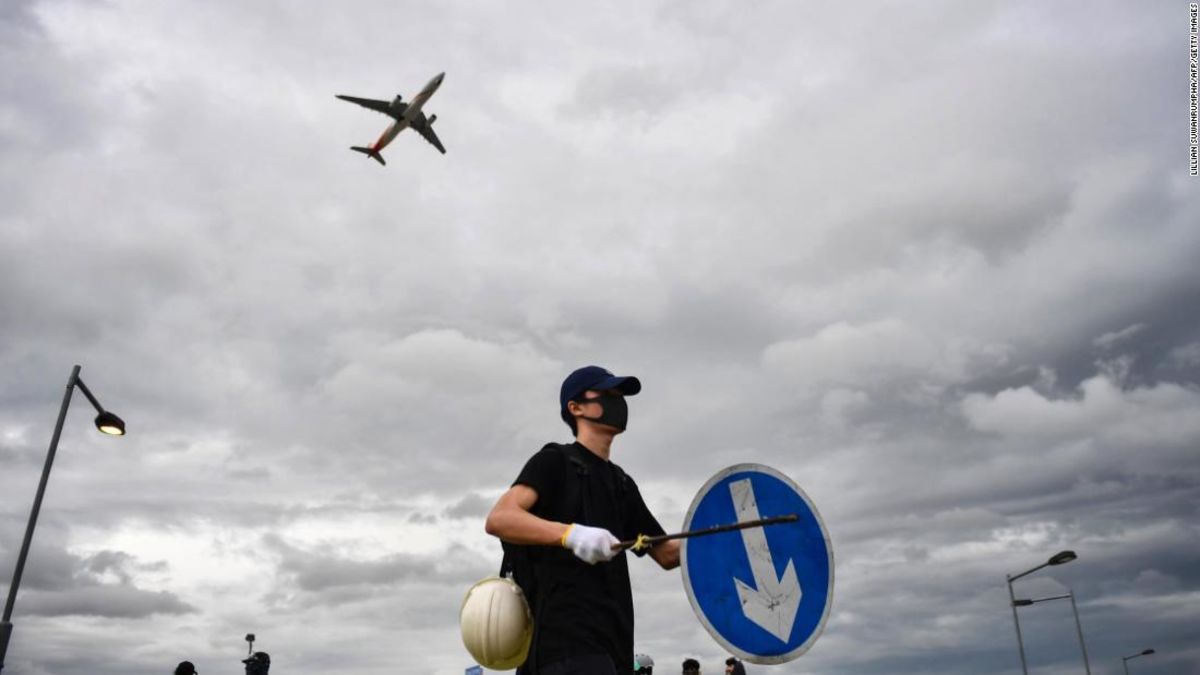 The decline was mainly due to a decline in visitor traffic from the region.
"Passenger traffic to and from mainland China, Southeast Asia and Taiwan was significantly declining compared to August 2018," it says in a statement of the airport authority.
The decline in air traffic figures is due to the fact that the anti-government protests in Hong Kong are running against a now-withdrawn extradition law on their 15th consecutive weekend. Further violent clashes broke out on Sunday after an unauthorized march in which the riot police fired tear gas and water cannons and protesters fired petrol bombs.
The airport ̵

1; one of the busiest and most important traffic hubs in Asia – has also been an important protest destination.
In August, protests inside the terminal forced the temporary closure and cessation of hundreds of flights, while rallies took place outside blocked transport routes, including the highway leading to the airport. Dozens of countries have issued travel warnings for Hong Kong, and visitor arrivals have dropped significantly in the first half of August, according to official preliminary data.

Passengers walk on a road near Hong Kong International Airport on September 1, 2019 by barriers erected by demonstrators.
LILLIAN SUWANRUMPHA / AFP / Getty Images
An "incredibly challenging month"
In addition to passenger numbers, Hong Kong Airport recorded a 3.5% decline in air traffic over the same period last year and a decline in the number of passengers Freight up 11.5% over the previous year to 382,000 tonnes in August.
"In the face of global trade uncertainty, cargo volumes continued to decline in August," the statement said. Transhipments and imports also declined by 19% and 15%, respectively, compared to the previous year.
"Over the past few months, airport operations have been a challenge at times," said C.K. Ng, the executive director of AA's airport operation, in a statement. "Thanks to the joint efforts of the airport community, we have been able to maintain normal operations and minimize the impact on travelers."
On Wednesday, Hong Kong's main airline, Cathay Pacific, reported a decline in passenger and freight numbers for August. Cathay Pacific and its regional sister airline Cathay Dragon carried a total of 2,906,954 passengers last month, down 11.3% from August 2018.
Ronald Lam, Group Chief Customer and Commercial Officer of Cathay Pacific, said August was an "incredibly challenging month" for both Cathay Pacific and Hong Kong. "
" The arrivals of tourists in the city were almost half as high as in a normally strong summer holiday month. This has significantly impacted the performance of our airlines. Lam said.
"Our inbound traffic in Hong Kong was down 38%, while outbound traffic was 12% lower year-on-year, and we do not expect September to be any less difficult." In the city. Union officials told CNN Business that restaurants are dismissing workers and forcing them to take unpaid leave.
The big hotels are also calling on employees to stay home – in some cases without pay – as the business slows down.
Since June, the month of the protests, at least 700 restaurant employees have lost their jobs, according to a union showing massive demonstrations on the city streets.