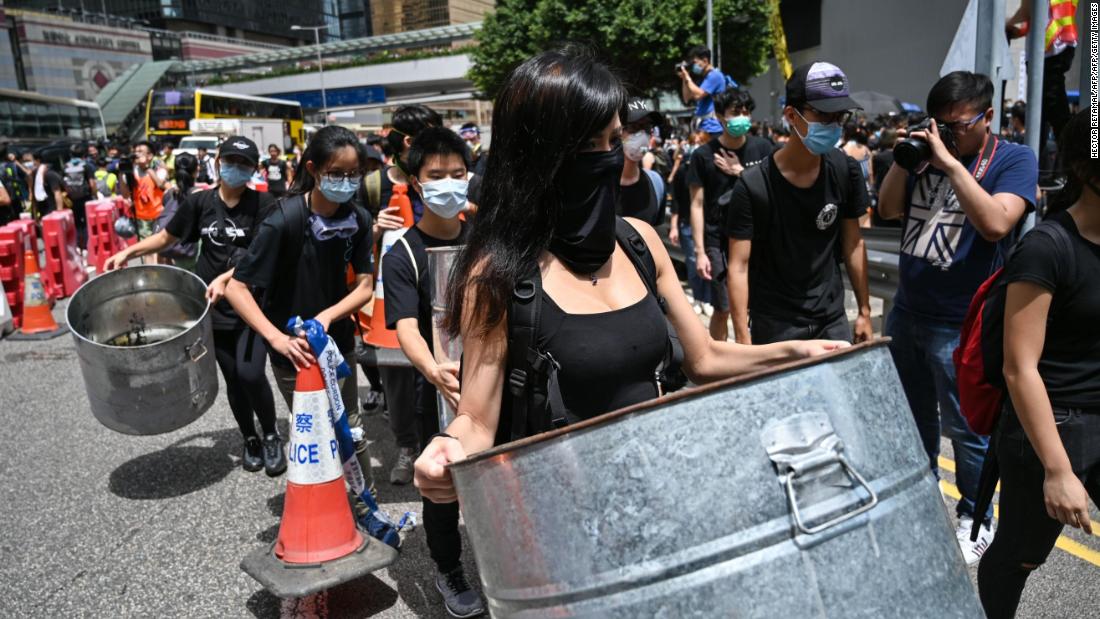 Hundreds of mostly young people poured into Harcourt Road on Friday morning in front of the city's Legislature, where they held a sit-down meeting, calling on the town's city director, Carrie Lam, to step down and officially withdraw the bill.
They briefly occupied the road – an important thoroughfare in the city center – before heading for nearby Wan Chai, where protest organizers such as Joshua Wong, who had been released from prison this week, encouraged them to head police headquarters surround.
Speaking to reporters, a police spokeswoman called for demonstrators to leave the area, but said a "clearance operation" was not planned.
"We respect the right of the public to express their views peacefully," she said, adding that a negotiating team would meet with demonstrators to persuade them to continue.
On Tuesday, Lam publicly publicly apologized for the controversy surrounding the bill, which saw several major protests, including those of successive marches attracting more than 1
million and 2 million subscribers, respectively.
"I heard you loud and clear and thought deeply about everything that happened," she said. "The concerns of recent months are due to the shortcomings of the government (Hong Kong)."
However, they did not respond to the demand to withdraw the bill completely, rather than halt it , Nor did she resign or demand an investigation into alleged police brutality during violent protests on June 12, other important protest claims.
Student and Democracy groups had given Lam until 5:00 PM. Thursday to respond to these demands and say they would hold more protests on Friday if they did not. These protests began with a peaceful seat in front of the legislature and the central government offices that were closed to all business before demonstrators escalated by occupying Harcourt Road.
The police presence on Friday is significantly lower than last week when she triggered tens of thousands of Harcourt protests and surrounding streets with tear gas and rubber bullets.
Several other events are planned for Friday, including a memorial to a demonstrator who died in the Pacific Place mall last week, and demonstrations by parent groups, while the Hong Kong authorities responded to a summer of unrest and discontent over the failed people are bill.
Jo Shelley and Caroline Kwok of CNN contributed to the coverage.
Source link