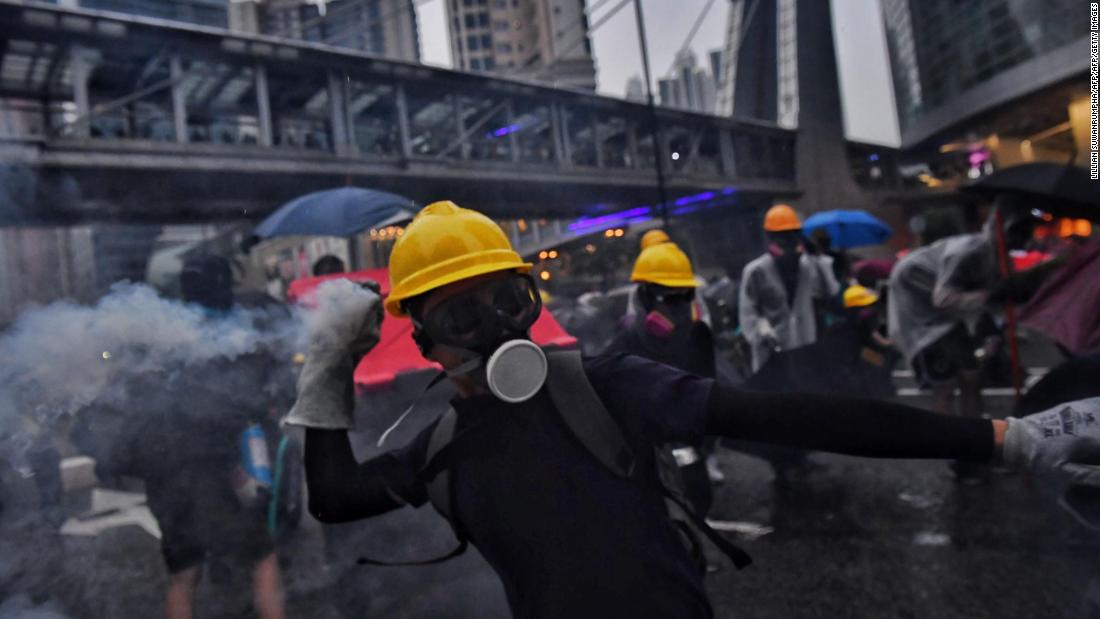 The protests for the democracy of the day were largely peaceful. Thousands of protesters marched from Kwai Chung to the Tseun Wan district in the city's New Territories. They appeared under a sea of ​​umbrellas, despite a prolonged thunderstorm in plastic ponchos and raincoats. According to organizers of the Telegram news platform, the march was intended to reaffirm the protesters' core demands and reaffirm the police's alleged brutality.
Later that evening, a smaller group of demonstrators broke away from the main march and embarked on an extended march that had not been approved. They built temporary barricades on the street with traffic cones and railings and threw bricks and gasoline bombs.
The police deployed tear gas into the group, but did not disperse it and later deployed a water cannon against a makeshift barricade. This is the first time that water guns have been used in a protest over the past three months, a Hong Kong police spokesman tells CNN.
Already on Saturday, violence had erupted after thousands marched in the eastern Kwun Tong district of the city for the movement's five demands, and against the installation of "smart" environmental monitoring lamp posts by the government, which raised privacy concerns.
This twelfth weekend of consecutive protests was the end of a brief silence that had settled over the city. After tear gas was fired almost every weekend in July, a peaceful march took place last weekend ̵
1; for the first time in weeks without tear gas. The calm continued throughout the week, and on Friday, the 30th anniversary of the Baltic Way's human chain, the demonstrators peacefully created a human chain in the city.
Saturday was the first time in 10 days that tear gas was fired. [19659007] Thousands of demonstrators gathered in Tsuen Wan District, Hong Kong, on August 25, 2019. "src-mini =" // cdn.cnn.com/cnnnext/dam/assets/190825181646-04-hong-kong-protest-0825-small-169.jpeg "src-xsmall =" // cdn.cnn.com /cnnnext/dam/assets/190825181646-04-hong-kong-protest-0825-medium-plus-169.jpeg "src-small =" http://cdn.cnn.com/cnnnext/dam/assets/190825181646- 04-hong-kong-protest-0825-large-169.jpeg "src-medium =" // cdn.cnn.com/cnnnext/dam/assets/190825181646-04-hong-kong-protest-0825-exlarge-169 .jpeg "src-large =" // cdn.cnn.com/cnnnext/dam/assets/190825181646-04-hong-kong-protest-0825-super-169.jpeg "src-full16x9 =" // cdn.cnn .com / cnnnext / dam / assets / 190825181646-04-hong-kong-protest-0825-full-169.jpeg "src-mini1x1 =" // cdn.cnn.com/cnnnext/dam/assets/190825181646-04- hong-kong-protest-0825-small-11.jpeg "data-demand-load =" not-loaded "data-eq-pts =" mini: 0, xsmall: 221, small: 308, medium: 461, large: 781 "/>