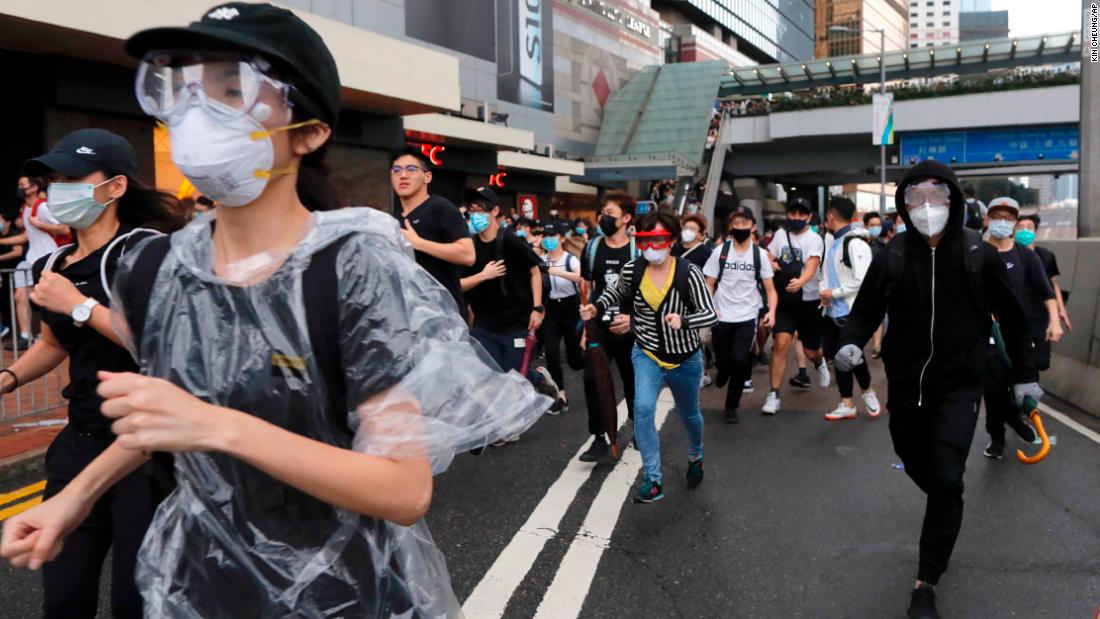 The City Legislative Council should hold the second reading of the law on Wednesday morning local time. The bill met with broad opposition, including from the traditionally conservative business community of the city, and caused, according to organizers, more than 1 million of the city's 7.4 million inhabitants to go on Sunday in protest on the street.
In a statement On his website, Legislative Council President Andrew Leung Kwan-yuen said Wednesday's meeting would be "postponed to a later date".
On Tuesday evening, protesters arrived in front of the Legislative Council buildings, where they were greeted with a heavy police presence and pickpockets. By Wednesday morning, tens of thousands of mostly young people had arrived in the area, blocking the roads and bringing down the center of Hong Kong.
Up to 5,000 policemen in protective clothing were deployed to guard the building. On Wednesday morning, police fired a water cannon at a demonstrator and peppered others with pepper spray. Protesters wore helmets, goggles and work gloves and pulled stones from the sidewalks.
Hundreds of businesses, parents and teachers called for a boycott of work and school on Wednesday to demonstrate their rejection of the bill.
Although Hong Kong is part of China, unlike mainland China, there are separate laws that follow the British system, not capital punishment. Many fear that the proposed extradition law means that they could be picked up by Chinese authorities for political or inadvertent breaches of Hong Kong business policy.
"Hong Kong is angry"
The protests on Wednesday come just three days after the largely peaceful march in central Hong Kong. According to police estimates, 240,000 people were present on Sunday, while the organizers estimated the figure at 1.03 million – the latter being the city's biggest protest since the return of the former British colony to China in 1997.
Despite mass demonstrations, Hong Kong leader Carrie Lam refused to withdraw the extradition [19659003] On Monday, she said the bill to protect human rights had been extended to include safeguards, and Beijing had received no instructions to push it forward. Hong Kong legislators planned to devote 66 hours to debate the bill within five days.
"The people of Hong Kong are angry," Democratic Party High Level Legislator James To said Tuesday. "Despite the peaceful rally of one million people in Hong Kong, our CEO simply ignored the voice of the people."
Sunny Chan, an 18-year-old street street protester said Wednesday she was "angry" that the government was protesting ignored on Sunday. "Today we prefer to go to the front and protest and try to protect my freedom," she said. 23-year-old protégé Marco Leung said there would be no difference between Hong Kong and China if the law were passed.
"We are not China," said Leung. "The police should protect the citizens, not the government."
CNNs Ben Westcott and James Griffiths contributed to this report from Hong Kong.
Source link