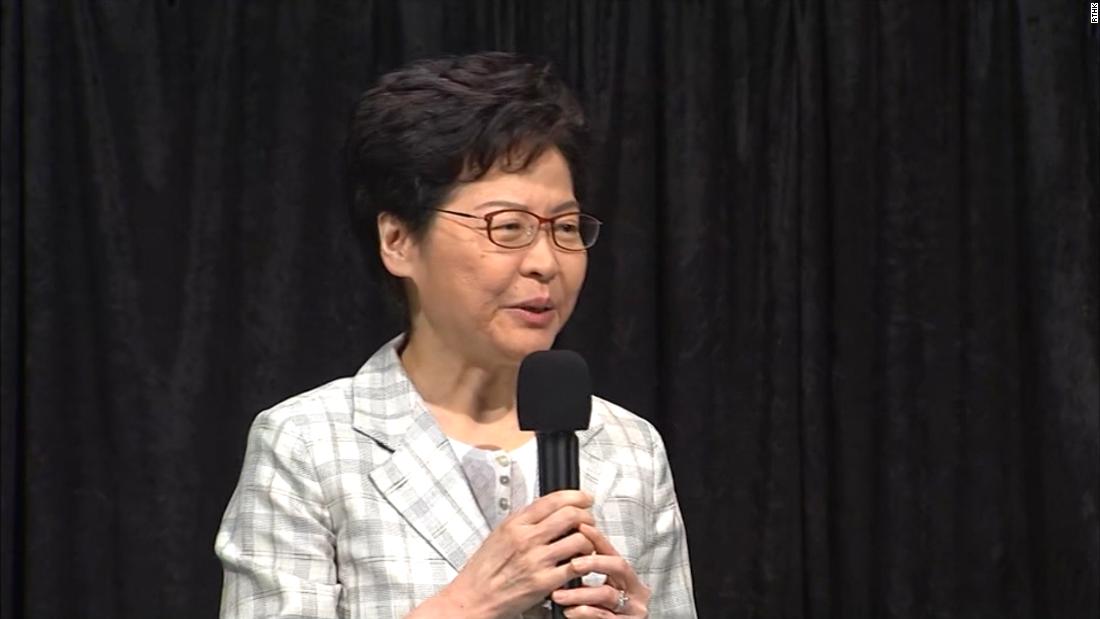 Passengers look out of a bus at a burning barricade that was lit by democracy-friendly demonstrators during a meeting outside the Mong Kok Police Station on Sunday, September 22, in Hong Kong, China. Demonstrators campaigning for democracy continued to demonstrate in Hong Kong, calling on the city's leader, Carrie Lam, to carry out the remainder of her demands without delay, including an independent inquiry into police brutality, the abolition of the word riot, and the To describe rallies, and a real universality suffrage, as the territory is facing a leadership crisis.
Democrats sing songs and slogans during a rally in a shopping mall in Shatin on September 22.
Hong Kong protest abandons umbrella near barricades On Saturday, September 21

, 2019, demonstrators marched through Hong Kong's outskirts on another weekend of protests against the Chinese government.
An anti-government protester throws a Molotov cocktail in Hong Kong on Sunday, September 15, during a demonstration near the government complex.
A pro-China supporter, center, is accompanied by police after being confronted with journalists in Hong Kong, September 15.
Pro-government and anti-government supporters will sing against each other in a Hong Kong shopping mall on Friday, September 13th. protect Hong Kong.
Protesters hold up their mobile phone lights as they form a human chain at Peak, a tourist site in Hong Kong, on September 13.
Police escort an injured man after he has attacked protesters outside of Prince Edward Station in Hong Kong on Friday, September 6.
Protesters burn paper money to pay their respects to injured demonstrators.
Protesters prepare for clash with police in front of Mong Kok Police Station on September 6.
Protester arrested by police at Po Lam local police station on Thursday, September 5.
A man watches TV in a shop in Hong Kong when CEO Carrie Lam announces the withdrawal of the extradition law on Wednesday, September 4 [19659002] A woman becomes emotional on September 4 while giving her respec to protesters who were injured a few days earlier t pays.
Police target demonstrators outside Mong Kok police station on September 4 About a railway station during a rally on Tuesday, September 3.
Students wearing gas masks and helmets are holding a banner at St. Francis & # 39; Canossian College in Hong Kong saying, "Five important demands are essential."
Protesters gather in the bus terminal of Hong Kong International Airport on Sunday, September 1st. Hundreds of democracy-oriented activists tried to block the traffic routes to the city's airport.
A passenger runs to the airport on September 1, when democracy-oriented demonstrators blocked a demonstration road in front of the airport.
In clashes with the police on Saturday, August 31, a demonstrator uses a slingshot in front of the government complex. One day after the arrest of several leading activists and lawmakers, thousands of protesters held a demonstration against the government
Protesters stand in front of a burning barricade as the clashes with police on August 31 intensified.
Protesters fire a Molotov cocktail at 31 on August 31.
Police officers advance in clashes with demonstrators on August 31.
Protesters pull cover as police shoot blue water at them. Blue dye can be used to color and identify masked demonstrators.
During protests, a surveillance camera is covered with white paint.
Protesters react in a top view after the police fired tear gas on August 31st.
Pro Democracy Activists Agnes Chow and Joshua Wong talk to the media after they were released on bail at the Eastern Municipal Courts on Friday, August 30. They were arrested the same day in a dragnet in Hong Kong.
A policeman aims a gun at a demonstrator on 25 August.
Some demonstrators shoot laser lines on police lines on August 25th.
Protesters and policemen collide on the 24th of August.
Protesters pick up stones to use as projectiles August 24.

Police withdraw after clashes with demonstrators on August 24th.
Humans join their hands as they gather on Friday, August 23, at the waterfront of Tsim Sha Tsui. Show of solid arity.
On August 23, Lion Rock phones light up on the top.
On August 18th, protesters march under umbrellas.
Tens of thousands of demonstrators appeared on the streets on 18 August. [19659002] A protester takes part in a march on Saturday, August 17th. His eye is covered with red gauze. He refers to a woman who was allegedly shot in a collision between demonstrators and police with a beanbag in the eye.
A demonstrator ties a White Band symbolizing the pure intentions of young demonstrators during a march organized by teachers in Hong Kong on 17 August.
Protesters react after police fired teargas to disperse a demonstration at Sham Shui Po Police Station in Hong Kong on Wednesday. August 14th.
Demonstrators show lasers at Sham Shui Po police station on August 14th.
Police use pepper spray to disperse demonstrators at the airport on Aug. 13.
Police and protesters collide at the airport on August 13 The bratsche ce came after the Hong Kong airport authority announced that all check-in services would be interrupted for another night as the terminal's operation was "seriously disturbed".
A traveler hands over her luggage to security forces as she tries to enter the departure gate.
A scoreboard showing canceled flights on 13th August.
During a demonstration on August 13 at the airport, anti-government demonstrators stand at a barricade of baggage carts.
Physicians care for a woman who has received a facial injury in collisions on Sunday, August 11.
A pro-democracy protester is being arrested in front of Tsim Sha Tsui Police Station on August 11.
During a demonstration in Wong Tai Sin District, police shoot at tear gas demonstrators on Monday, August 5.
A train passenger points at a demonstrator who did not want to close the doors of a train on 5 August. The protester tried to disrupt Hong Kong's morning rush hour.
A man lies down in a subway during a protest on 5 August.
A man consoles his pregnant wife near a platform after protesters blocked the train doors on 5 August.
A demonstrator stands in tear gas during an altercation with the police in the early hours of 4 August.
A Chinese flag floats in the water after being thrown out by demonstrators during a demonstration on 3 August.
A protester sprays paint on a wall on August 3.
Hong Kong medical professionals attend a protest on Edinburgh Place on Friday, August 2.
During a demonstration on Sunday, July 28, the emblem of the China Liaison Office is protected by Plexiglas. [19659002] A demonstrator flees on Saturday, July 27, in front of the baton-ridden police in Yuen Long district, Hong Kong.
A demonstrator looks through the umbrellas of Hong Kong International Airport on July 27 during clashes with the police on July 27.
Protesters join police on Sunday, July 21st.
Medical workers help a tear gas-affected demonstrator on July 21st.
The office of pro-Beijing lawmaker Junius Ho was destroyed by demonstrators in Tsuen Wan district in Hong Kong.
Police officers use pepper spray to disperse protesters following a rally in Sheung Shui district on July 13.
A protester sprays paint into a chamber in the building of the Hong Kong Legislative Council.
The session hall of the Legislative Council will be taken over by protesters on 1 July.
A protester hits a window of the building of the Legislative Council.
Pillars of During the march on July 1, a crowd is illuminated with sunlight.
Chinese and Hong Kong flag helicopters fly over demonstrators on July 1st.
Democracy-oriented lawmaker Roy Kwong gathers protesters on July 1 with a megaphone.
A police officer uses pepper spray during a clash with protesters on July 1.
A protester carrying a T-shirt with the word "Revolution" runs past an inscription on a street labeled "Long Live HK".
Police arrest protesters near the seat of government in Hong Kong on July 1.
A top view shows thousands of demonstrators marching on a Hong Kong street on Sunday, June 16.
Protesters walk after police fired tear gas on Wednesday, June 12.
Demonstrators face the police during the June 12 rally.
Tens of thousands of mainly young people arrived in the area on the morning of June 12, blocking roads and bringing Hong Kong's center to a standstill. [19659002] During the rally on June 12, a protester holds a sign in his hand.
Police accuse protesters of clashes on June 10. It was a continuation of the protests that started the day before.
Protesters hold pictures of Hong Kong chief executive Carrie Lam on Sunday, June 9th.
Protesters on June 9 waved posters and wore white – the set color of the rally. "Hong Kong, never give up!" some sung.
Students wear chains during a demonstration on Saturday, June 8th.
Source link