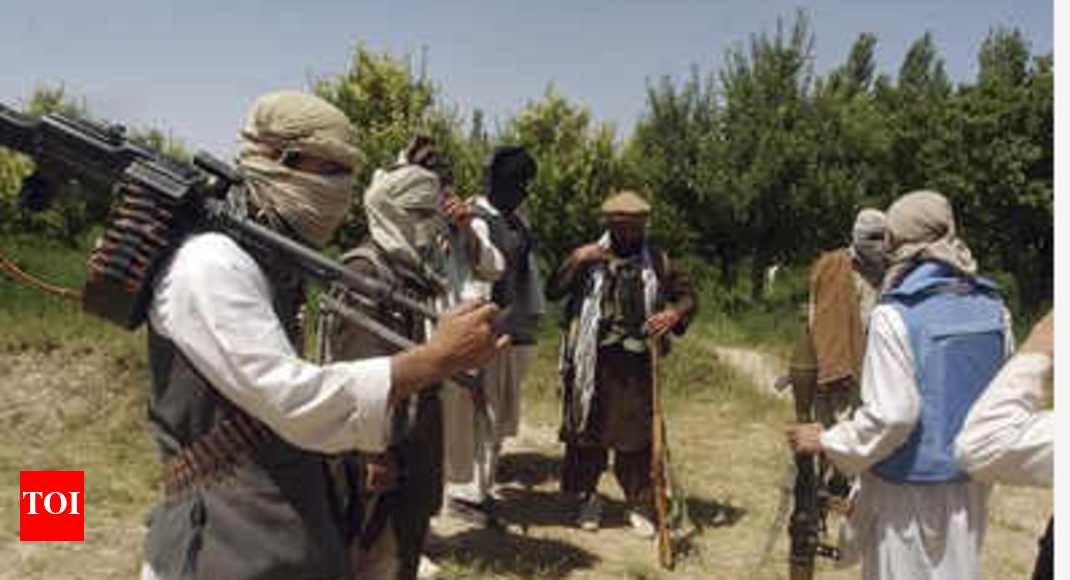 NEW DELHI: India and the US today welcomed a global monitoring agency for terrorist financing

downgrades Pakistan to a "gray list"


+
finding the sources of funding for terrorists within their borders and not taking enough or no action to restrict the activities of terrorist elements moving freely in their provinces.
The watchdog, the Paris-based Financial Action Task Force (FATF), has on Wednesday added Pakistan ̵
1; an international pariah – for their support of terrorism on the list. Pakistan avoided the much stricter "black list" by agreeing to abide by a 26-point action plan drafted by the Asia Pacific Group's International Cooperation Review Group (ICRG).
"India welcomes the decision of the Financial Action Task Force to include Pakistan in its ICRG Monitoring Compliance List (gray list)," India's Ministry of Foreign Affairs said in a statement today.
The FATF is an intergovernmental body established in 1989 to combat money laundering, terrorist financing and other related threats to the integrity of the international financial system. To avoid the FATF blacklist, Pakistan must publish updated lists of individuals and organizations that are banned under the Anti-Terror Law and United Nations designated bodies by January.
Pakistan has "outstanding anti-terrorist deficits that are consistently raised by the Financial Action Task Force" and must take action, including the procurement and transfer of funds from UN-designated terrorist groups, a leading US news agency official said PTI yesterday.
The ICRG compliance list – with which Pakistan has agreed to cooperate – envisages a 26-point plan to eliminate all sources of funding for terrorist groups operating within its borders, including Lashkar-e-Toiba, which focuses on India (LeT) and the Jaish-e-Mohammed (JeM) and all other units associated with the head of these two parent groups, the Jamaat-ud-Dawa (JuD). The JuD is led by Hafiz Saeed, who led the September 26, 2008 terrorist attacks in Mumbai. Targets are also Daesh, the Haqqani Network, the Pakistani Taliban and al-Qaeda.
Saeed – who has a US bounty on his head and is called a terrorist by the UN – and others of his kind roam free in Pakistan, hold rallies to incite hatred – against India and the US and whoever they are do not like – and collect large amounts of unmonitored money for their terrorist activities.
"The freedom and impunity with which designated terrorists such as Hafiz Saeed and entities such as JuD, LeT, JeM continue to operate in Pakistan is not consistent with Pakistan's previous commitments," said the Indian Ministry of Foreign Affairs.
And Pakistan, to be put on the gray list instead of being blacklisted, pledged measures to cut itself off from these entities by restricting their financial resources.
"Pakistan has committed itself at the highest political level to addressing global concerns over the implementation of FATF standards to combat terrorist financing and money laundering, particularly with regard to UN designated and internationally banned terrorist units and individuals," India said.
India said it hoped that Pakistan would live up to its commitments, which even the country's newsrooms yesterday seemed to doubt. They said the 26-point plan would not be easy to implement if some real change on the ground and restructuring did not happen. And they believe that this restructuring will not happen or not easily or quickly enough.
The US also said that Pakistan must take "comprehensive action", which India hopes for the security of the entire Asian region.

"We hope that the FATF Action Plan will be timely adhered to and that Pakistan will take credible action to tackle the global issues related to terrorism in each area it controls," said the Ministry of Foreign Affairs.
Pakistan is the ninth country on the gray list of the Paris FATF. The other eight countries are Ethiopia, Serbia, Sri Lanka, Syria, Trinidad and Tobago, Tunisia and Yemen, the newspaper The Express Tribune reported.
These nine countries have been designated by the FATF as "states with strategic deficits" that can harm the international financial system if they do not take immediate steps to stop funding terrorists and money laundering activities.
Source link