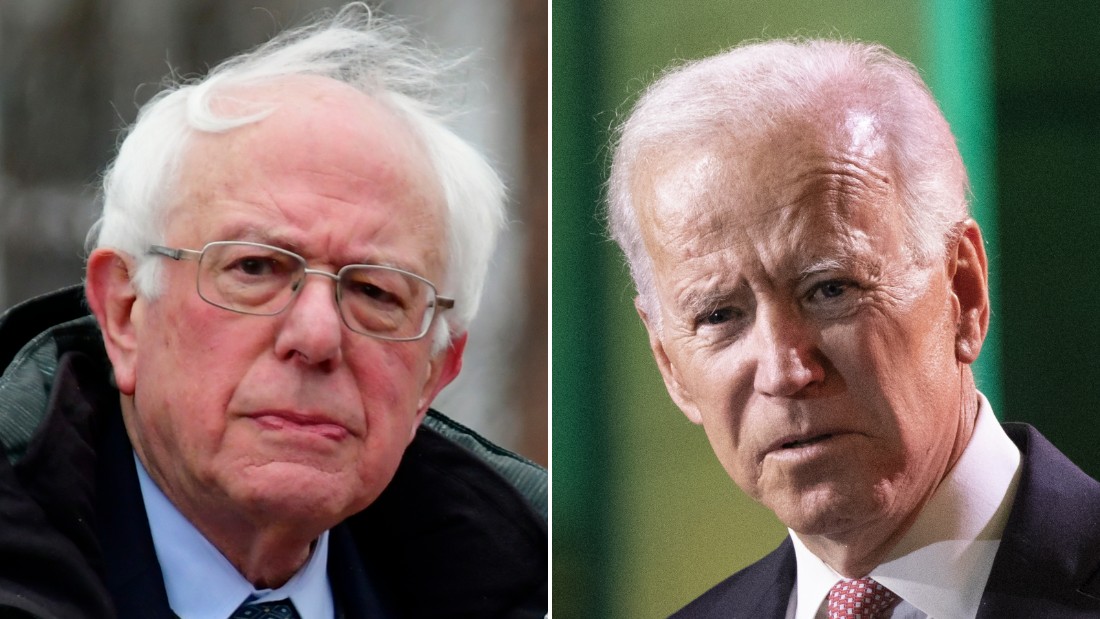 CNN / Des Moines Register / Mediacom's latest poll finds that Biden and Sanders are even 27% and 25% respectively, with no other candidate earning just 10% support. Massachusetts Senator Elizabeth Warren (9%) and California Senator Kamala Harris (7%) come closest, and the remainder of the 20-person field tested in the survey is former US Representative Beto O & Rourke of Texas (5%), Senator Cory Booker from New Jersey, and Senator Amy Klobuchar from Minnesota (3% each) above 1% support.
Since our December poll, the numbers have not changed dramatically: Biden and Sanders were the top two, though their relative position was getting worse. While Biden scored 13 points in December, he and Sanders are now equal. And the energy pack behind O & Rourke after his near-expected defeat to Sen. Ted Cruz in November looks set to dissipate, with his numbers plunging 6 points in recent months. But for the rest of the field, things are the same now as they were then.
Several candidates land below the 1
% mark provided for in the upcoming debates of the Democratic National Committee – including Sen. Kirsten Gillibrand of New York and former Colorado Gov. John Hickenlooper.
A handful of candidates have seen room for improvement since December, and almost all have announced their candidacies between the two polls. Harris leads the pack, with her odds rising by 9 points to 58%, while her negatives remained stable. Former Secretary of Housing and Urban Development Julian Castro's figures have risen by 6 points (now 33% low), as has Jay Inslee's Washington state leader (17% in the new poll). The positive numbers of Klobuchar have increased by 5 points to 43%. Klobuchar saw a corresponding increase in negative views, but 15% say they have unfavorable opinions, compared to 8% in December.
But this announcement did not happen to everyone: Booker, Gillibrand, Hickenlooper, Sanders, and Warren announced runs or scouting committees between the two polls and saw no significant positive changes in their numbers. In Gillibrand's case, their negative numbers between the two polls rose 6 points to 16%.
Probable Caucusgoers were still divided into two key lines in judging their presidential election: age and ideology. Of the under-45s, Sanders has a 9-point lead over Biden (32% to 23%), with Warren at 10% and Harris at 9%. Biden is 15 percent ahead of Sanders between 32 and 17 percent, without another candidate in the double-digit range. The ideological gap is similar. Among the Liberals, 30% were Sanders, 21% Biden, 11% Warren and 7% Harris and O & # 39; Rourke each. However, moderate or conservative probable Caucusgoers give Biden a big edge: 36% of Sanders & # 39; 18%, the rest less than 10%.
But Biden's lesser status among liberals does not necessarily mean that he is considered ideologically unequipped. Overall, 70% of likely Caucusgoers say their political views are about right, well ahead of the nearest competitor in this score (54% consider Warren's views correct). Sanders, however, is concerned about his views, which even extend to self-described liberals among Iowa's likely Caucusgoers. Overall, 44% consider Sanders' views to be too liberal; Of these, 41% are self-described liberals.
Caucusgoers are likely to say that Vermont's independent Senator has pushed the party in a good direction and that he should be back in the race (54% believe so), but a staggering 43% say his time has passed and he has not should not run.
Less is the feeling that Biden's time has passed: 31% say so, while 64% say his considerable experience means he should start the race.
The survey assessed how potential Caucus visitors seek from their policy support candidates what they are talking about and a handful of traits.
The poll shows that most likely Democratic Caucusgoers are looking for a candidate who wants to unite the country instead of focusing on the Democrats to defeat the president (83% to 13%). And most are looking for candidates willing to tax the rich (67% want a candidate who is fully targeting new taxes targeting over $ 50 million in wealth) and the Green New Deal (65% prefer a candidate who supports this package in full). Less is ready for comprehensive support for "Medicare-for-all", the transition to a public health system (49%) or the legalization of marijuana for leisure (44%). And only 36% feel that public four-year colleges are being held for free.
This group of probable Caucusgoers is looking almost everywhere for a candidate who will spend a lot of time discussing health care (81%) and climate change (80%). Two thirds would like to see a lot of transmission time for income inequality (67%), and the majority of respondents want candidates to spend a lot of time on immigration (57%), racial relationships (57%), job creation (55%) student debt (55%) , Criminal Justice Reform (54%) and Weapons (52%). Much less hope for a discussion on international trade (37%) or impeachment (22%).
Seven out of ten respondents said they would be dissatisfied if it turned out that the party's later candidate was the one who raised funds from wealthy individuals and companies (71%), though most are satisfied with a candidate who preferred a more socialist version of the country (56%). However, there is much ambivalence about whether a pure white man would be a satisfactory candidate: 38% say yes, 21% no and 40% are uncertain.
If you look at the Iowa Democratic Party plan for virtual circles, most likely, participants will not know enough to say how they feel about it, but those who voice their opinions are mostly behind the plan: 23% agree, 4% agree and 73%. are unsure.
The CNN / Des Moines Register / Mediacom poll was conducted by Selzer & Co. of Des Moines, Iowa, Sunday through Wednesday under a random selection of 401 likely Democratic Caucusgoers who were reached via a land line live interviewer. Sample Caucus sample probabilities show a margin of plus or minus 4.9 percentage points; it is larger for subgroups.
Source link