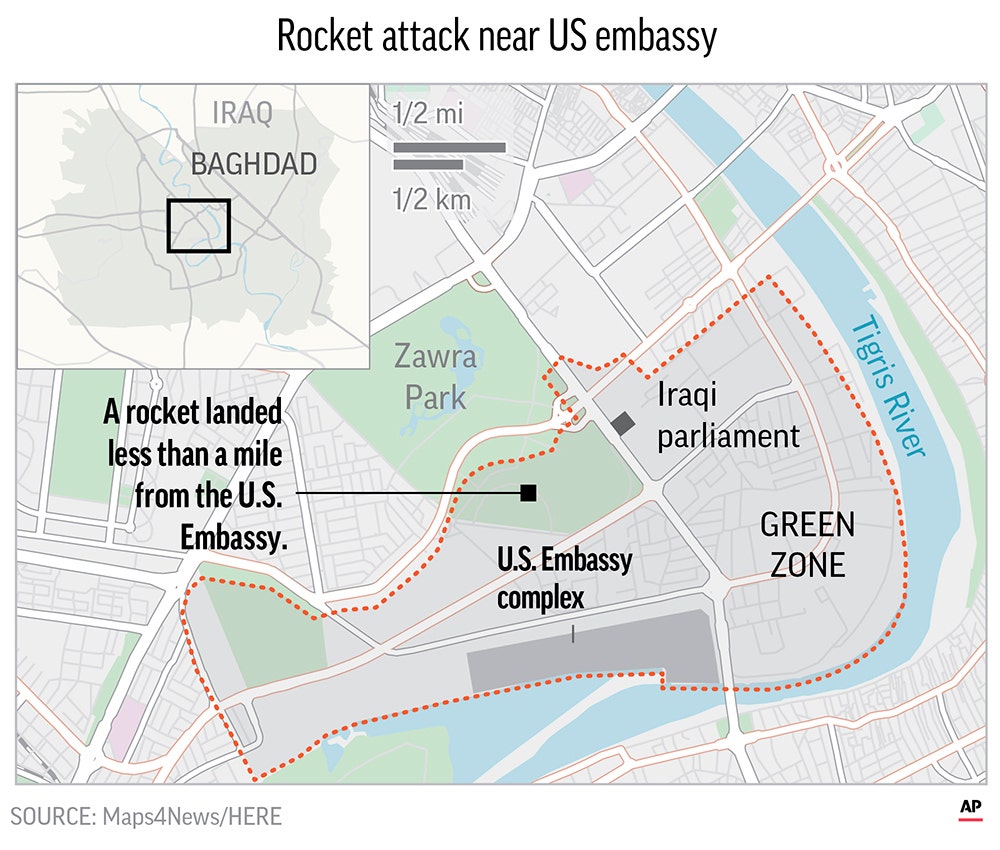 BAGHDAD – Leading Iraqi Shiites warned Monday against attempts to drag their country into a war between the US and Iran, saying that this would make Iraq once again a battleground, just as it did on the Way of recreation is located.
The warning came hours after a missile hit Baghdad's heavily fortified green zone and landed less than a mile from the sprawling US Embassy. No injuries were reported and no group immediately requested the attack on the night of Sunday.
Shortly thereafter, President Donald Trump tweeted a warning to Iran not to threaten the United States, otherwise it threatens its "official end."
Last week, The US ordered the evacuation of non-essential diplomatic personnel from Iraq. This was in the face of Iran's unspecific threats and growing tensions throughout the region. The White House has also sent warships and bombers to the Persian Gulf to counter alleged Iranian threats.
On Monday, two influential Shiite clerics and a leading politician – all with close ties to Iran – warned that Iraq could be recaptured right in the middle. The country hosts more than 5,000 US troops and hosts powerful Iranian-backed militias, some of whom call for the withdrawal of these US forces -Iran warfare "would be the enemy of the Iraqi people."
"This war would mean the end of Iraq," warned the black-turbanized al-Sadr. "We need peace and reconstruction."
Qais al-Khazali, the leader of the Iranian-backed Asaib Ahl al-Haq or the League of the Just, tweeted that he was opposed to operations that "give pretexts to the war," adding that they "are only political, economic and security conditions in Iraq ".
It is not new to the Shiite majority in Iraq to be a venue for proxy wars. It is located on the fault line between Shiite Iran and the predominantly Sunni Arab world, led by powerful Saudi Arabia, and has long been the scene of Saudi-Iran rivalry with regional hegemony dictator Saddam Hussein, American troops and Iranians Supported militiamen led battles across the country. Numerous US troops were killed or wounded by sophisticated Iranian weapons.
Office of Coalition Leader Hadi al-Amiri of the Shiite paramilitary forces, supported by both Baghdad and Tehran, issued a statement calling on Iraqis to work together "to keep Iraq and the region out of war" ,
"If war breaks out … he will burn all," al-Amiri warned.
Source link