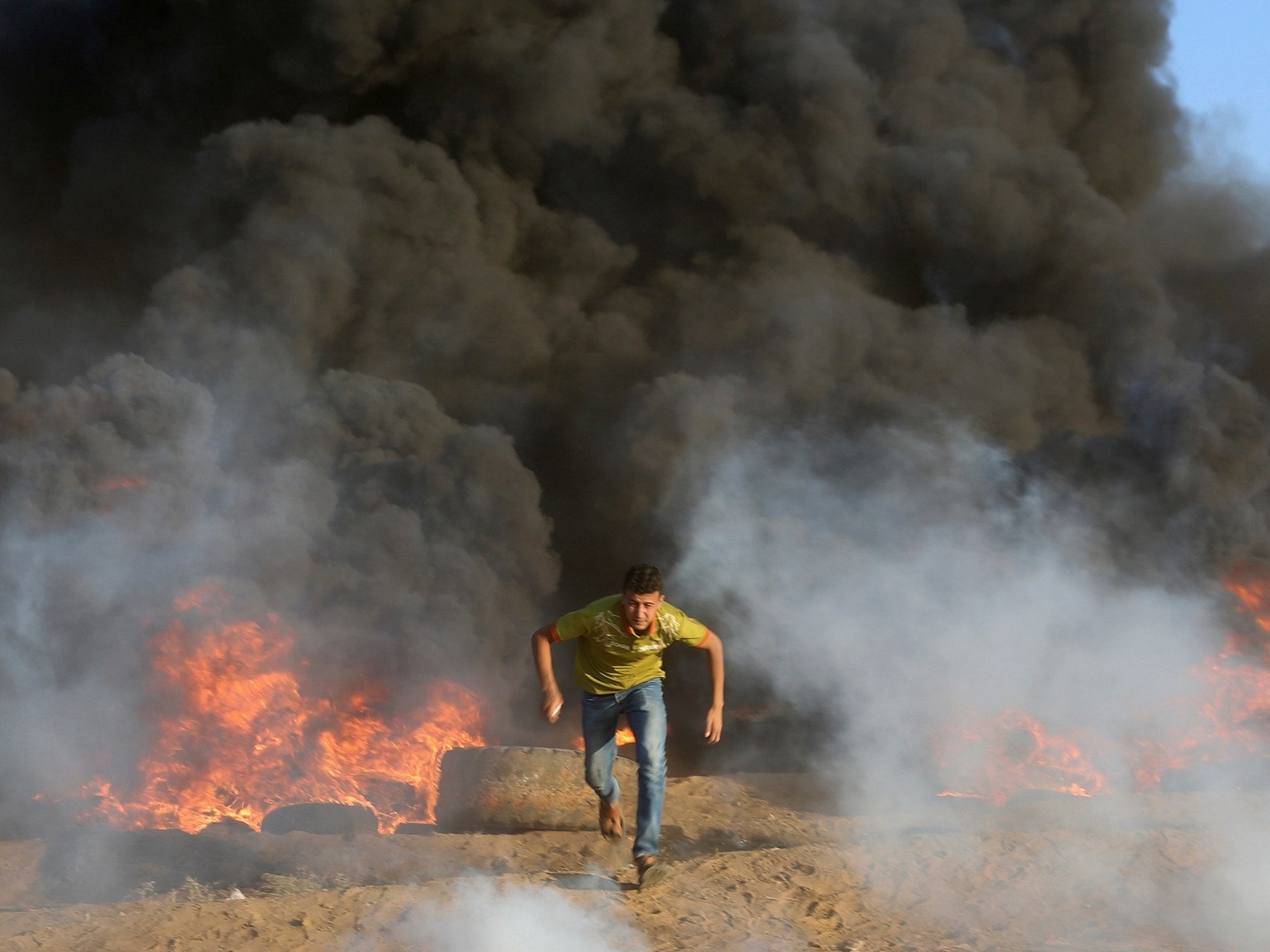 T he World Bank's most recent report on Gaza says its economy is in "free fall"; Palestinians – including two children – killed by Israeli forces in a violent day at the end of September. Israel and Hamas
The Independent Donald Macintyre was the paper's Jerusalem correspondent for eight years. Gaza, this week's extract from his book on Gaza, out in paperback next week, Donald traces the factors – including international neglect – that have driven the Gaza Strip to this point.
***
On a chilly , Gray Sunday afternoon in January 2003, Mahmoud al-Bahtiti's vehicle engine repair shop in the southern Gaza City neighborhood of Zeitoun. The previous night, Israeli tanks, supported by Apache attack helicopters, had rumbled along the main north-south Saladin road, ramming three buses ̵
1; which still lay mangled and skewed across the road
Eleven of the 12 Palestinians killed that night were militants who had rushed to the streets to fire their AK-47s on heavily armored Israeli troops. The incursion, which followed the firing of 10 homemade Qassam rockets into Israel, had failed before causing injury. As the 50-year-old al-Bahtiti nodded towards the ruins of his metal workshop, one of more than a dozen destroyed overnight, he shrugged and a letter grin flitted across his face. "So Abu Ammar said Gaza is going to be the new Singapore," he said.
The sardonic – and characteristically Gazan – joke what a reference to Yasser Arafat's portentous prediction nine years earlier of a Gazan renaissance, and it summed up how Gaza from Tunis in 1994 had gone the way of al-Bahtiti's workshop. That day in January 2003 the Israeli military said it had destroyed 100 Lathes that had or could be used in the future to make rockets. Al-Bahtiti insisted he never made a single rocket; his premises had been used only to fix car engines. Either way, Gaza is not morphing into Singapore any time soon. What al-Bathiti could not begin to imagine what the destruction would be, how it would be military, that would be inflicted on Gaza over the next decade and a half.
Al-Bahtiti was the first Palestinian I ever met in Gaza. Almost 14 years later I went back to Zeitoun to find him. It was a surprise to discover that this is the Wiry Figure, looking younger than his 66 years with a Neatly Trimmed Beard, Blue Open-neck Shirt and the Same Dry Sense of Humor, What Silence in Al Basateen Street and Still Fixing Car and Truck Engines It has been said that business has never been slower.
He had stopped complaining about the Hamas government because of the shortage of electricity; thanks to the scarcity of work, the interruptions are hardly mattered anymore. "They can cut it as much as they like," he said. "Gaza is like heaven. There is no work in heaven either. "
Al-Bahtiti had first learned his trade when he left school at 15, two years before the Six Day War, and started out on his own five years later. Those were the years of open borders when they came to buy fresh fish – or have their engine cylinders, camshafts and turbo-chargers fixed a good deal more cheaply than in Israel, and just as reliable. In al-Bahtiti's words: "I am not praising Israel, I am just saying that it is a fair life back then."
Business had been all right during the Arafat years after Oslo, he said, but it had got worse and worse. As it happened, he had suffered exceptionally bad luck; his workshop had been destroyed or badly damaged not just in 2003 but in each of the three wars since then. In 2012 he was moved to Tel the Hawa where his premises were collaterally damaged in a strike on a nearby office of the Ministry of Interior. "They never forget me," he said wryly. Did the Israelis think he's still made rockets? "No, they just do it for revenge. To destroy the economy of course.
Al-Bahtiti still stood by his gibe at Arafat from that cold afternoon in January 2003. But after the three wars and nine years of economic victory that followed Hamas's takeover of Gaza, he thought maybe he had judged the Palestinian Authority established by Arafat too harshly. After the elections, he said, "Hamas was not only rejected, but hated, by most of the governments in the world. Subsequently, the Palestinian people in Gaza were treated in the same way. Egyptian Singers, Umm Kulthum: "Al-Bahtiti reached back to the lines of a song from his teenage years." "Give me my freedom again, and let my hands go."
Then he asked me a question. Given that Britain has issued the Balfour Declaration a century ago and "we are still suffering as a result of that declaration". No, back to the Arabs. He recognised that "the Jewish people took their rights after Hitler committed massacres against them. But who wants to give us our rights? Germany still supports Israel till now, but Britain gave our lands to the Israelis and they never cared to give us our rights. "
Agree with him or not, al-Bahtiti touched a raw nerve. He was not wrong to trace the Palestinian Experience back to the 20th century, culminating in the genocide of European Jews in the Holocaust. Nor did al-Bahtiti wrong to internationalize the problem by implying that other countries as well as Israel bore a responsibility for solving it, including the British who occupied Palestine, and then left it unresolved 70 years later.
During a thoughtful speech in Monterey less than a year before the US-British Invasion of Iraq, then the US Department of Defense Secretary Paul Wolfowitz suggested: "To win the war against terrorism and, in doing so, help shape a more peaceful world, we must speak to the hundreds of millions of people in the Muslim World and democracy and free enterprise. These are sometimes described as "western values", but, in fact, they are universal. "
identified as being "the blessings" identified in that unimpeachable doctrine were those denied to Palestinians in Gaza. The International Boycott Convening After the 2006 Election Result What a hardly a ringing endorsement of democracy. The prolonged blockade, ostensibly aimed at Hamas for refusing to comply with the conditions laid down by Israel and the Quartet, afflicted the civilian population far more than Hamas itself. Palestinians in Gaza for their electoral choice, but their differences for the sake of doing it and their lacking in opportunities are reversing it. [Collect protest] Palest Palest Palest collect was G Palest G Palest G Palest G Palest G Palest G Palest G Palest G. 19659002] In Gaza it was a classic case, in Sara Roy's memorable description, of sanctions being used rather than the occupier. But it was also a reminder that for 50 years Palestinians have had no say in voting in a single, binational state.
The freedom of Gazans to travel, as well as import and export goods, had been curtailed before Hamas's election victory, of course. But it had been much more tightly closed than the past decade at any time since the Six Day War. When the British carried out their ferocious bombardment of Ottoman-controlled Gaza City in 1917, those fleeing were at least capable of getting to other parts of Palestine. B'Tselem, 2,237 of the Palestinians killed. That's not the case, but it does not support the majority of Palestinian civilians in all three wars were non-combatants.
Gaza, which is the quartet approach helped to legitimize. The creation of a 300-meter (at least) buffer zone and the imposition of a three- or six-mile limit in Gaza waters wrought a devastating effect on both agriculture and the fishing industries. Israeli security. Israeli security. Israeli security. Israeli security and security. Israeli security. Let alone the consequential drift of the unemployed in jobs with Hamas, including its armed and paramilitary wings, as well as those hired to dig that were seen as a security threat to Israel. Hamas Hamas Hamas supporters have been emboldened in their arrears by declining living standards in Gaza (1965) Donald Macintyre)
      
Palestinians talk, as al-Bahtiti did, about the "golden" time before Oslo for Gazan businesses and workers. Gaza between 1967 and 1993. It was an era often characterized by roundups, arrests, bulldozing of homes and citrus groves, lethal firefights, the seizure of land and water for Israeli settlements, the army's house-to-house sweeps of the refugee camps, and all the other pressures which suffered the constant physical presence on the streets of a military occupation. But al-Bahtiti's nostalgia for the period when the Israeli Gazprom literally shuts down, and the gazan economy slashes in the first two and half decades of occupation, making it wholly dependent on theirs. But then defense minister Moshe Dayan's strategy after 1967, partly in order to subdue Palestinian nationalist sentiment, what to allow many of thousands of Gazans to work in Israel, and for work to trade with it. From the early 1990s, this relative openness was a political separation, culminating in a 21st century blockade, which left Gaza with virtually no economy at all. Finally, the de-development was completed by three military assaults on the Strip within six years which failed to dislodge Hamas but had a devastating impact on the civilian population. Israeli and international policy, the assaults could well be repeated.
Source link