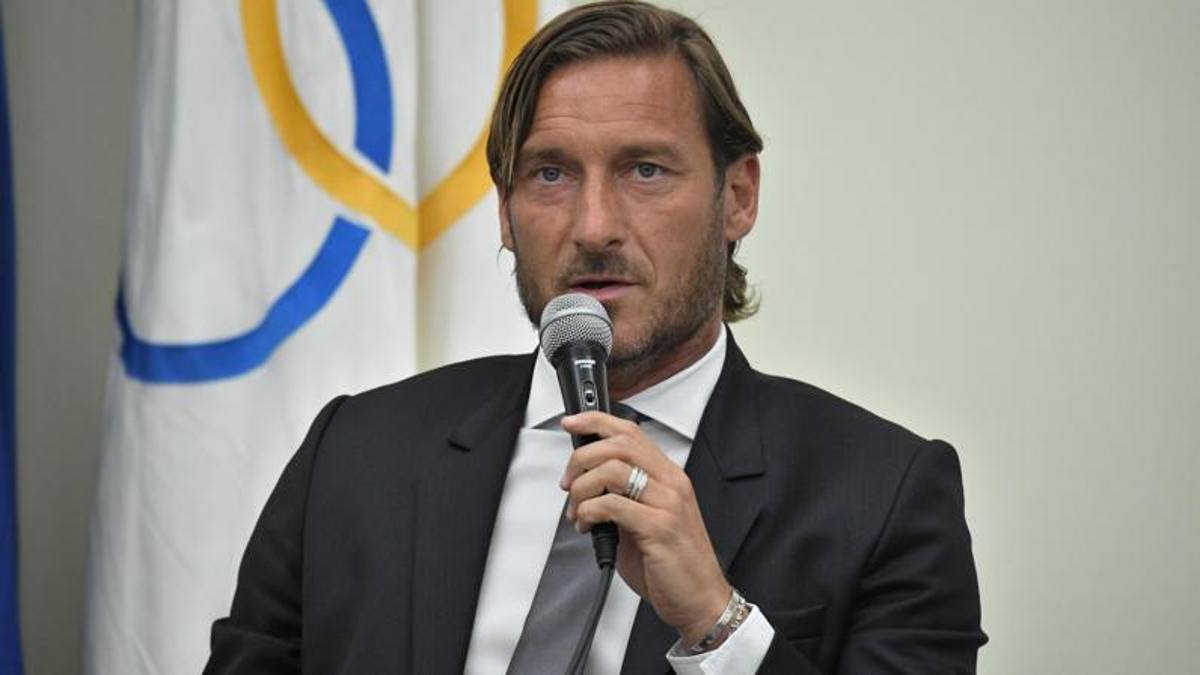 words to the poison of the former Giallorossi captain, but also jokes and moments of emotions. Present Aquilani, Nela and Candela
They have the feeling that something is crumbling, breaking, falling apart. It takes five minutes. The time when the flashes of photographers go out in a sold-out Coni Hall of Fame. Some of them have white hair, they are the ones who have immortalized another June 17, another Francesco Totti, another Rome, that of Scudetto. Only for a few moments had the Romanist most romanticist ever struggled to choose a tone, thanks in part to a strange microphone. But it does not take long, very little: then it stops the handbrake and goes away without being afraid of words. Words that Totti rules without fear. There was no drop, he says, because the vase was beautiful and full for a long time. "I can not stay here," he repeats, pointing to the atmosphere that has led him to make an "impossible" decision: to leave Rome. "They kept me away from everything". "There are people who do not want me in there." "There are men in Trigoria who want the evil of Rome". "You called me at the last meeting." "The truth hurts". And again the vase, because "it is impossible to reassemble the parts". That is: This is not a farewell, but a farewell, but only if there is another property.
Sins and sabers
̵
1;
There is a bit of history in the audience about Rome. Alberto Aquilani comes, there is Sebino Nela, here is Vincent Candela. There is also Aldo Bartolomei, the historic secretary of the youth sector, of a few days. Totti talks about everything: the call to Conte, the calls to other potential technicians, the De Rossi case, the desire to "remove the Romans from Rome", which in his opinion was a fixation for those who administered the Rome of them have years. The audience will be conquered by this Totti without restraint, without diplomacy, without stunts and not to say. The whisper surrounding each of his lines: "Pity," some say. The biggest applause comes when Totti tells what's going to happen next year and says, "Maybe I'll take Daniele and we'll go to South Bend." He is an almost Zemanic Totti who is always on the attack. Every now and then, but only occasionally, some answers in ironic sauce. For example, when he says "something I keep … when someone answers". More saber than foil. And there is also the Olympic champion Michele Maffei, who was at the top of the world with his saber.
Detachment from the mother
–
There is no Parma to beat, there is no circus Maximus waiting. It's as if the two are arguing on June 17. But even on May 28, two years ago, it is still far away. He says very far, because this time he has "the feeling of dying". And why is now "detachment from the mother" almost carnal, visceral. And then two years ago, everything was a touching tenderness. Today, Francis says, paradoxically, it hurts a lot more. Many hands are raised, an hour has passed, but the press continues with Paolo Condò, the journalist biographer, who continues to guide questions. Everything is discussed. Pure Mancini, Mancini in the sense of Roberto, of c.t., of Europeans approaching. Totti says "I will try to bring him luck". A blue future?
Source link