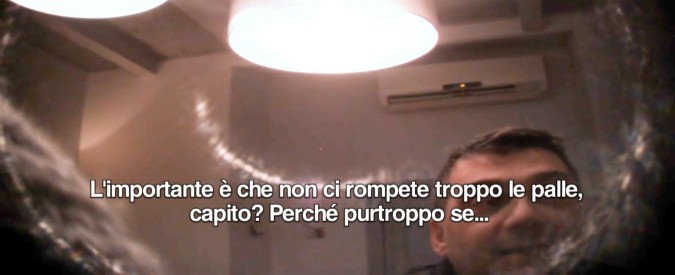 "Since they could make some valuable and address the question of the protection of the possible interlocutor of the interviews, I advise those who need to do so: as soon as you arrive, or shout Just before you enter the editorial department Colonel XXX, who knows the reporter XXX, who will be interested to finish the file immediately. "The note is marked with a specific" R. "and attached to the provision by which the men of Noe of Naples at the request of the colleagues of Venice have gone to the editors of Naples from Fanpage.it to obtain the material, referring to the investigation of Sesa of Este and refers to the companies active in the production of compost in Veneto, in particular the Carabinieri asked the director Francesco Piccinini the entire to film video footage and to "identify the sources that are" obscured "in the videos. A request to which management "gave a firm refusal ̵
1; it says on the website – and stated that it was obliged to protect
the sources of
journalistic work."
Part of the poll of fanpage on companies producing compost in Veneto. After requesting an interview at the head of Sesa, the waste society of the municipality of Este, the company had requested a meeting with the editor of the newspaper to start a negotiation for a full-fledged person Advertising investment: 300 thousand euros (100 thousand per year) in exchange for the opportunity to view the investigation before its publication and to "complete" it together. "We spend so much money in the newspapers to convince ourselves of our good work," said the patron Angelo Mandato the journalists who had introduced themselves at the appointment and took back everything with the hidden cameras. "The important thing is that do not break our eggs too much do you understand?" Added Sesas Head of External Relations Fabrizio Ghedin . He was also communications consultant for Vannia Gava Undersecretary of the Northern League of the Environment Minister.
It was because the release of the Ghedin shovel had receded some hours and the step back was immediately accepted by Undersecretary. And a few days after the publication of the service Guardia di Finanza from Padua had asked the editors for " at " information contained in the pictures that showed the spread of compost, the plastic contained in the Venetian countryside.
"We consider this attitude unacceptable – say in a note Raffaele Lorusso and Giuseppe Giulietti Secretary General and President of Fnsi, Claudio Silvestri Secretary of the Unity of Journalists of Campania, and Sandro Ruotolo President of the Association of Chroniclers of Campania – and we remind investigators that the protection of sources is a basis of professional journalism, especially for those who Investigate how, for example, Waste Transport has important legal implications. "" Well, the director Francesco Piccinini has resisted – they continue – and protects those who confidential information to the newspaper. For this reason, Giuseppe Giulietti, President of the National Association of Italian Press, and Claudio Silvestri, Regional Secretary of the Union of Journalists of Campania, will be appearing tomorrow at 11.30 in the newspaper's Neapolitan editorial office for a press conference. "
" I do not believe that journalists who fulfill their duty with direct Back The valuable comments Nicola Fratoianni of [19459005machen] Italian Left first signer of a parliamentary inquiry to the Government on the legal and political aspects of the matter. "Perhaps it is necessary that the general commander of the weapon – concludes Fratoianni – find plausible explanations for the editors of fanpage and immediately initiate an internal investigation of the weapon."
Source link