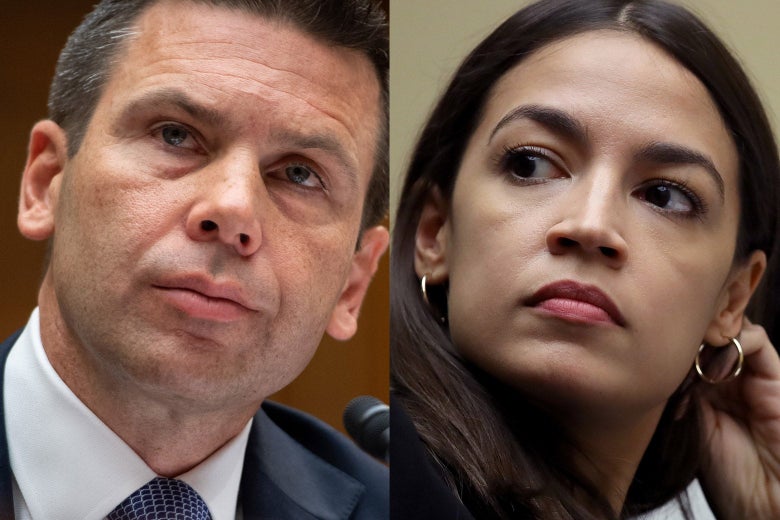 Rep. Alexandria Ocasio-Cortez has done at least one thing right this week: The Department of Homeland Security should be abolished.
Ocasio-Cortez suggested that the DHS be separated in a radio interview with New York editor David Remnick, whereupon several Republicans began banging them for the idea. "Absolute irresponsibility," Rep. Liz Cheney called to a reporter. "Idiotic, stupid, naive and stupid," stuttered GOP strategist Karl Rove on Fox News.
It is unclear why Dick Cheney's daughter and George W. Bush's former deputy chief of staff of the White House should find AOC's suggestion so outrageous. A Democrat, then Sen. Joe Lieberman first suggested setting up a DHS after the 9/11 attacks to show his party could take terrorism seriously – and then President George W. Bush initially opposed the idea and said it would only pile up on another level of bureaucracy. That was an understatement.
Bush finally gave in after the 9/11 Commission concluded that the attacks were partly because the FBI and the CIA did not share information about the kidnappers' movements prior to the attack. This overstated the case, but suddenly consolidation became a popular nostrum for our problems, and in 2002 Bush signed Lieberman's idea into law.
The unconsolidated organizations – the CIA and the FBI, the culprits who primarily abused Al Qaeda intelligence agencies – increased their counter-terrorism units, redirected their focus, and established new lines of communication between them. Meanwhile, the Department of Homeland Security has combined 22 authorities from eight federal departments – with a total budget of $ 40 billion (at that time) and a workforce of 183,000 employees – to a monstrosity.
Not only the size was the problem: most of these agencies had different functions. Merging would not necessarily make it more coherent or efficient. In fact, it has made each component less effective. Several of these agencies had been run by Cabinet Secretariat officials who could laser-focus on their specific areas and had the power to request direct access to the President. That's not true anymore. The very good Minister of Homeland Security has the time and scope to focus on maybe two or three of the 22 areas of the ministry. The other areas are now managed by under-secretaries or assistants (or assistant assistants) – people with less influence and access, so that problems are less addressed.
The place is a well-known mishmash that is unable to attract top talents on top of politics.
Here's an example: When the US government began to deal with cybersecurity in the early 1990s, the Department of Defense set up a dedicated joint task force to defend computer networks. It had bureaucratic clashes with similar but separate units of the Air Force and the National Security Agency, but those responsible began to work out how they should work together.
DHS is unable to attract top talent at the top levels in which politics operates, and can not hold top talent in the middle levels in which operations are administered.
Then After September 11, it was decided that the DHS will be responsible for defending the nation from cyberattacks (though the Pentagon and the NSA continue to be responsible for defending the defense networks). The system of inter-agency agreements, which had developed slowly, crumbled. The DHS lacked the resources and know-how for its mission. During the early Obama administration, Defense Secretary Robert Gates and Interior Minister Janet Napolitano signed a Memorandum of Understanding that allowed the DHS and the NSA to work together in crises, but it was sabotaged by a DHS MP who was against any plan that could lead to Turn added Internet into a "war zone". (The honorable Member was a few years late to stop this development.)
The DHS has probably also adversely affected the protection of security and civil liberties on the southern border, the main theme of Ocasio-Cortez's concerns. Prior to September 11, border issues were handled by the US Customs and Immigration and Naturalization Services, which merged the DHS into a new authority, the Customs and Border Patrol.
The Customs and INS were run as fairly professional law enforcement agencies, with different degrees of negligence or fervor, depending on their time. Under more normal administration, CBP could still work this way. But sent to a political department and led by a select agent, she has become a trustee for Trump's obsessive anti-immigrant agenda. Had the responsible bureaucrats of the old customs service even caged children on orders from Trump? Could be. But they could have handled things more professionally because it would have been an independent agency that followed their own rules and rules, not a subgroup of a super agency run by a political commissioner.
At some point, bureaucratic routines and regulations serve a commendable purpose.
It is very difficult to reset the clock to the year 2001 and to dissolve the DHS into its once-separate components, especially since most people do not remember or even notice that this was not always the case. But maybe we should try it. Republicans are talking all the time about the dissolution of federal agencies. As Ocasio-Cortez put it in a clarifying tweet "A discussion of reorganization should not be ruled out."
Help us continue to handle important news and issues – and
get ad-free podcasts and bonus segments,
Member-only content and other great benefits.
Join Slate Plus