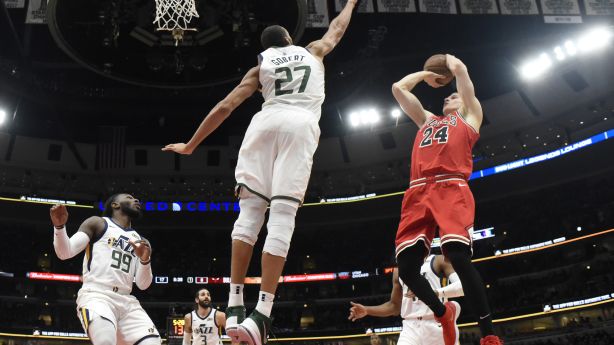 CHICAGO – More than an hour before Saturday's start, Chicago Bulls coach Jim Boylen sounded as if he knew what was coming.
He stood in the corridor of the United Center, talking about everything he loved about Utah jazz. He talked about how they defended, how they moved the ball, how they performed their sets, and ended up saying, "They have some really tough, physical men who can put you in their shoes."
Boylen knew it. He was just powerless to stop it.
Rudy Gobert shattered a Kris Dunn shot from the back wall, causing a blindingly fast pause. The ball bounced off Jae Crowder, who moved him behind his back country to Joe Ingles. Ingles was quickly sprinted to Donovan Mitchell. And Mitchell finished with a high-flying, wild slam as the Bulls defenders watched helplessly.
This piece almost summarized what it was like on Saturday at the United Center. Jazz actually beat the cops and hit Chicago 1
14-83 to complete the eastern swing. Utah improved to 43-30 in the season and has won six of his last seven games.
The Jazz had a 15-point lead after the first quarter, a 34-point halftime finish, making the rest of the game academically easy. Utah was focused and took care of a bad team from Chicago.
How dominant was Utah in the first half?
The 70-36 halftime in Utah was a record for the road's biggest half-time advantage. At break, all 10 jazz players who had seen action were at least 13 plus in the game – including Thabo Sefolosha, who played only 5:40 and still somehow still had a plus / minus of plus 19. And the jazz had an offensive rating of 142.9 and a defensive rating of 73.5.
Gobert had 21 points, 14 rebounds and four blocks, Mitchell scored 16 goals in eight strokes, while Joe Ingles and Derrick Favors each scored 13 points for a balanced attack from Utah. All 13 jazz players scored on Saturday
This story is being updated.
×
Source link