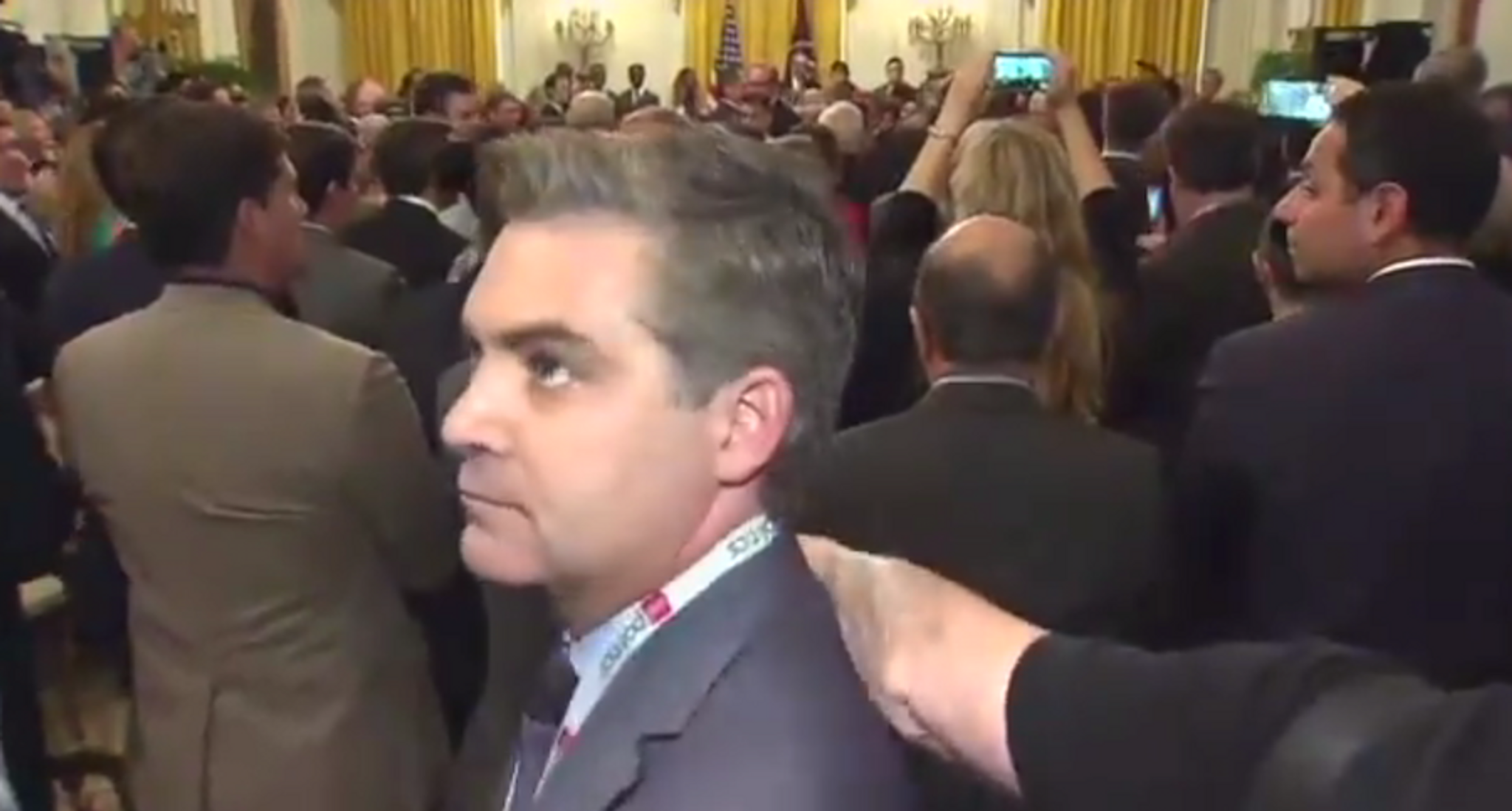 Reporter Jim Acosta, on the eve of President Trump's tax jubilee on Friday, wanted to talk about the bias of the media – even if it caused confused glances and shocks to those present.
CNN's White House editor-in-chief was caught calling Mr. Trump's video call Guests in the East Room's East Room celebrated the December 2017 tax reform legislation.
"Mr. President, stop calling us the enemy of the people 'Sir, stop calling the press the enemy of the people, sir' Mr President, stop calling the press the enemy of the people, 'he asked in a video by Politico
] White House Reporter Jennifer Jacobs noticed the crowd responded to the behavior of Mr. Acosta by stepping up their pats and cheers for the opportunity.
"Trump did not seem to hear any of the questions we called at the end of the tax reform event," she tweeted. "Remarkably, when the very friendly crowd realized that reporters were shouting at Trump, they raised the volume of their applause and cheered to override the press."
We also had some people who had calmed down in the audience. Of course we are not unsettled. https://t.co/ZbSYaTVYti

– Jim Acosta (@Acosta) June 29, 2018
"We also had a few people shuffling [us] in the audience," the CNN reporter responded. "Of course we will not be steamed."
Mr. Trump told the audience that by signing the legislation six months ago, the Republicans helped launch an "economic miracle".
"At last, our country finally has a tax system, pro-jobs, pro-workers, pro-family and pro-America," Mr. Trump Said.
Readers told Politico that Mr. Acosta's behavior did not help the image of CNN as a biased news organization to millions of Americans.
"Acosta should put pressure on its business and other news organizations should be more impartial," a reader replied. "Sticking to fair and balanced journalism is how to fight that perception through the press."
"The #MediaBias is bloated with self-esteem … and, EVERYONE KNOWs, but you hack, of course," added another.
Mr. Trump's critics claimed that his "Fake News" accusations were somehow responsible for the shotgun massacre in Annapolis, Maryland, which killed five and injured several.
The suspect Jarrod W. Ramos, 38, was arrested after the capital gazette's killing and charged with five counts of first-degree murder. The man had a long-standing feud – including a failed 2012 litigation – with the newspaper.
"Mr. President, stop calling the press the enemy of the people," cried CNN journalist Jim Acosta at the end of Trump's speech pic.twitter.com/FqWT5afwUV

– POLITICO @politico) June 29, 2018
Washington Times Commentary
The Washington Times welcomes your comments on Spot.im, our third party. Please read our comments policy before commenting.