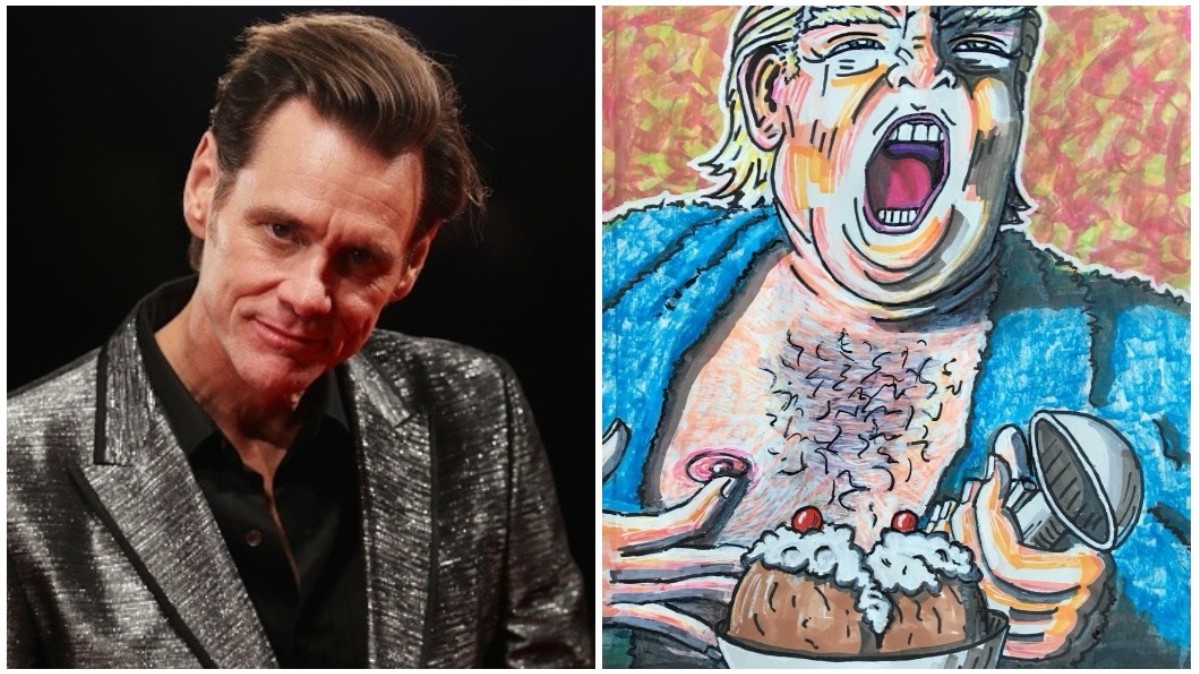 Photo of Carrey by Vittorio Zunino Celotto / Getty Images; Portrait of Trump by Jim Carrey via Twitter
Jim Carrey, actor and rising political cartoonist has added another piece to his collection. It is arguably his best work, a half-naked study of President Trump who apparently enjoys two scoops of chocolate ice cream. I scream, do we ever stop screaming? " (201
8) is a wonder of form, of honest expression and craftsmanship, a priceless piece of modern art. In short, it belongs in the goddamn Smithsonian.
And that's exactly the house the artist envisioned petitioning the National Portrait Gallery to make Trump's official presidential portrait. And rightly so, considering the texture of Trump's fluffy-blue robe the tension in his jaw, the worm-like curls of his chest hair, it makes sense to imagine the play alongside Kehinde Wiley's portrait of Barack Obama or Amy Sheralds of Michelle , Consider how cautiously Trump's forefinger strokes his inexplicably oblong shrimp-colored nipple – pièce de résistance – and Carrey's work is basically a shoe-in.
One could argue that Carrey's career is too short – Lived for him to earn the honor of creating the official portrait of the president, a fair criticism. But I say: Look, how it developed! He is so far from his humble, amateurish beginnings when one could not even see whom he was drawing to hell.
Or even, if you could, they looked like Neanderthals.
So he has also grown subtly – instead of flat-out presenting the President cutting a starlet or portraying Trump's adult sons who were bored of an elephant he has depressed his awkwardness and opted for a simple, unvarnished nip instead of something much lascivious.
Look again at Trump's blue eyes, half-closed and watery with pleasure, the weight of his mysterious hair-helmet, the unorthodox, animated palette with which Carrey made him. Take the bold lines of something that looks like hot pink and orange highlighters, the warm red tongue, the attention to detail in the shadow of the ice cream bowl.
It's lovely. It is innovative. It's perfect. It is, in a word, art. If that thing does not belong in the Smithsonian, I do not know what that does.
Sign up for our newsletter to get the most out of VICE every day in your inbox.
Drew Schwartz appears as an art critic for VICE. Follow him on Twitter .
Related: Jim Carrey Flames Fashion Week