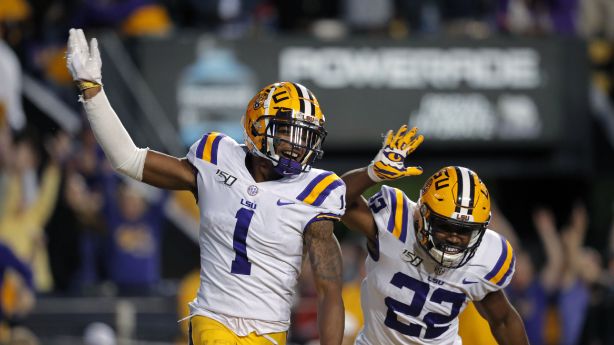 SALT LAKE CITY – A total of eight top 25 teams have lost this weekend, including Georgia No. 3 against South Carolina without a rank. That helped teams like LSU ascend in my poll this week.
Over the course of the season, it can be expected that the weekly rankings will confuse much more. Towards the middle of the season, we'll look more closely at how the individual teams compete against better competition.
Here is a look at my ballot for Week 8: [194559005] Climbing: Clemson, LSU, Oregon, Utah, Wisconsin
The LSU Tigers are playing great football and look like one of the best teams in the country. Of the top 5 teams, the tigers certainly had the best test and they were solid. And both Oregon and Utah took care of business against lesser opponents. If they play within their schedules, it is difficult to stop one of the two programs.
Fallen: Florida, Georgia, Iowa, Memphis, Texas, Virginia, Wake Forest
Well, Georgia is the biggest disappointment this week. The Bulldogs probably had one of the best programs in the country and I thought they would finally challenge Alabama this year. They still could, but dropping a game against a bad team from South Carolina is not promising. Jake Fromm looked shaken and there were many bad late-game coaching decisions calling into question their position in the top 1
0] Appalachian State and Tulane have patiently waited for their turn to reach the top 25. I still have my reservations about the state of Appalachia, but now it seems to be a good time for me to give mountaineers a place in my ballot. The mountaineers have one of the weaker schedules of the top 25 teams, so I do not promise to keep them on top.
Canceled: Iowa, Memphis, Virginia, Wake Forest
Teams, especially Iowa and Virginia, have shown that they are mediocre teams that can flirt with success, but they are not quite there , Iowa has played well for Penn State and is on the verge of being in the top 25, but two consecutive defeats are hard to ignore.
Eligible Teams: Iowa State, Navy, Temple [19659002] Hit me as always on Twitter ( @JFurKSL ) if you have questions about my ballot.
---
×