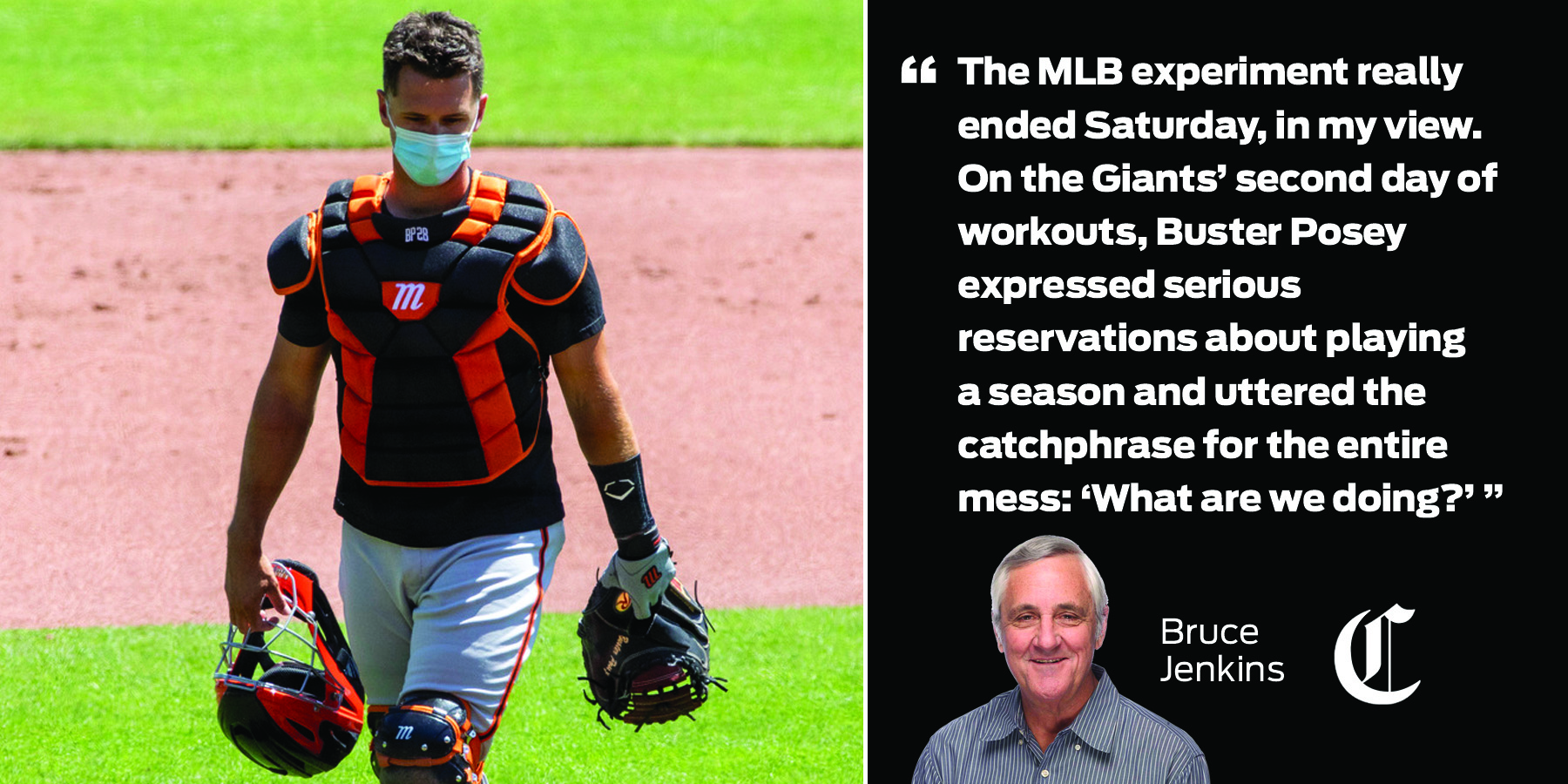 Baseball's attempt to live with COVID-19 is less than a week old and the season is already over. There cannot be a reasonable soul who believes that this will work.
The training camps could clumsily tumble toward games that count, but until October and a World Series? No chance. Trust is gone and fun is just as important.
Only baseball, a sport in which a work agreement is actually not an agreement, could trigger such a monumental catastrophe in such a short time. The NBA's "Bubble" experiment in Orlando, an idea where a lot of people freaked out, sounds like paradise by comparison.
In my opinion, the MLB experiment really ended on Saturday. On the second day of training for the Giants, Buster Posey expressed serious reservations about playing one season and pronounced the catchphrase for all the chaos: "What are we going to do?" The game's best player, Mike Trout, said he didn't feel well at all if he left a pregnant woman at home. A star-quality pitcher, David Price the Dodgers, was released on bail. There was news that Freddie Freeman from the Braves, a four-time all-star, was not only tested positive, but was also seriously ill.
On the other hand, it may have ended on Sunday when the A's joined several other teams in frustration with inexcusably delayed test results. Or on Monday when A's pitcher Jake Diekman Susan Slusser of The Chronicle said, "I honestly have the feeling that this will just shut down in a week or everyone will log out."
Tuesday was not that great either. When the Giants dropped out of training and were only able to continue with the results of the tests conducted over the weekend, it was found that A's Pitcher had tested Jesús Luzardo positively. In a pandemic world, no player is more important than the other, but Luzardo is one of the best young talents in the game. How many A fans are happy about something right now? And how long can MLB ignore such alarming trends?
At the highest level of the game, executives didn't have to worry about whether to wear the field in a mask or wonder if they should touch a particular baseball or basically turn their lives upside down. they had a task: Coronavirus tests are carried out correctly and the results are compiled during dispatch. Yes, this is a difficult task in every area of ​​society, but if you want to make this promise, you have to be absolutely sure of your methods. Hell, this thing fell apart before some fans even noticed that the training camps were reopening.
Even without trust, let's make a crazy assumption and say the testing process starts to work. This simple fact is just as relevant for the engagement of the players: baseball, essentially a child's play, no longer feels that way among professionals. It is not fun, it is not promising and it is full of fears and fears.
I think some people were animated by the sight of the Giants and A's that were training on weekends. I found it depressing to know what the players, staff, and media had to go through to get approval. A's pitcher Sean Manaea said he would consider wearing a mask during the game should we reach this point. There was a good level of lightness, players laughed and played around, and you know that the majority enjoyed having a productive swing, a gentle pickup, and a pitch with life.
But it always comes back, in the Bay Area and in every camp across the country: What do we do?
As the Chronicle's Henry Schulman recently emphasized, baseball made a terrible mistake in creating an "injured list" that did not identify players who tested positive. Of course, situations arise in which a player skips training, perhaps for normal reasons, but is now immediately suspected. Certain teams will intentionally hide the issues and raise doubts about the credibility of everything they announce. A manager might be aware of a player's positive test, but must dance around the topic in media interviews.
Result: Chalk another example of how MLB got there completely unprepared. And wait for the teams to take to the streets for the actual games if they get this far. You have never seen a plan that includes such delusional optimism.
Apparently, we expect the teams to venture into virus-infested Phoenix, Southern California, and Texas (where the Houston region set a peak for COVID-19 hospitalization on Monday), and everything will work great. In cities that seem a bit safer, players think, who cares, we go to a bar and a restaurant. We are young, we are bulletproof, we will be fine. If you're making fun of yourself, don't understand the mood of ignorance – arrogance, selfishness, whatever you like – that has done widespread harm to pandemic recovery.
"It takes a man to get it to the clubhouse," said Trout on Saturday. "And given the contagion of this virus, it will be difficult to contain."