Most people are familiar with ketamine as it's a popular drug club due to its dissociative effects. Before getting dragged into the war on drugs, ketamine was highlighted as a great medication with fascinating properties. Ketamine was officially used in clinical settings in the early 1960s. Even though it is widely used, its properties are still not completely understood on a scientific level due to the complexities associated with molecular targets and neurophysiological attributes. It has been used as a reliable anesthetic for many years to produce anesthesia or induce sedation. In simple terms, ketamine causes a disruption in the transfer of information which leads to the popular sedation effect. Its reputation as a reliable anesthetic was apparent in the Vietnam War as it was the most used anesthetic drug on the battlefield.
While its dissociative effect isn't as strong as other drugs, it can be very strong and adverse. Ketamine's uses in human medicine decreased as it was replaced by more modern anesthetics, yet, it's still the most popular veterinary anesthetic. This doesn't mean that it's not commonly used for humans; it can be found widely used in emergency cases, cancer treatment, and chronic pain relief. The recreational or psychedelic properties of the drug opened a door for many researchers to start looking at it as something that can be used for various purposes other than anesthesia.
We'll be talking about how the new ketamine infusion treatment is paving the way for different therapeutic and pain relief treatments.
Common Medications Failure
Some ailments are simply too hard to fight with conventional and common medicine. People who are suffering from migraines, fibromyalgia, chronic pain, and even clinical depression are starting to turn to ketamine infusion treatment for relief. Common treatments like anti-depressants, opioids, cannabinoids, NSAIDs, and topical agents may work for a little while, but they usually fail at keeping the patient's response sensitivity up. Most drugs used for chronic pain relief can have many side effects that could significantly reduce the quality of life of the affected individuals. When the prescribed medicine stops working as intended, patients start facing a real struggle.
Acceptance
It may have taken too long for ketamine to be discovered on a grander scale beyond anesthesia, but it's making great strides in terms of acceptance by the general public and governments. Los Angeles has been known to be one of the pioneering states that advocated for ketamine infusion therapy after seeing its success rate. There are ketamine clinics in Los Angeles that are offering free consultations and information to help educate and guide patients who are suffering from chronic pain and psychiatric disorders to the benefits of ketamine. The effect of ketamine on mood disorders is quite fast, making it a much better alternative than antidepressant drugs that alter the brain's chemical balance.
Chronic Pain Relief
Ketamine has been the number 1 option for many people with chronic ailments like migraines and fibromyalgia who have tested it. The new ketamine infusion therapy involves administering one or more ketamine infusions to not only manage psychological disorders like PTSD and depression, but also to provide long-term pain relief. Neuropathic pain, migraines, fibromyalgia, back pain, and arthritis patients are finally able to breathe thanks to the new ketamine infusion treatment after years of resisting traditional medications.
Neuropathic Pain
Fibromyalgia and Complex Regional Pain Syndrome are both neuropathic conditions that are highly painful for their patients. In fibromyalgia's case, ketamine works by blocking certain chemicals in the brain from activating receptors related to pain in the brain. Complex Regional Pain Syndrome is a condition where a patient's pain nerves are overstimulated, making it misfire or incorrectly respond to outside stimulus as light as a touch. When all stimuli become painful, patients often despair as their nerves' condition starts worsening as the response gets even more painful. The major cause is yet to be discovered but it was found that ketamine can stop these nerves from misfiring. In both conditions, ketamine shows promising results as it allows the nerves to reset and start a regrowth process that allows for more appropriate connections.
Ketamine Infusion Session
Ketamine infusion treatment is done in rooms where medical professionals are available to carefully observe the patient. The treatment uses an intravenous infusion as it's the most efficient way to deliver any drug to a patient's body by using their bloodstream. A numbing process is carried out in the injection areas, followed by a small needle injection to connect the IV. In a few seconds, patients start to feel pleasant and even euphoric feelings in some cases. You can even ask the operators to play some music as the process lasts 75 minutes on average.
The effects of the infusion process are pronounced even after it's completed for about two hours where you'll feel light-headed. During the observation process, the medical professionals will monitor you until you're fit to be discharged from the clinic. It is not allowed for you to drive a vehicle home, so you'll need someone to pick you up or use a taxi.
How Ketamine Infusion is Shaping the Future
It took a while, but many scientific and medical organizations have conclusive evidence and research that shows ketamine's ability to block nerve pain pathways and to readjust the function of the neural pathways. Nerve and inflammatory pain are directly targeted by ketamine infusion therapy and its success is astounding with different types of chronic pain. Ketamine treatments require more than one session, but they are surprisingly fast as many patients feel the effects almost instantaneously. The treatment course usually spans 2 to 3 weeks with about 5-6 infusions. Chronic symptoms start subsiding after only a few hours, making many patients decide whether the treatment is working for them or not in an accurate manner.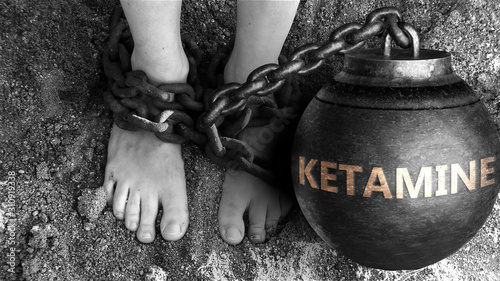 While it may be too early to declare it as a drug that fixes all problems, it's showing great potential as it's revolutionizing the world of pain relief therapy. Some pharmaceutical companies have started manufacturing ketamine nasal sprays that can be used safely for immediate relief in some extreme cases. As long as light is shed on the benefits of ketamine, the research will continue to grow alongside the advantages of ketamine.