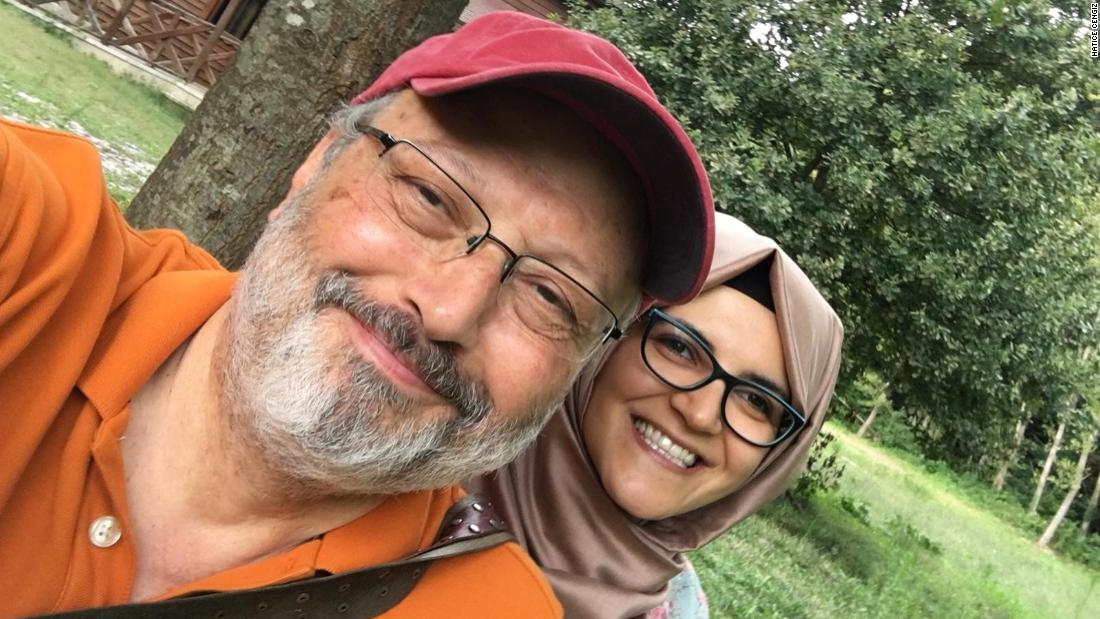 Khashoggi, a Washington Post columnist and Saudi royal insider who became a critic, was missing after visiting the Saudi consulate in Istanbul on October 2, to get paperwork that would allow him to become his Turkish fiancé
Statement on Sunday in the official Saudi Press Agency attributed to "an official", the kingdom rejected any threats of economic sanctions or political pressure and said it would "respond with more action".
But in a sharply worded report released later on Sunday, Turki Aldakhil, general manager of Saudi news broadcaster Al-Arabiya, warned that "if the US sanctions Riyadh," it would bring its own economy to death Because "oil prices reach up to $ 200 a barrel," Riad introduced a Russian military base in Tabuk City and drove the Middle East into Iran's arms.
"The information circulating in the decision-making circles within the kingdom is about the rosy Aldakhil wrote with reference to the earlier commentary.
"There are simple procedures that are part of over 30 others that Riad will implement directly without flinching when eye Sanctions are imposed, "he said.
"If US sanctions are imposed on Saudi Arabia, we will face economic disadvantage" That would shake the whole world, "he added.
He warned that any sanctions would result in the Kingdom not committing to certain oil production volumes and "if the price of oil reached $ 80, President Trump was angry that no one should exclude the price of $ 100, or $ 200, or even that number jumps. "
Aldakhil later said on his official Twitter account that the Op-Ed play was his personal opinion rather than the official position of the Saudi Arabian government.
"I have noticed that some people associate my article with the official position of the Saudi government, which is not true, it is my personal opinion," he wrote.
Faisal bin Farhan, a senior adviser to the Saudi embassy in Washington DC said on Sunday on his official Twitter account that the mention "does not reflect the thinking of the Saudi leadership."
The Saudi embassy in Washington made a milder statement in a tweet on Sunday.
"To help Saudi Arabia clarify the recently released Saudi Declaration, the Kingdom of Saudi Arabia is in favor of preventing all, including the US government, from drawing premature conclusions about the ongoing investigation," states in the statement.
The Saudi warnings came after the country's stock market fell 7% on Sunday amid fears of sanctions. The index later recovered slightly, closing at 3.5%. The losses offset all profits in the market in 2018, although they have risen by 8% over the previous year. None of the statements mentions Khashoggi by name or provided further clues as to what happened to the journalist.
Increasing Isolation
In a joint statement later on Sunday, the United Kingdom Foreign Ministers, France and Germany said, "Light must be shed" over Khashoggi's disappearance.
"Germany, the UK and France share the serious concerns of others, including HRVP [Federica] Mogherini and UNSG [Antonio] Guterres, and treat this incident with extreme seriousness.There must be a credible investigation The truth about what happens and, if relevant, identify those responsible for the disappearance of Jamal Khashoggi and ensure that they are brought to justice, "the statement said.
"We encourage joint Saudi-Turkish efforts In this regard, we expect a comprehensive and detailed response from the Saudi government and we have transmitted this message directly to the Saudi authorities."
Irrespective of this, British Foreign Minister Jeremy Hunt demanded Sunday Saudi Arabia to explain what happened to Khashoggi at the consulate and said, "If they have nothing to hide, then they will and should cooperate."
"If, as they say, this terrible murder did not happen, where is Jamal Khashogg?" That's what the world wants to know, "Hunt told UK Pool.
In the diplomatic case over Khashoggi's disappearance, international companies are withdrawing from a high-profile investment summit scheduled to take place later this month in Riyadh.
US Secretary of State Mike Pompeo declined on Saturday to confirm whether US Treasury Secretary Steven Mnuchin will attend the Saudi Crown Prince's Future Investment Initiative conference – known as "Davos in the Desert" later this month. [19659006] Marco Rubio on missing journalist: If Trump does not do something, Congress will "src-mini =" // cdn.cnn.com/cnnnext/dam/assets/160404193444-marco-rubio-small-169.jpg " src-xsmall = "// cdn.cnn.com/cnnnext/dam/assets/160404193444-marco-rubio-medium-plus-169.jpg" src-small = "http://cdn.cnn.com/cnnnext/ dam / assets / 160404193444-marco-rubio-large-169.jpg "src-medium =" // cdn.cnn.com/cnnnext/dam/assets/160404193444-marco-rubio-exlarge-169.jpg "src-large = "// cdn.cnn.com/cnnnext/dam/assets/160404193444-marco-rubio-super-169.jpg" src-full16x9 = "// cdn.cnn.com/cnnnext/dam/assets/160404193444-marco -rubio-full-169.jpg "src-mini1x1 =" // cdn.cnn.com/cnnnext/dam/assets/160404193444-marco-rubio-small-11.jpg "data-demand-load =" not-loaded "data-eq-pts =" mini: 0, xsmall: 221, small: 308, medium: 461, large: 781 "/>