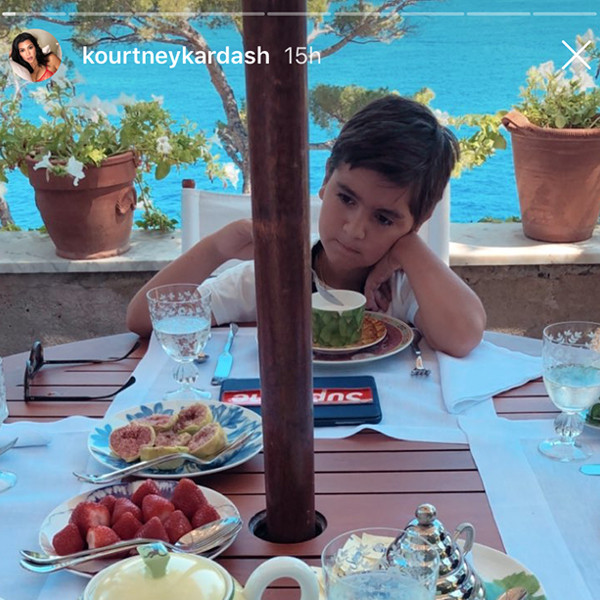 Time to keep up with the holiday chargers!
As Kourtney Kardashian and Younes Bendjima continue their summer vacation, the couple received some extra guests when Keeping Up with the Kardashians The children of the star came this Week late at
E! News has learned that the businesswoman's children join the couple as they continue their stay in Positano on the Amalfi Coast.
"They did a few boat rides in Positano to see the sights and the kids had fun stopping in town Gelato," a source told us. "They have an amazing and relaxed journey together."
As you might have guessed, we were told that Kourtney was very happy to see the children and be reunited after their absence.
Instagram
And during the E! Star and Younes are still able to spend time with themselves with the help of nannies, spending most of their time with their youngest travel buddies.
"Younes is great with the kids and enjoys having them around," our source shared. "They are all together well and look like a very happy family."
Just last weekend, cameras caught Kourtney and Younes enjoying some fun in the sun as they tanned themselves on a boat and kissed in the ocean blue waters. And while the couple has documented some of their holiday memories on social media, most of the journey remains a private affair.
The escape comes as Khloe Kardashian celebrated her birthday this week in Los Angeles. The birthday girl was able to gather several family members for a low-key bash.
In the end, Kourtney could not make the trip. Sure to say Italy is bigger this week than Calabasas.
Check out the 15th season of . Keeping Up with the Kardashians Sunday, August 5 at 9 pm, only on E!