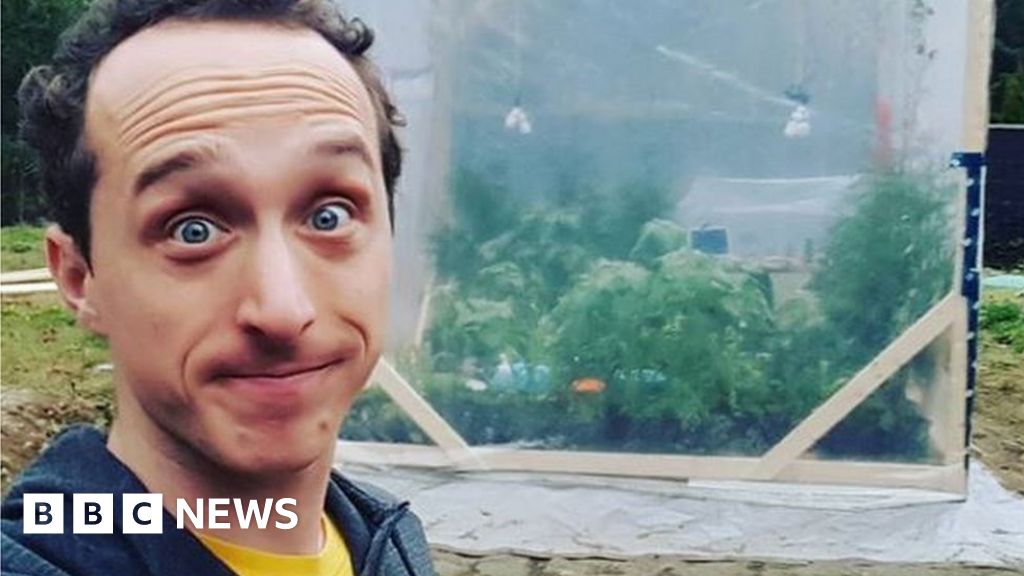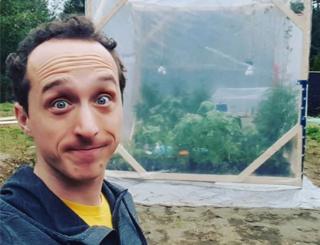 A self-proclaimed "whimsical scientist" who has locked himself in an airtight dome with 200 plants to raise awareness of climate change has completed his experiment.
Canadian Kurtis Baute entered the 3m (10ft) at midnight on Tuesday morning in British Columbia with a 3m cube wrapped in high performance plastic.
But he had to give up his attempt after 15 hours, as the CO2 content rose.
He thanked the fans and described the experience as a "great success".
He tweeted during his time in the dome under the hashtag #KurtisInAJar.
The air that people exhale has more CO2 than the air we inhale, which means the CO2 content in the dome Rose, as the experiment continued. When the CO2 level reaches 10%, people can suffer brain damage, fall into a coma, or die.
Mr. Baute had hoped that the plants that use sunlight during photosynthesis to convert CO2 into oxygen would help to regulate the CO2 content in the dome.
But he said earlier on Wednesday that cloudy weather meant the plants were not getting enough sunlight. He ended the experiment after the CO2 levels reached their kill values.
Although he had originally planned to join in after three days, he later mated his mission for so long to stay safe as possible.
"I could survive three days in the jar," he wrote on his website last week. "But my goal is not to die," my goal is to end this project without turning blue, developing brain damage, getting heat stroke, or permanently damaging my body. "
Still inside the dome, He explained his mission in a Twitter thread and wrote: "#ClimateChange is real, we cause it, and it's a really big deal.
"The confused thing about my experiment is that some of my crash values ​​(z If CO2 is too high, I flee) are just everyday experiences for many people on this planet, everyone deserves clean air, but not everyone has them." [19659025] Last call to stop the "climate catastrophe"
What could disappear on the "greenhouse earth"
He said that while humanity is pumping CO2 into the Earth's atmosphere dangerous rate, there are many steps we can take to limit the damage, including:
1. "Eat less meat, it's terribly inefficient, and use tons of fossil fuels, maybe you can give it up for #MeatlessMonday or go further."
2. "Drive less." Reduce your commute. Transit, work from home, your car suffocates and cooks you and both of you, plus you have better things to do than sit in a traffic jam. "
3." Start a conversation about it. Let's be real and encourage each other to do better, this is the end of the tirade for now, thank you! "