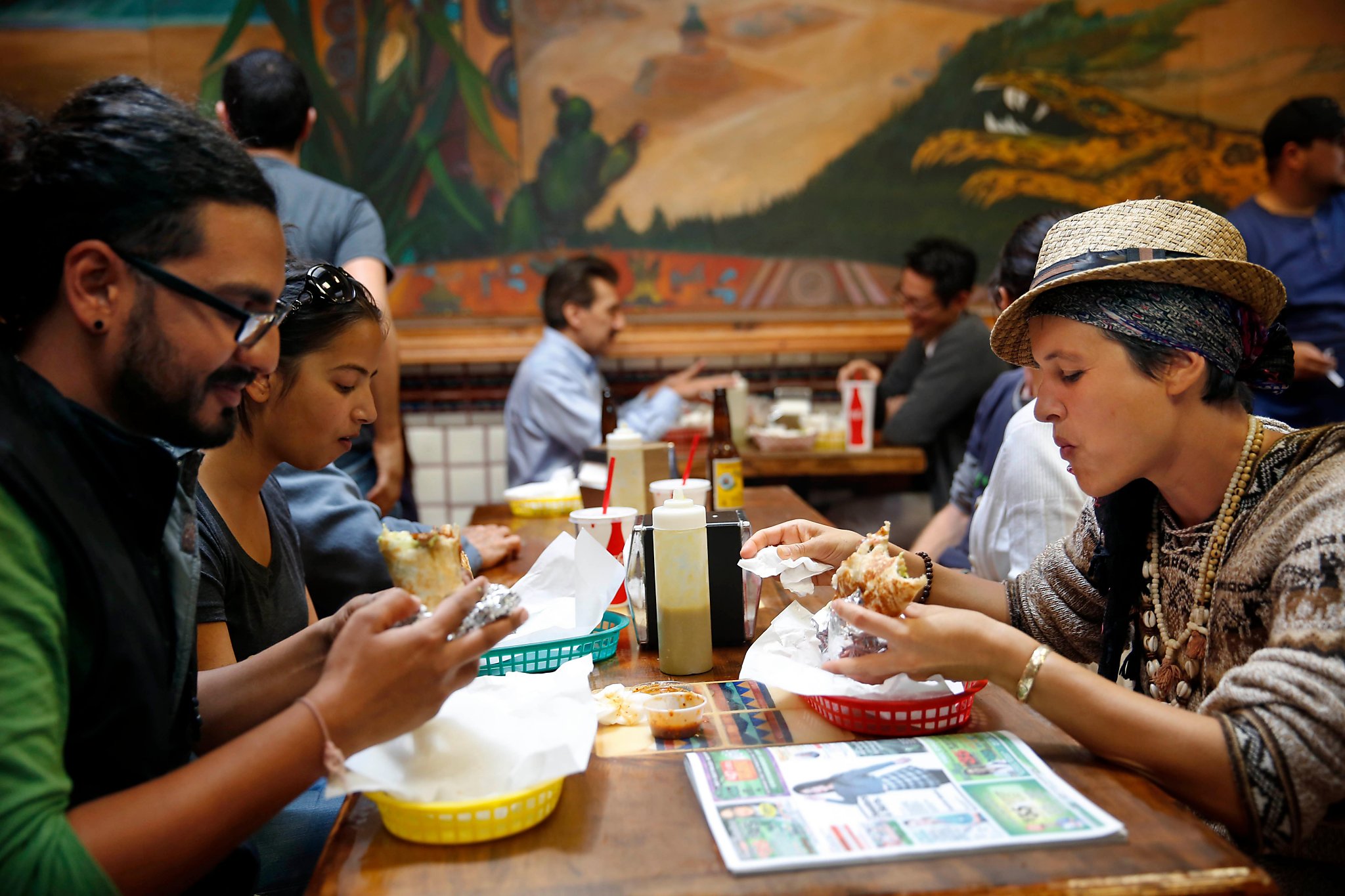 La Taqueria's customers will soon be spying on a new sign attached to the windshield: For Sale.
Miguel Jara, 77, and his immediate family own the San Francisco taqueria, as well as the building where the business is housed, since 1972, and lines continue from the doorway all day and evening. But now Jara has a court-ordered sale, brokered by a recipient who has applied for his own building – threatening to remove La Taqueria from its iconic location if it loses another buyer.
The building in Mission and 25th streets, in fact, has been online since March. In June, Jara told the Chronicle that it was because of an estate dispute that ended in court. The problems faced by San Francisco's most famous Taqueria remind us that many types of tensions threaten companies that are believed to have become enduring. Earlier this month, the mission's first panadera, La Victoria, was closed due to a domestic dispute. Last year Britex moved from its Union Square after 65 years, after the founder's heirs sold the building together while a family branch continued to run the fabric store.
"When I opened Taco Square, I had no credit, no checking account, my dad helped me and put it in the name of my father and mother," Jara said. His father Heminio died in 1
990 and his mother Clodoalda in 2000.
Jara said he never took the time to transfer property to the building and his mother did not leave a will. However, according to his lawyer Jim Quadra of Quadra Coll, Jara had paid the mortgages, property taxes, and maintenance of the building since the 1970s.
Jara said that the sale had nothing to do with the unpaid health care costs of more than $ 500,000, lost wages and fines La Taqueria has paid its workers over the past 12 months after four workers faced a series of complaints City and the state have submitted.
According to Steven Hassing, who represents six of Miguel Jara's siblings, his siblings have been presumed for decades that he owned the building. "They knew nothing about the fact that they had inherited an interest in this building," Hassing said. "They only found out when Miguel planned estate planning and asked the siblings to sign the claims for termination."
Two of Jara's siblings gave him their shares and officially gave him a third of the interest in the building. When some refused to sign the paperwork that handed over their ninth stake to him, Hassing said that Miguel Jara was sued for property rights. The court ruled against him. Following a series of appeals, the San Francisco Superior Court appointed a receiving entity, Susan Uecker, to take over the sale this spring and named Cushman and Wakefield as real estate agents. Uecker did not respond to requests for comments.
"We had an estimate of the building at $ 1.25 million," said Miguel Jara, "so I sent them a letter saying that I did not have to pay lawyers and you I do not have to pay lawyers, me give you $ 127,000 each and we got an answer from the lawyer who said they would not accept the deal. "Hassing's e-mail warned Jara that La Taqueria had no lease, and he should consider giving his name Protect by pointing out that a new buyer could take over the business.
"It's much deeper than a family quarrel," said Miguel's son Angel, who runs the business. "I think my father's brothers and sisters are malicious and try to raise the price."
The recipient did not allow Miguel Jara to bid on his property until another bid was made. Quadra said it announced last week that it has received a credible $ 1.6 million offer and that La Taqueria should submit the For Sale note that Angel Jara recorded on Thursday.
The Jaras may offer a counter offer at a judicial auction on November 13th.
"We expect that he will offer higher and that the property will remain in the family, which will be the home of La Taqueria, hopefully forever," said Quadra. At the same time, the lawyer turns to the original court decision, arguing that Jaras's former lawyer has committed an abuse of office.
If Miguel Jara can not make a successful offer, court documents state that he will hand over ownership to the new owner within 60 days.
Jara said that if that happens, he might look for a way to move the business. "My idea is that there is a building for sale there that I could buy if I could stay in the current building (one year) while I redesign the building, but I do not know," he said. He's worried about his employees, many of whom have been in business for more than a decade.
"We are in a very precarious situation," he said.
Jonathan Kauffman is an associate of the San Francisco Chronicle. Email: jkauffman@sfchronicle.com Twitter: @jonkauffman