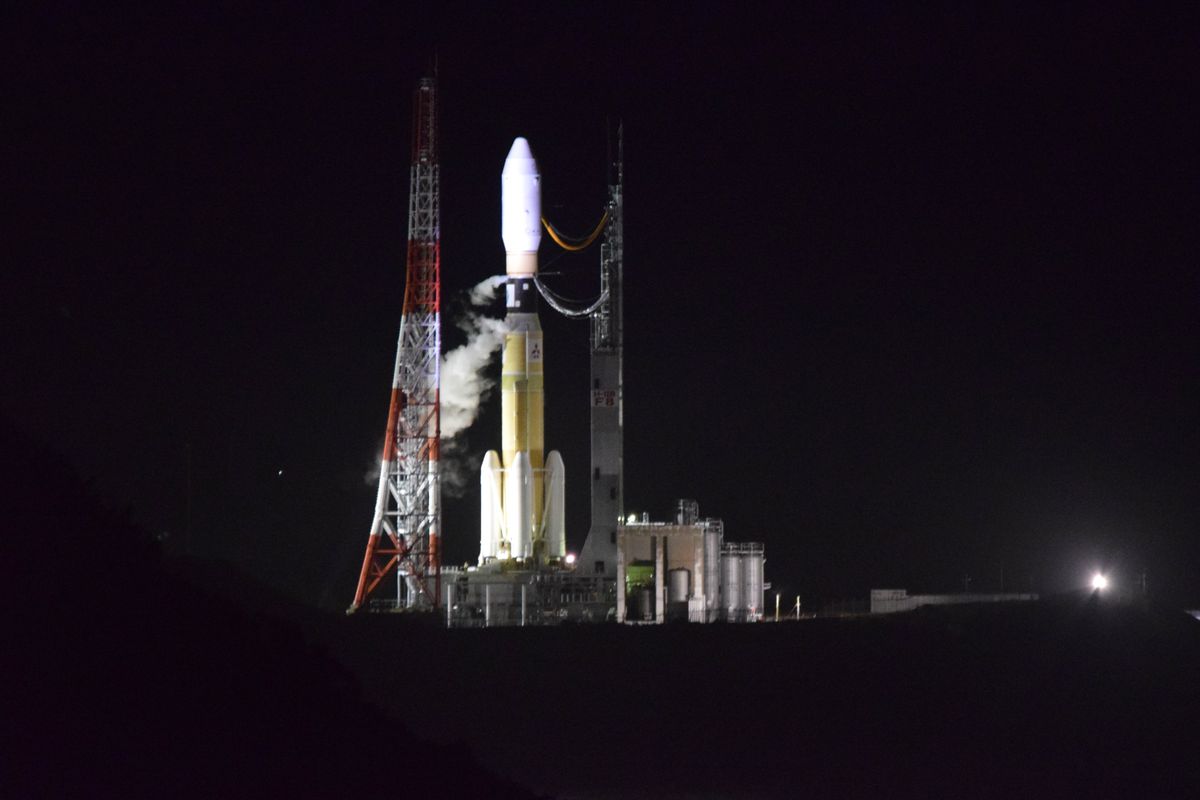 Japan canceled a planned launch of a cargo ship to the International Space Station today (10 September) after a fire broke out on the launch pad for the mission rocket, according to press reports.
"Today's launch is being postponed because we've found a fire around the hole on the deck of the mobile launcher at 3:05 am CET (2:05 pm CET) and now we're trying to put out a fire." Representatives of Mitsubishi Heavy Industries, the rocket maker, stated in a Twitter status update .
The Japan Aerospace Exploration Agency (JAXA) anticipated the launch of an HTV-8 cargo ship on a H-IIB rocket when the launch signal was fired at the Tanegashima Space Center. has posted live updates from the start site on Twitter . The fire burned about two hours before it was extinguished and no injuries were reported, Klotz said.
The cause of the fire and whether it damaged the H-IIB missile has yet to be determined. added Klotz .
Mitsubishi Heavy Industries spokesman Ray Iechika Takaku told reporters locally that the company has never seen a go-ahead in H-IIB launches, reported on Twitter [19659004]. The fire started after refueling for the launch had been completed she added .
Video: How Japan's HTV Cargo Ships Operate
Related: Japan's HTV Space Shuttle explains (infographic)
The fire burned for more than two hours. No sign of a fuel leak. The hole was not used for venting or other purposes at this time of the countdown. According to ATSUTOSHI TAMURA, head of the MHI product launch, only heat-resistant materials around the metal hole September 10, 2019
Cause of fire is not yet known. Unknown, if the H-IIB missile is still damaged. September 10, 2019
Ray Lechika Takaku of MHI does not tell the media about the situation on the launch pad, where the teams on top of the mobile launcher are fighting fire. The fire started at 3:10 local time. pic.twitter.com/8BzslmXWy3[19459020lightboxesSeptember102019
Japan has an unbroken record of success for his H-IIB missiles. The last spaceship was blown up in September 2018. To date, Mitsubishi Heavy Industries has launched seven HTV missions since 2009. Today's start would be the 10th anniversary of this first HTV flight started.
HTV-8 has more than 4 tons of supplies for the International Space Station, including six lithium-ion batteries and a prototype Sony laser communications system for the ISS, marking the 10th anniversary of its first launch for the space station today. NASA astronauts will be installing the batteries into the P6 solar module later this year on a spacewalk to replace the outdated ones.
NASA officials said the station's current six-person Expedition 60 crew is in good health and not in danger of running out of food or other vital assets.
"The astronauts are safe and well supplied aboard the station," NASA said.
Photos: Japan's Robotic Space Cargo Ship Fleet
According to the Japanese Aerospace Exploration Agency or JAXA, the Sony system is used to monitor future communications between satellites or ground stations using ultra-fast laser communications to test. (Spacecraft today generally rely on radio, which has limited bandwidth to send information.)
"We have very high expectations of this technology," said ISS astronaut Koichi Wakata, who is now vice president at JAXA in one Opinion. "This technology … is likely to be widely used as a means of communication in the field of exploration, not only in the telecommunications industry, but also in the future, in particular as a means of communication between the Earth and the International Space Station, Moon and Mars." [Editor'sNote: This story was updated at 18:12. EDT (1212 GMT) contains updates to a press conference following the fire of Space Weekly Editor Irene Klotz on Twitter and official statements from MHI and NASA. It was previously corrected to take into account that only Japan's H-IIB rocket has a perfect takeoff record. The country's H-IIA rocket failed in 40 starts.
This is an evolving story. Check back for updates soon.
Follow Elizabeth Howell on Twitter @howellspace . Follow us on Twitter @SpaceTotcom and on Facebook .