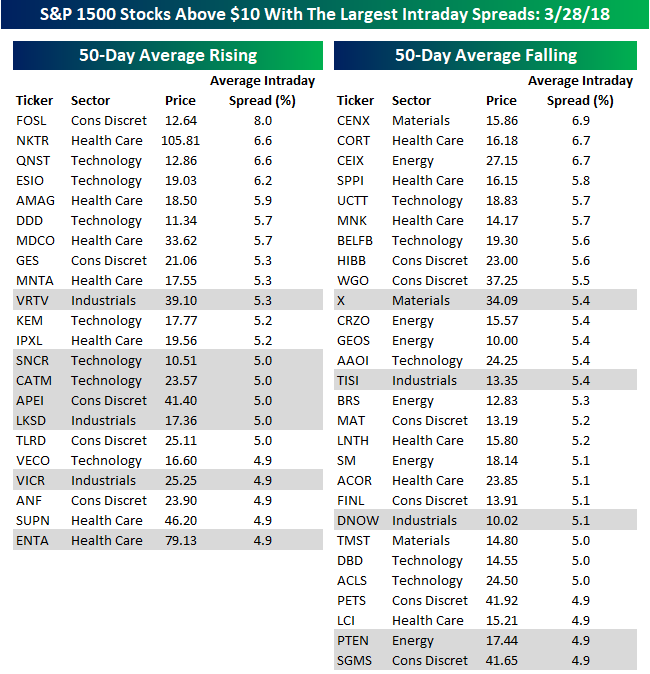 For traders with a short-term horizon looking for big moves, we've updated our list of S & P 1500 stocks over $ 10, which have the largest intraday highs and lows (based on the average spread between the Intraday high) and low in the last 50 days). The stocks are grouped by whether they have a rising or falling 50-day Moving Average (DMA), and gray-marked names are new to the list this month.
In the face of rising volatility in the market, the most volatile stocks are also becoming more volatile. In our last update to 2/14, only 26 of the 50 most volatile stocks had an average daily range of 5% or more. On yesterday's trading day, this number had risen to 41
. The proportion of stocks with rising moving averages has also fallen. On 2/14, the 50 most volatile stocks were split evenly among stocks with rising and falling 50-DMA. In this month's update, the share of stocks in downtrends (50-DMAs) outstrips the uptrend (rising 50-DMAs) 28 to 22.
Of the 50 stocks listed below, Fossil (NASDAQ: FOSL) is the most volatile, with an average daily range of 8.0%. However, trading at just over $ 12 a share, this 8% daily spread does not really make much in dollars. Directly below FOSL, however, is Nektar Therapeutics (NASDAQ: NKTR). With a stock price of around $ 106 and an average daily spread of 6.6%, NKTR sees a typical high / low spread of over $ 7 per trading day.
In the sector representation, only stocks from six of the eleven sectors are listed this month. The leader in 13 stocks is Healthcare, followed by Technology (12) and Consumer Discretionary (11). The five sectors where stocks are absent are consumer staples, financials, real estate, telecommunications services and utilities.
Editor's Note: This article discusses one or more securities that are not traded on a US stock exchange. Please note the risks associated with these shares.