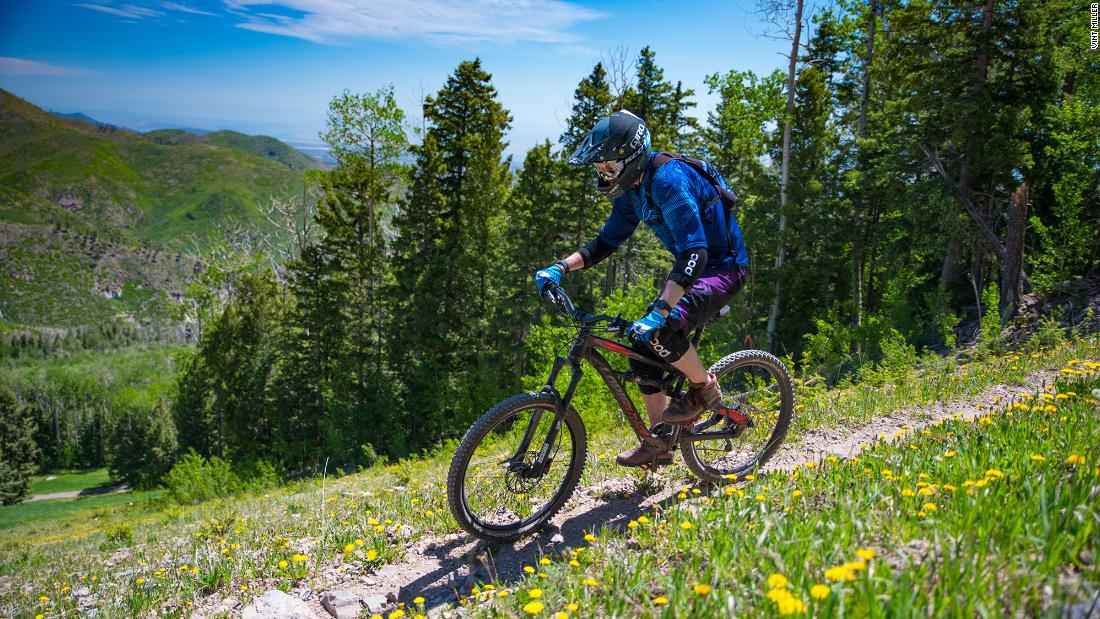 (CNN) – Los Alamos County, New Mexico, was rated the Healthiest Community of 2020 for its vast mountain ranges, diverse wildlife, and clean air.
In the county, about 60 km from Santa Fe, is the Los Alamos National Laboratory, which developed the first atomic bombs during World War II. According to the US News Healthiest Communities annual ranking report released Tuesday, the county received a perfect score for measurements such as drinking water quality, availability of affordable housing, access to parks, and population with advanced degrees.
The sun sets over Los Alamos County in the fall of 2018.
Leslie Bucklin
Los Alamos County was also among the top countries for low racial segregation (# 3) and low avoidable hospital admissions (# 21).
"A healthy environment is part of what definitely makes (Los Alamos County) a healthy community," said Sara Scott, Los Alamos District Council chairwoman, who was not involved in the report. "People have the opportunity and the interest to get out, to use our mountains, hiking trails, cycling, horse riding (and) golf."

Two hikers stand in a mountain valley in Los Alamos County, New Mexico.
Leslie Bucklin
Douglas County, Colorado is second, followed by Falls Church, Virginia, Broomfield County, Colorado, and Routt County, Colorado.
Columbia County, New York ranked last among the 500 healthiest communities.
"The Healthiest Community Ranking is a snapshot of a community's health at a given point in time," said Deidre McPhillips, senior data editor for US News & World Report. "This year it was incredibly important to include the coronavirus in this analysis."
Although the data used to determine the rankings was collected prior to the pandemic, the new tools used in this year's report provided Covid-19 data on communities, highlighting the disproportionate impact of the virus on black and Hispanic communities.
The healthiest communities ranking and analysis is based on ratings from nearly 3,000 communities across the country for 84 health and health-related measurements in 10 categories, including vitality, equity, economy, education, environment, nutrition and nutrition, population health, housing, infrastructure, and health public safety.
By assessing which communities offer their citizens opportunities to lead healthy and productive lives, the project aims to educate local residents and government officials about best strategies and practices for positive health outcomes.
The project resulted from a collaboration with the Aetna Foundation, a health philanthropy organization, and a partnership with the University of Missouri's Center for Applied Research and Engagement Systems, a community health research facility. The ranking is based on measurements taken from sources including the U.S. Centers for Disease Control and Prevention and the Institute for Health Metrics and Evaluation, an independent global health research center at the University of Washington in Seattle.
A health-focused community fighting a pandemic
A health-conscious, giving community is part of what makes Los Alamos County so healthy, Scott said. "We have certainly seen this in terms of the people who can pull themselves together in philanthropic endeavors," she added. "In the case of the pandemic, we've seen donations helping people with utility programs (and) to band together to create masks for workers or community members who don't have them."
Physical activity in Los Alamos County's trails and mountains is a popular spot.
Vint Miller
That community mindset contributed to the county's four-part pandemic response: running the county, engaging and coordinating, identifying new needs, and communicating, Scott said. In Los Alamos County, the rate of 124 Covid-19 cases per 100,000 population was one of the 100 lowest rates in the country, the report said.
"We all agree on what our concerns are, what our tools are (and what our needs are," such as childcare and mortgage payments, Scott said. Communicating with state officials and citizens has also been essential to determining where people are being tested) Find support for their businesses or find out about updates to public health regulations.
"The community supported taking these measures seriously," said Scott. "People understand why the measures matter, how they affect our safety and our ability to open businesses … and schools."
The Covid-19 case rate of these communities was most closely linked to scores in the Community Vitality category, especially when it came to the response to the census. What drives the community's vitality, disease, and pandemics is whether people are informed, McPhillips said.
In Los Alamos County, Scott said, census responses "really help us figure out where our needs are and what priorities are in order to continue to make this place an amazing place to live, work, and recover."
Pandemic Racial Differences
The 500 healthiest communities had a Covid-19 case rate that was 40% lower than other US states as of Aug. 24, the report said.
Districts with above-average populations of black residents (13% or more) and Hispanic residents (18% or more) had average Covid-19 case and death rates that were at least 1.2 times the national average. Districts that were more than 50% black had average case and death rates that were roughly twice the national average.
The majority of Indian counties had a fall rate that was also above the national average.
"Color communities have long been underserved, underfunded, and under attack," said Susan L. Polan, assistant manager of public affairs and advocacy for the American Public Health Association, who was not involved in the study.
"Systemic racism in community settings like health care, education, police and others has led to the inequalities we see in COVID-19 and many other preventable deaths," Polan added via email.
Top communities for low disease rates
Diabetes prevalence was 38% higher in communities where more than a quarter of residents said they did not engage in leisure time physical activity, the report said.
The top low obesity community was Teton County, Wyoming, while Pitkin County, Colorado was the top low diabetes community.
Honolulu County, Hawaii ranked # 1 in the mental health category, which assessed deaths from suicide, alcohol or drugs, the rate of depression among Medicare beneficiaries, and the number of days of poor mental health per month, McPhillips said.
Community actions related to "physical health and wellbeing can also have an impact on mental health, as they can limit or aid the way individuals can move through their day and interact with their community," Polan said.
And the factors most commonly associated with "life expectancy" are the smoking rate, self-health score, teen birth rate, number of days of poor mental health and the poverty rate, "said McPhillips.
The U.S. Coronavirus and Healthiest Communities Metrics Data-Data Hub can help people choose a neighborhood and work with their governments to improve their communities, she added.
When choosing where to live, people should assess whether the residence is a cohesive community that has easy access to healthy food, safe places to play and walk, good schools, diverse residents and executives, affordable housing, public transportation and a variety of others provides services, "Polan said. Local governments interested in investing in entire communities and economically sound, locally-owned companies are also pluses, she added.
Source link