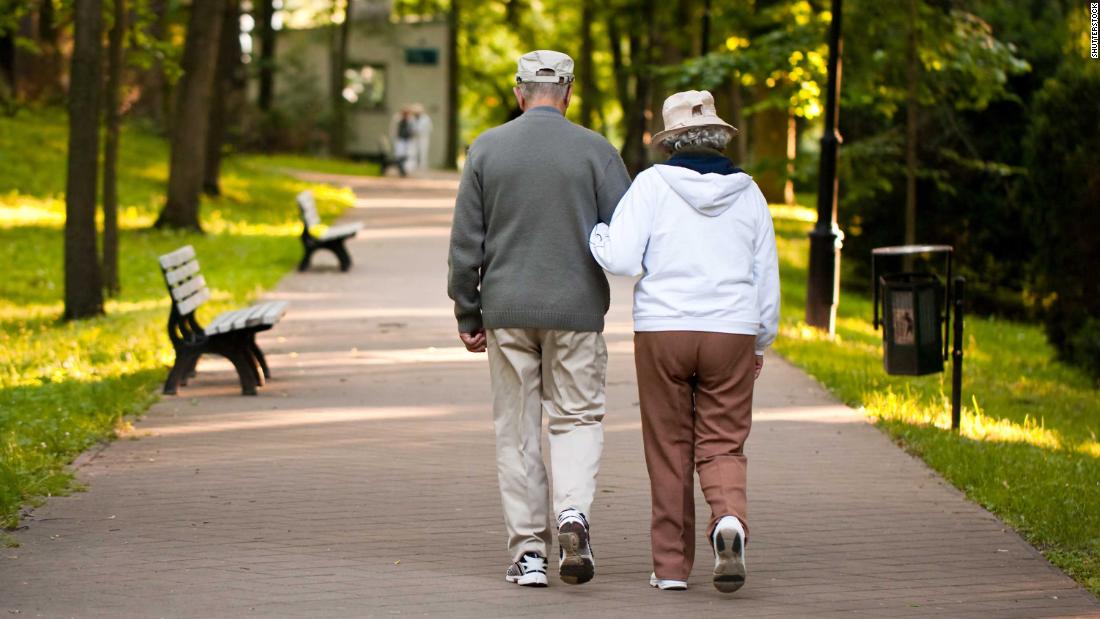 According to a new study published in PLOS One magazine on Wednesday, married people in old age have better physical and mental health than unmarried people: they walk faster and have a stronger grip.
Under the direction of Natasha Wood of the Institute of Education at University College London, researchers examined the relationship between marital status and the ability to perform everyday tasks in later life.
"There are many other studies that have shown that married people are healthier and have lower mortality rates, but little research that focuses on physical ability," Wood told CNN.
The team decided to focus on two indicators: walking speed and grip strength. "Walking speed is a general measure of health, including many things like balance, agility, and speed, while grip strength reflects the strength of the upper body," she explained.
Researchers analyzed data from two existing studies on older people and their physical performance: the English Longitudinal Study of Aging (ELSA) and the US Health and Retirement Study (HRS). The former surveyed English adults over 50, while the latter surveyed US adults over 51
.
In assessing walking speed, UCL researchers only used data for adults aged 65 and over to reach the lowest age for this indicator studied in the HRS.
Married persons were separated into the persons of their first marriage and those who remarried, while unmarried persons were divided into persons who were divorced or widowed or never married. "People who are married are not a homogenous group, and someone who never marries is very different from someone who is widowed or divorced," Wood said.
The researchers did not look at people who lived together but were not married, and found too few people in the two surveys who belonged to this category.
Up to four inches per second faster
In both studies, married persons were at the top. Both unmarried men and women were slower than their married counterparts. Men in England were four inches faster in their first marriage than never-married men and three inches faster than widowers. There was a far less significant difference between men in the first marriage and remarried men earlier he went less than a tenth of an inch faster per second .
The results were similar in the US: Men The first marriage went about an inch faster than unmarried men and three inches faster than widowed men. Men in the first marriage were only about an inch faster than remarried men.
For women in England, the first spouses were two to three inches faster than unmarried women, while their counterparts in the US ran about two inches per second faster.
A similar pattern was seen with handle strength – but only for men.
In the US, men in their first marriage had a one-pound stronger grip than those who never married, and a two-pound stronger grip than widowers. The survey found that grip on women is less related to marital status.
But men remarried showed the best performance – their grip was half a pound stronger in their first marriage in the US than men and a pound stronger than men in their first marriage in England.
"It may have something to do with remarriage choices – people who are physically healthier are remarried," Wood said, although she emphasized that more research was needed to make that connection.
To Wealth
The explanation for the majority of findings, particularly better fitness, is wealth, said Wood, of whom married people have accumulated more by later life than unmarried people ,
Prosperity can affect health in several ways: Wealthier people "live in better lives, they do not have the daily stress of not having enough money, they probably eat more nutritious food than they can afford "They may have access to better health care, and they may have larger social networks and enjoy recreational activities because they have the money they need to do."
"Consequently, they have better overall mental and physical health things are associated with better physical performance, "said Wood.
The new study cites a 2004 study published in the Journal of Marriage and Family that used data from the 1992 Health and Retirement Survey to find that people who were "constantly married" clearly Were richer than those who did not. Remarriage neutralized the prosperity of separation.
A second quoted study, published in Demography magazine in 2011, supported the link between marriage and greater prosperity, adding that couples who lived with their partner before marriage – provided they never had with other partners lived together – became richer than couples who did not.
The results of UCL research could have a significant impact on the health of older people as marriage rates fall, Wood suggests.
"With more people marrying unmarried, there could be more people with physical disabilities in old age," she said.
Alternatively, the health effects of marriage may become weaker, Wood added. "If marriage rates go down, it's also possible that the link between marriage and physical performance is not as strong for younger people as they get older," she said. "Being unmarried may not be so important to your physical health."
Source link