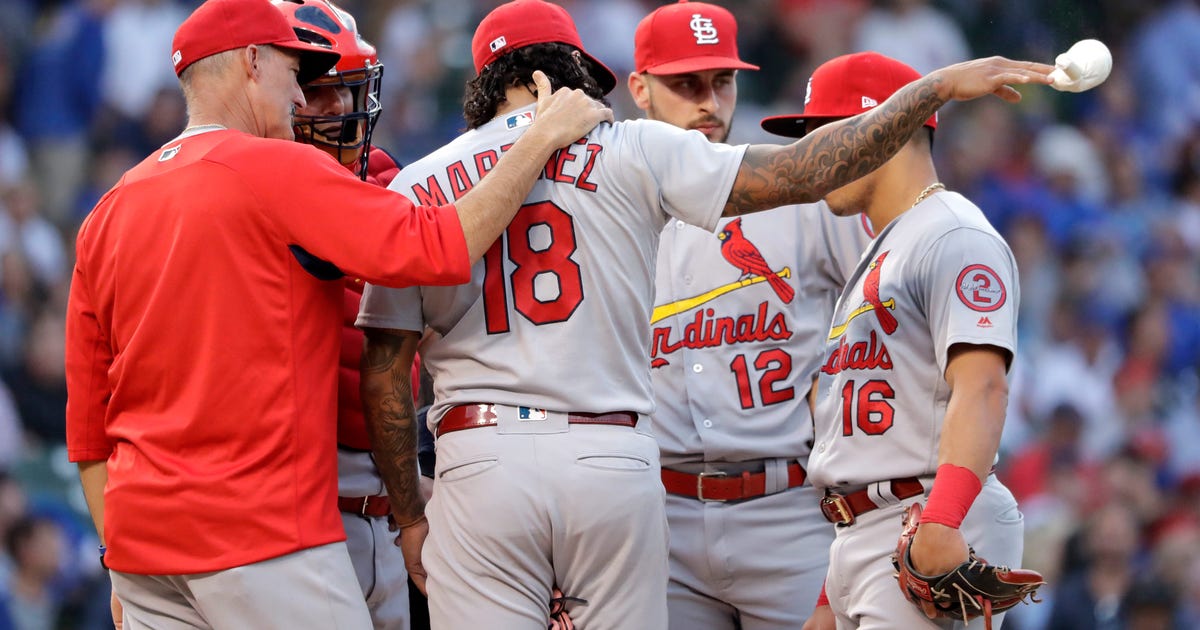 CHICAGO – Jason Heyward had three hits and two RBIs, Ian Happ strapped on a two-headed homer and the Chicago Cubs defeated the St. Louis Cardinals on Thursday night in the first baseball game after the All-Star break.
Anthony Rizzo added two doubles from the starting position when Chicago started a series with five games against St. Louis with its fourth win in a row. Victor Caratini had three hits and scored three goals, and Ben Zobrist delivered a tiebreaking sacrifice fly in the fifth round of the Cubs.
Chicago and St. Louis came back a day earlier than the other majors. Cubs manager Joe Maddon stopped All-Stars Willson Contreras and Javier Baez from the starting XI. Caratini and Zobrist got the gap pretty good as NL Central's leaders increased their lead to a season-high three games over the idle Milwaukee.
Yadier Molina scored four goals with St. Louis, but interim manager Mike Shildt was rewarded with his first loss in his second game after Mike Matheny's final whistle on Saturday night. Tommy Pham and Matt Carpenter each meet a solo homer.
The Cardinals had a 3-1
lead before the Cubs were fired on Carlos Martínez (6-6) in the fifth.
Caratini fired, shoving on shortstop Paul DeJong's throwing error and hitting Rizzo's piercing double into the gap in the right center. Heyward scored an RBI single and Zobrist followed with a flyball that drove a 4: 3 lead in Kris Bryant.
Happ has then made a rightward drive to the center for his 12th homer. He also went deep in his previous game and joined for a solo shot in Saturday's 11-6 victory in San Diego.
Brian Duensing (3-0) was the last to finish fifth. Pedro Strop got one for his third rescue after the Cubs put Brandon Morrow on the 10-day list as part of a series of pregame moves.
Martínez allowed six runs, five earned, and seven hits in five innings. The right-handed went in his previous four starts with a 2.63 ERA 3-1.
Also, Cubs right-hander Kyle Hendricks struggled with nine punches in 4 2/3 innings. But he wobbled out of a few traffic jams, confining the cardinals to three runs.
PASS up
Referee Kerwin Danley stumbled off the plate after taking his mask off Bryant's foul ball in the eighth round. Molina helped Danley while a Cubs coach came out of the dugout.
Danley stayed in the game after the coach checked him out.
MAKING MOVES
Morrow treats the inflammation of the right biceps. The DL stint is retroactive to Monday.
"It bothers him a bit, but we thought it was manageable, but now it is not," said Maddon. "So we just have to rest a bit, we do not expect him to be away for a long time."
Morrow, who turns 34 this Thursday, has 22 saves and a 1.47 ERA in 35 games.
The Cubs also activates outfielder Albert Almora Jr. and relievers Carl Edwards Jr. and Anthony Bass. Almora was admitted to the family medical emergency list on Sunday. Edwards was on the paternity list, and Bass was expelled from illness.
Infielder David Bote and Helper Rob Zastryzny were sent to Triple-A Iowa.
COACH ROOM
Cardinals: BY Harrison Bader was available from the bank after he had left the 6-4 victory over Cincinnati on Sunday with an overstretched left knee.
Cubs: SS Addison Russell was visited by a coach after he had dived behind Kolten Wong's RBI single. But he stayed in the game. … SS Nico Hoerner, Chicago's first poll last month, injured his left elbow in his fourth game with class A South Bend. He will miss the rest of the season with the ligament injury, but he said he does not think he needs surgery and could play again in the fall.
UP NEXT
Cubs ace Jon Lester and Cardinals right-handed Jack Flaherty get the ball on Friday afternoon. Lester (12-2, 2.58 ERA) is 8-0 with a 2.80 ERA in his last nine starts. Flaherty (3-4, 3:24 ERA) threw five shut-out innings in a zero-decision against Cincinnati in his previous start of Saturday.