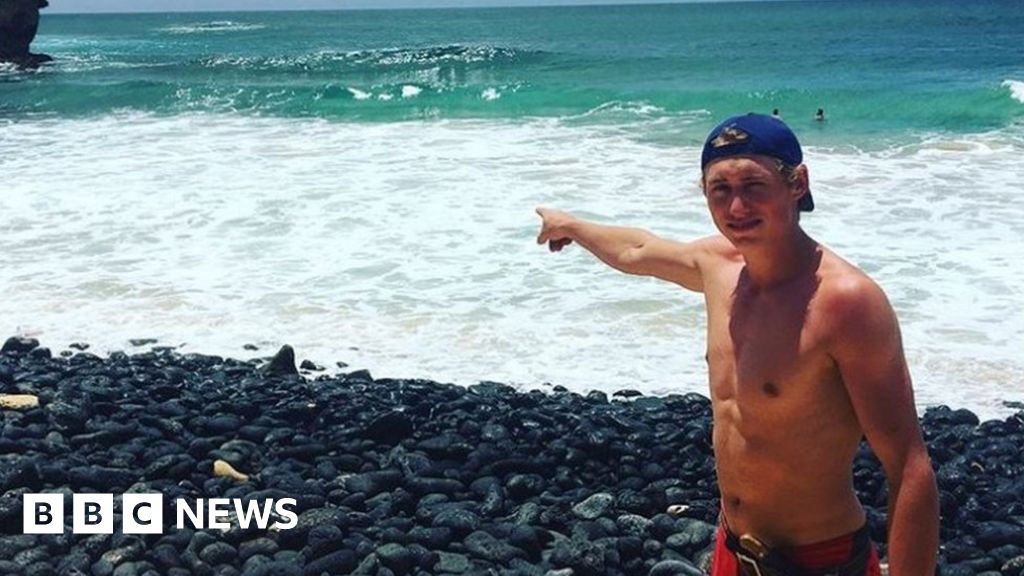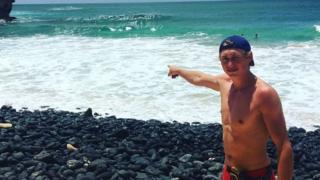 They say that bad luck comes in threes, and Dylan McWilliams, a 20-year-old from Colorado, has unfortunately true.
The young nature boy has survived his third bloody battle with the animal kingdom ̵
1; a shark attack while bodyboarding off the coast of Hawaii.
"It's crazy," Dylan told the BBC from Kauai Island. "I'm not lucky, but in unfortunate situations it's lucky."
He enjoyed the waves of the Pacific on Thursday morning when he felt something hit his leg. He explained, "I saw the shark under me, I started kicking – I know, I hit him at least once – and swam ashore as soon as possible."
Concern over the blood trail he left, he told the local media after the attack: "I did not know if I lost half of my leg or what."
Warning: This story contains a graphic image
The shark, which is believed to be a tiger shark between 6 and 8 feet (about 2 meters), left prominent tooth marks in Dylan's leg who needed seven stitches.
"My mother was worried," Dylan said, calling his parents shortly after paramedics had injured him. "I do not know if they want me to do all these things," he admits, but he believes they support him.
The outdoor enthusiast from Grand Junction, western Colorado, has been traveling the US and Canada for several years, financing odd jobs, working as a ranch hand, and even training as a survival trainer.
His grandfather was the first to teach him survival techniques at the age of three or four and the love of nature
"I taught children and humans who wants to survive in the wild and discover the discoverers of the wild Land can live, "said the Crocodile Hunter fan from his campground on a Hawaiian beach.
He used these survival skills to work on a camping trip in Colorado last July, when he slept outside at 4am and his head was clamped in a bear's jaw
Dylan McWilliams
caption

Dylan McWil liams injured by a bear in 2017 (left) and bitten by a shark last week (right)


"This black bear grabbed the back of my head and I resisted, putting it in his eyes until he let me go," says Dylan vividly.
His friends woke up, but after the 300 kg male bear had stomped on Dylan, he left.
Parking authorities explored it the next morning, confirming that Dylan's blood was under the bear's claws, the nature boy said the animal had been laid down
Nine staples at the back of his head have left scars and pain as he touches them experience has not kept the young man from his love of nature.
"I always loved animals and spent as much time with them as I could," said Kauai Island backpacker, recently hit by floods.
He attributes these dangerous incidents only at the wrong time at the wrong time and adds, "I do not reproach the shark, I do not blame the bear, and I do not blame the rattlesnake."
And that brings us to Dylan's least lethal run-in three years ago – a rattlesnake attack during a trek in Utah.
"I walked along a path and thought I had kicked a cactus, but could not I saw one and then saw a rattlesnake."
The then 17-year-old made the call not to go to hospital because he thought he only got a dry bite. "There was a little poison, so I got a bit sick for a few days," said the ambitious police officer.
"We must respect the limits, but I do not think I invaded or provoked by the attacks – they just happened."
Dylan McWilliams is now impatient to heal his wounds, making him back in the surf can go. Despite his bad luck, he encourages everyone to experience nature. "I still go hiking, I still catch rattlesnakes, and I'm still swimming in the ocean."
When asked if he believes he will have a bush full of dangerous wildlife again, he said, "I hope not, but I spend most of the time outside with animals … so anything could happen. "
Source link