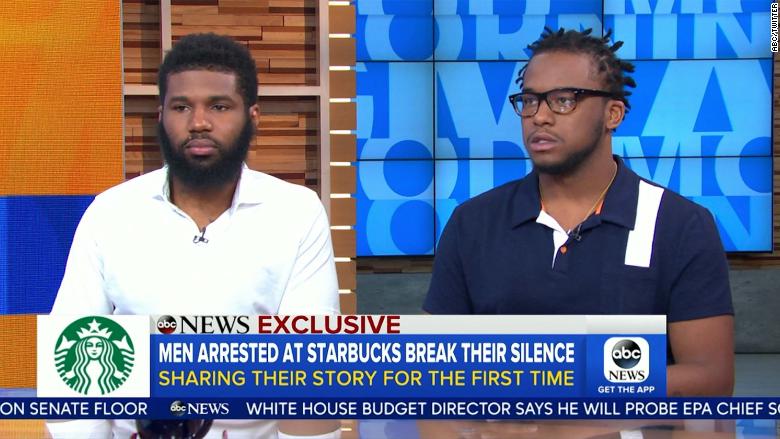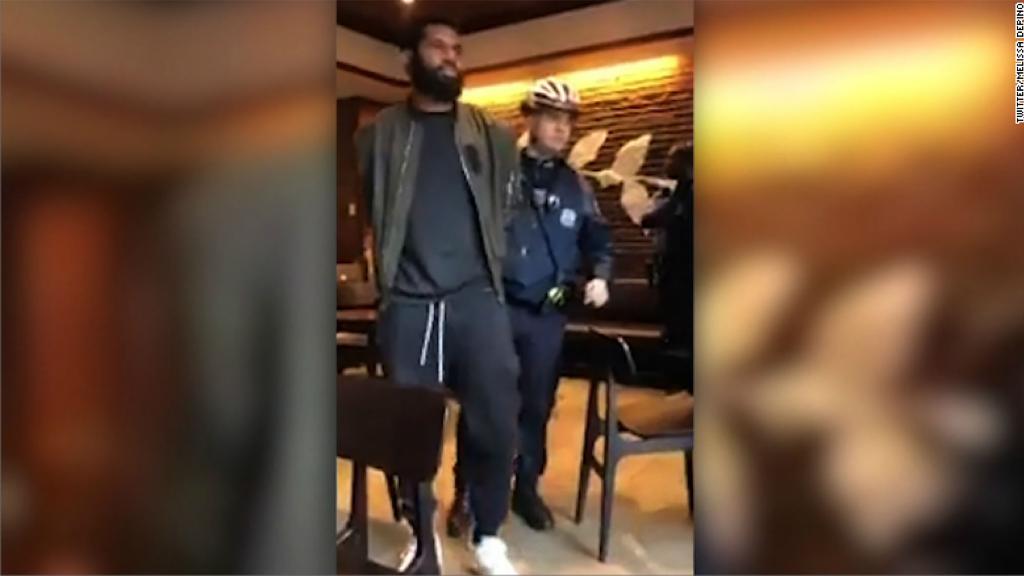 The two black men arrested last week in a Philadelphia Starbucks said they were handcuffed within minutes of entering the store
Rashon Nelson and Donte Robinson appeared on ABC's "Good Morning America" ​​ on Thursday, describing their arrest, saying they went to Starbucks for a business meeting they thought would change their lives.
Nelson said he was short After the visit, he asked to use the restroom and was told that it was for paying customers only.The two men were waiting for a third person when a White Shop agent called 91
1 minutes later.
"I thought so "They can not be there for us," Robinson said of the police. "It did not really hit me, what was happening, that it was real, until I do with my hands behind my back
Nelson and Robinson were arrested for trespassing. No fees have been submitted. Video of the incident went viral and ignited protests and calls for boycotts.
Nelson said they worked at the meeting for months. "We spend days changing our entire situation, our lives, and you sit here and tell me I can not do that, you do not do that."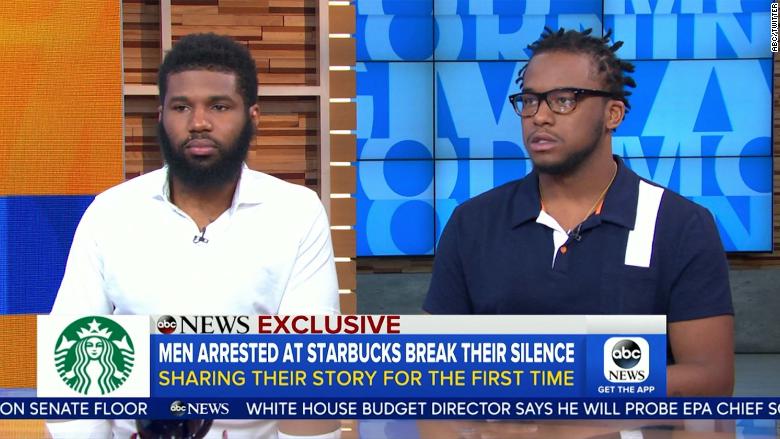 "I understand that rules are rules, but what's right is right, and what's wrong is wrong." Robinson said.
On Monday, the two men met with Starbucks CEO Kevin Johnson, who apologized.
"I want to make sure this situation does not happen again," Robinson said. "What I want is for a young man, young men, not to be traumatized and instead motivated, inspired."
Related: Starbucks has a bold plan to address racial prejudice. Will it work?
A lawyer from the two men told Good Morning America that Starbucks had agreed to their proposal to enroll in a retired federal judge.
The shop clerk who called 911 is no longer with the company. Starbucks did not say under which circumstances she left.
Starbucks plans to close its 8,000-owned stores in the United States for an afternoon in May to report racial prejudice to employees. The training is provided to approximately 175,000 workers.
It will be developed under the guidance of experts, including former Attorney General Eric Holder and Sherrilyn Ifill, President of the NAACP Defense and Education Fund.
Related: Starbucks Closes 8,000 US Stops May 29 Due to Racist Prejudice
On Wednesday, Johnson and Starbucks founder Howard Schultz met with Philadelphia church and community leaders.
Rev. Gregory Holston, Executive Director of POWER, a group that helped organize the meeting, said he was "cautiously optimistic about Starbucks reaction."
In addition to the bias training, Starbucks leaders in the meeting were pressed on raising wages, hiring workers who were incarcerated, and their role in gentrifying neighborhoods.
"We challenge them to take the lead in supporting racial justice organizations and to talk to other companies to join the cause," Holston said.
Starbucks declined to discuss the meeting, but said through a spokesman, "We are grateful to have this opportunity to speak and listen to community and community leaders this week in Philadelphia."
– Correction: This story has been updated to reflect that Nelson, not Robinson, asked to use the restroom.
CNNMoney (New York) First published on April 19, 2018: 7:55 pm ET