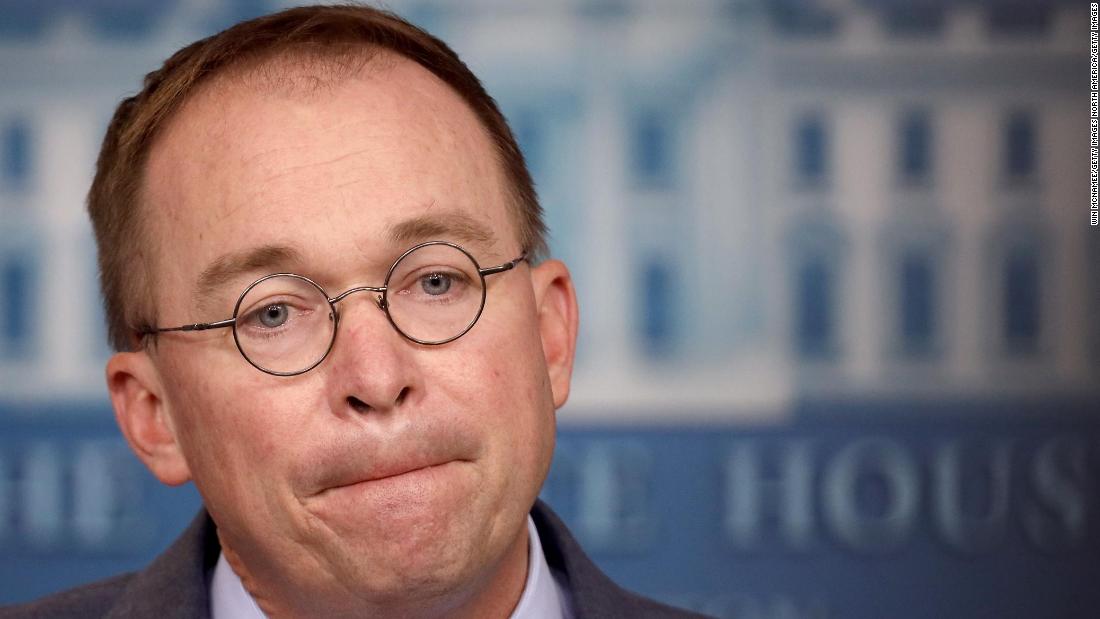 The latest and most painful came on Sunday when Mulvaney teamed up with "Fox News Sunday" host Chris Wallace.
The two biggest loud moments (in a laugh not to cry) way were these:
1) Mulvaney insisted that in his press conference on Thursday he set out two reasons for maintaining military assistance to Ukraine had: corruption in Ukraine and the fact that European nations may not do this pay their fair share. But as Wallace Mulvaney recalled, the chief of staff had repeatedly said there were three reasons for holding back military aid – the two he mentioned with Wallace, and in Mulvaney's own words, "whether they were involved in an ongoing investigation or not perfectly legitimate. "
2) Mulvaney tried to argue because he did not really say the words" quid pro quo "to make Ukraine investigate the whereabouts of Ukraine. He was a Democratic National Committee server in the clear. Here is this exchange:
WALLACE: You have been specifically asked by Jonathan Karl if you are investigating one of the conditions for sustaining the Assistance against Democrats?
MULVANEY: Yes. [1
9659002]
WALLACE: Was that part of the return? And you said it happens all the time.
MULVANEY: Yes. But go back and look at what I said earlier. I do not know if you can know it or not. There was a long response to corruption and a long response to foreign aid.
WALLACE: No, you said that completely.
MULVANEY: Just as I told you then, and then I said exactly the same thing I just said, namely, that he mentioned yes in passing, but the reason why we got the help held back for the two reasons mentioned. And I can prove it to you. The help flowed.
Again, Mulvaney's actual words at this press conference on Thursday prove he's wrong. "Did he mention me about the DNC server corruption, anyway?" Mulvaney said about Trump last Thursday. "No question, but that's it, and that's why we held back the money."
Karl said: "What you have just described is a consideration: the funding will only flow if you also get an investigation of the democratic server." Mulvaney replied: "We do that all the time with foreign policy." That's just stupid stuff. Everyone who's watching knows what you said. Maybe wait a week to try and get things back if there's a video saying the opposite?
Of course it's obvious what Mulvaney does. He performs in front of an audience – the President of the United States.
And he does that under duress. According to the CNN report, there were internal efforts to get rid of Mulvaney just before the House Democrats continued their formal impeachment investigation. Also at this press conference on Thursday, he has done no favor, and the coverage suggests that Trump was not thrilled by the performance. (What a surprise!)
Mulvaney tries to save his job. And he knows that the best way to do that is to suggest that the real problem with his admission that there was something in return for Ukraine is blaming the media: you have twisted my words! I did not say what they said.
But here's the thing: we can all see the receipts. Or more precisely in this case the recordings. Sorry, Mick.
Source link