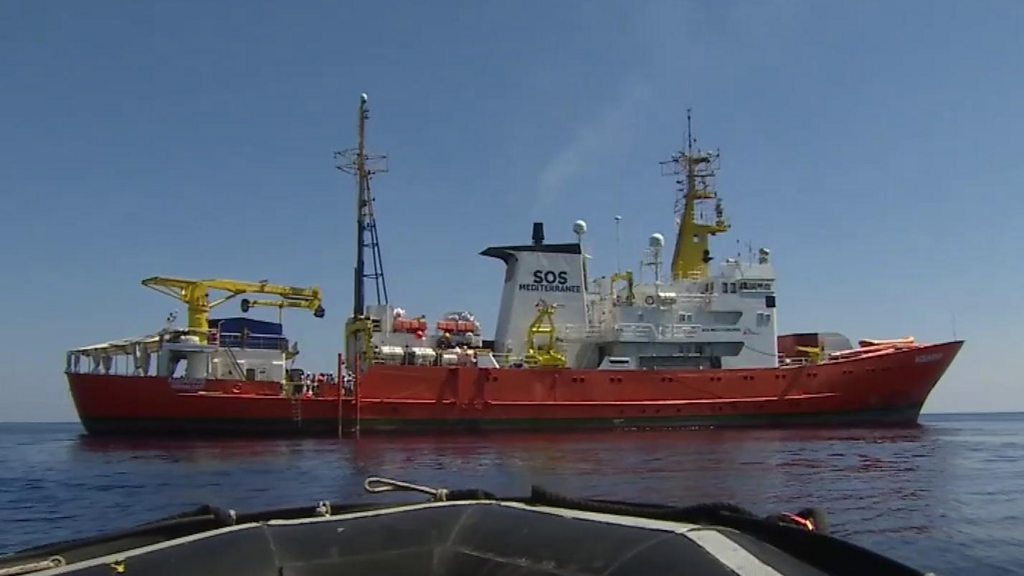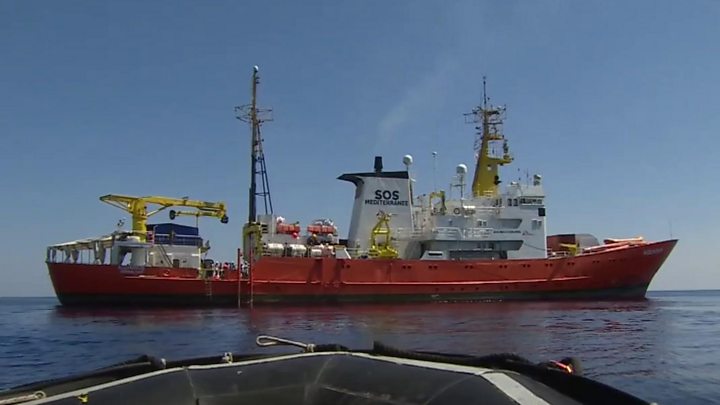 EU President Donald Tusk has welcomed a new agreement on migration reached after evening talks at a summit in Brussels
But he told journalists it was "too early to talk about success" and said An agreement is simply "compared to what we expect on the ground."
Under the deal, new Secure centers for migrants can be set up in EU countries to handle asylum applications.
Economic migrants whose demands are rejected would be "sent back".
Those who have been classified as genuine refugees, however, would be relocated
President Emmanuel Macron quickly praised the agreement, calling it "a choice of cooperation" that would help cope with the influx of migrants to Europe.
Other leaders were more prudent ̵
1; including German Chancellor Angela Merkel, who said she was "in the right direction" but more needs to be done to settle disagreements.
Who gets what from the agreement?
The agreement is calculated as a lifeline for Mrs. Merkel having a political crisis at home with the potential to overthrow her government.
Federal Interior Minister Horst Seehofer of the Bavarian Coalition Party (CSU) warned the Chancellor that if she did not seek the return of many asylum seekers, she would migrate to migrants who had already reported elsewhere.
Spain and Greece have now agreed to take back migrants who have registered in their countries but have moved on to Germany, the German government confirmed on Friday.
Italian Prime Minister Giuseppe Conte quickly distanced himself from this position and vowed that Italy would not take back migrants from Germany and that he had signed "no specific agreement" on this issue.
Mr Conte had earlier taken the rare step of blocking the conclusions of the joint communiqué until the leaders had solved the migration problem.
When the two-day meeting came to an end, he said positively: "After this European summit, Europe is more responsible and more solidarity-today Italy is no longer alone."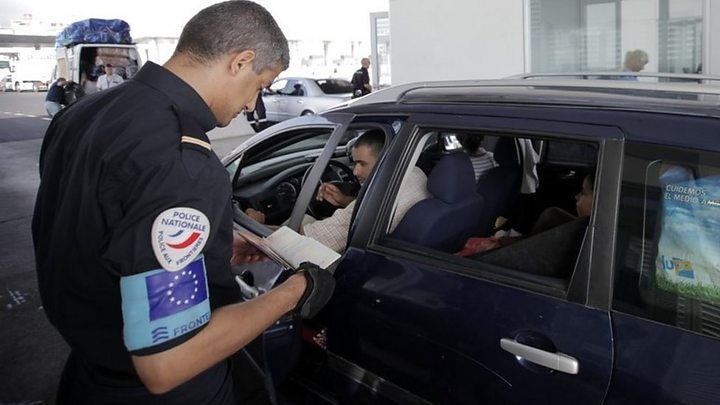 What else was agreed?
The 28 EU leaders also agreed on several other measures:
Reinforced controls at the external borders, and promotion of financing for Turkey and countries in North Africa.
To explore the possibility of "regional disembarkation platforms" aimed at breaking the business model of migrant smuggling by processing refugees and migrants outside the EU. However, the admission of North African countries to such centers could be very difficult, and Morocco again rejected this idea on Thursday.
Internal action by Member States to abolish migrants within the EU who undermine asylum policy and the border under the agreement Schengen tourist area
More investment in Africa to help the continent achieve "substantial socio-economic change" so that people no longer migrate to a better life.
Further work on the reform of EU asylum policy, including changes to the so-called Dublin Regulation, requiring migrants to be considered as asylum seekers in the first safe country in which they arrive.
Where are the migrant centers being built?
Paris and Rome have already quarreled over this issue.
The controlled centers are to be built by the EU states on a voluntary basis, but there are no details of where they could be received or refugees received.
Mr Macron said the centers would be there countries in which migrants first arrive in the EU, and France would have none, since it is "not a first-coming country".
Austrian Chancellor Sebastian Kurz took the same view and stated: "We are not a first-time country unless people jump from parachutes."
Italy – which is the starting point for thousands of migrants, mainly from Africa , and wants other countries to share its burden – rejected this interpretation.
Mr. Conte told reporters – "Macron was tired, I deny what he said."
He said all EU states could set up the centers "including France."
According to the European Council, the number of people entering the EU illegally has fallen by 96% since the 2015 peak.
Around 56,000 migrants have arrived in Europe this year, according to the International Organization for Migration, compared with more than one million in 2015.
However, several Central European states have so far rejected an EU system for relocating 160,000 Refugees from overcrowded camps in Greece and Italy exacerbated tensions – and recent disputes over the fate of migrants rescued at sea have exacerbated the problem.
Analysis: Is the crisis solved? Not likely
By Katya Adler, European Editor, BBC News, in Brussels
Is Europe's migration crisis now solved? In a word, no. On two fronts. First, the prevention of illegal migration and the rescue of migrant life.
Take, for example, the processing centers to be operated inside and outside the EU. The idea is that economic refugees come to Europe because they know that only those with a legal right to asylum or refugee status can stay. But these machining centers are voluntary. We do not know where or when (or if) they will be operational – and in the meantime, migrants will continue this dangerous journey across the Mediterranean.
The second failure is more a half failure, and it is a political one. Let's face it: given the sharp decline in arrivals to Europe, tensions and tensions between EU countries are clearly political. The fact that leading politicians, such as German Angela Merkel, are leaving this summit and claiming "a significant step forward" is an indication that the cracks in the issues have been whitewashed in true EU Summit style.
But is Europe North, South, East and West now united on a common migration and asylum policy? Absolutely not.
How did the aid organizations react?
NGOs have severely condemned the agreement, stating that it betrays vulnerable people and those trying to kill them in the Mediterranean.
"The only thing European states seem to have agreed upon is the blockade of people at the door of Europe, regardless of how vulnerable they are or what horrors escape them" and "demonizing non-governmental search and rescue operations" ( 19659004), Coast Guard officials said Friday that about 100 people were reportedly drowned off the Libyan coast, 14 being rescued.
They were found in waters in the east of the capital Tripoli. 19659004] Italy's anti-immigrant Interior Minister Matteo Salvini has previously railed against rescue ships of international NGOs and claimed on Friday that they "consciously or unconsciously help people smugglers".
"NGOs will only see Italy on a postcard," he told Italian radio. "The ports will be closed all summer."
EU President Donald Tusk also had serious words for NGO ships and said at a summit press conference, "We have sent a clear message to all ships, including those from NGOs in the Mediterranean, that they must respect the law and allow it Libyan Coast Guard did not interfere. "
Source link