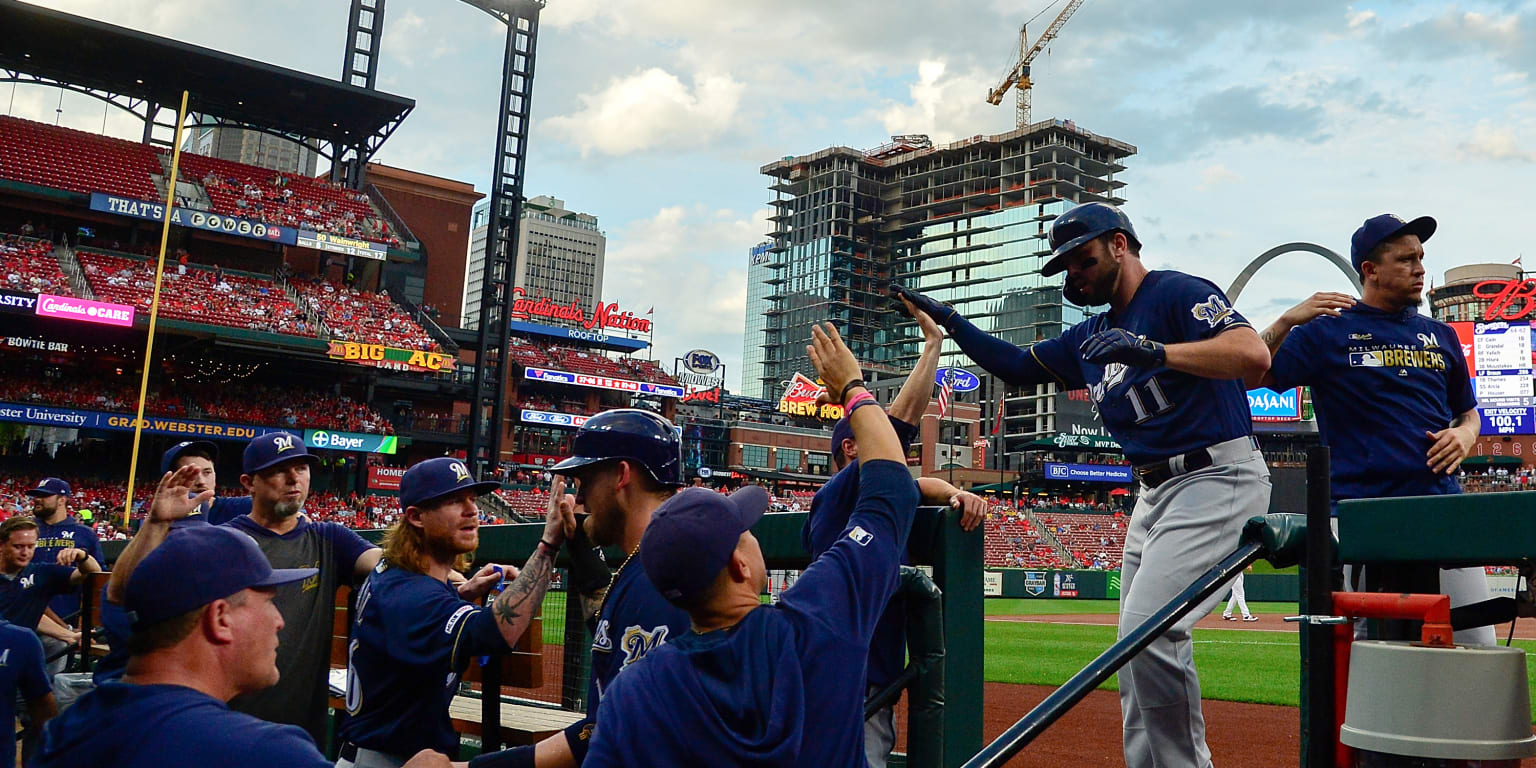 ST. LOUIS – So much for the path to 27 outs. This particular Brewers victory required only 21.
                        5-7 win over the Cardinals to finish a
ST. Mike Moustakas is on a three-run home run in a four-run first inning and the Brewers held on for a rain-shortened; LOUIS – So much for the path to 27 outs. 21.
Mike Moustaka's three-run home run in a four-run first inning and the Brewers hero on long enough for a rain-shortened, 5-3 win over The Cardinals to finish a 2-4 trip on Wednesday at Busch Stadium, where starters Adrian Houser and four relievers kept St. Louis at bay before the game was stopped in the middle of the eighth and eventually called after a one-hour , six-minute delay.
• Box score
"We'll take a win like this any day we can," said Houser.
The win over longtime nemesis Adam Wainwright and the Cardinals denied St. Louis a three-game sweep and kept the Brewers from falling five games out of first place for the first time all season. Instead, they are 3 1
/2 games behind the Cubs, who outlasted the Giants at Wrigley Field in a home run derby.
Three takeaways from the Brewers' waterlogged win:
. 1 "Moose!"
That's Christian Yelich's takeaway, as he passed by Moustakas' loose, a reference to the swing that produced the game's decisive hit. 31st homer, which gave Milwaukee a 4-0 lead before Wainwright recorded the second out of the game.
Keston Hiura had already snuck at RBI through the Cardinals' infield before Moustakas. "I just caught it pretty good," Moustakas said. "He made a really good pitch.
Moustakas is threatening his career high for home runs – 38 in 2017, when he set the Royals' franchise record, and might in Yelich's shadow. Moustakas' .867 OPS would be the fourth-best season in Brewer's history for a player who primarily manned third base. Aramis Ramirez's .901 OPS in 2012 is the club record, followed by Bill Hall's .899 in '06 and Jeff Cirillo's .894 in '96.
2. The Brewers did not make it easy for Houser
Houser's 66th pitch is a routine Harrison Bader bounces to third with two outs in the fifth. Had Moustakas converted the play, Houser had five scoreless innings with one hit.
But Moustakas bounced the throw for an error. Pinh-hitter Yuri Munoz Eric Thames and what ruled a hit, in part because Houser was slow to cover first. Yasmani Grandal threw the ball into a field for a run-scoring error, then Dexter Fowler followed with an RBI single.
So, instead of bidding for the Brewers' first complete game in more than two years ago – Jimmy Nelson threw the last one on June 18, 2017 against the Padres – Houser recorded only two outs after the initial error and was out of the game at 89 pitches, with one out and the Cardinals within two runs , at 5-3, in the sixth.
"We've not had any breakdowns on defense," Moustakas said.
third Josh Hader
Tuesday, August 22nd, 2009 What about an ugly night for Brewers' pitching, but Wednesday, the relief corps saved the day. After Carpenter and Matt Albers left behind Matt Carpenter and Matt Albers followed him to the end of the session.
In the seventh, Drew Pomeranz and Junior Guerra combined with a scoreless inning, with Guerra retiring dangerous Paul Goldschmidt, who represented the tying run. Hader had a living in that inning, but when the brewers were unable to complete their relief a weeklong
"It worked out in our favor, for sure," Counsel said. Josh was going to be the pitcher. So, we were in good shape but Josh was going to get six outs. It worked out well. "
It's the opposite feeling in the Cardinals' clubhouse, where Mike Shildt said," We waited an hour. Winning, quite honestly. "
Did Counsel manage with the pending weather in mind?
"We knew it was going to rain. You do not know when it's going to rain, "Counsel said. "As we got into the bottom of the sixth inning, for them, it started to get imminent. You saw the grounds crew – their offices are right underneath our dugout and we saw them start to sprinkle out – so we knew it was coming. Josh starts throwing and getting a delay. That worked out well. But our guys got big outs.
Adam McCalvy has covered the Brewers for MLB.com since 2001. Follow him on Twitter and Instagram and like him on Facebook.