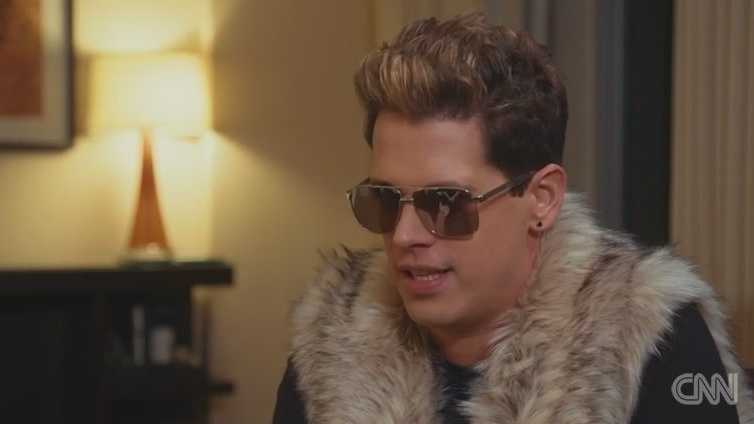 Milo Yiannopoulos takes Facebook to protest against some people who link his recent comments on journalists to Thursday's shooting.
Yiannopoulos has reportedly said, "I can not wait for the vigilantes to initiate journalists." As a "joke" in response to questions from Daily Beast and New York Observer journalists, according to Fortune.
In a post on Facebook, he said that some people could link his comments through the media and media "Vigilante Death Squads" to the news shoot on Thursday in Maryland.
Yiannopoulos went on to say that even if the Annapolis shooter acted on his comments, he still was not to blame. Instead, he said, reporters from Daily Beast and New York Observer are to blame.
Below is his full statement:
"You will see a whole series of news claiming that I am responsible for inspiring the deaths of journalists. and leftist journalists are already exploiting these deaths to get political points against me, which is disgusting, I do not regret what I've said, although of course, like any normal person, I'm saddened by the unnecessary death.
"The Truth, as always, is the opposite of what the media tell you. I sent a troll over "suicide squads" as a * private * answer to some enemy journalists who asked me for a comment, essentially as a way of saying "F ̵
1; k off". They then published it. I was astonished that they were exposing my joke as a "threat", posting these stories on Instagram to mock them – and to make it clear that I was not serious.
"Headlines soon appeared with the statement that I would incite" people to assassinate journalists. That's completely wrong. The only people who hysterically killed reporters this week were Will Sommer from the Daily Beast and Davis Richardson from the New York Observer.
"If it turns out that this crime has any dimension in connection with my private, misreported remarks, the responsibility lies wholly with the Beast and the Observer, who committed false hysteria over a private joke, and the verified liberals pretending they were seriously thinking.
"It's a demonstrable fact that the Open Society foundations and other wealthy left-wing organizations have spent hundreds of thousands of dollars (maybe there are millions!) that bother my conversations with my audience beat up and spread malicious rumors about me. I would not be surprised if this shooter – just like the last one on YouTube – is another dementer left winger. Let's hope it's another transgender shooter, so the losses are minimal.
"The Left celebrated the shooting of Scalise and regularly provokes violence against Trump supporters, secretly pleased with Antifa's domestic terrorism, and rejoicing at Maxine Waters as she threatens the consequences for Trump administration officials who are doing their business in
"I've given a private troll to two hostile reporters who published breathlessly, and their journalist colleagues swarmed like vermin to remind the world how much they hated Milo. If the left were really horrified by violence against journalists, they would have shown it to Charlie Hebdo. As you all know, they did not do that.
"PS – You should decide if you think I am" embarrassed, irrelevant and overly "or" so dangerous that I encourage mass shootings. "I can not be both."
Yiannopoulos is a political commentator which is known to make provocative utterances. Previously, he was employed by Breitbart News. He left Breitbart News after controversial comments about pedophilia.
Yiannopoulos said in an interview, "You misunderstand what pedophilia means," he told host of a podcast. "Pedophilia is not a sexual attraction for anyone 13 years of age and is sexually mature." Pedophilia is an attraction to children who have not yet reached puberty. "
Not long after these comments, the Conservative Political Action Conference relinquished their invitation to engage him as a conference speaker. In addition, Simon and Schuster have canceled their deal to publish his memoirs.
AlertMe
Source link