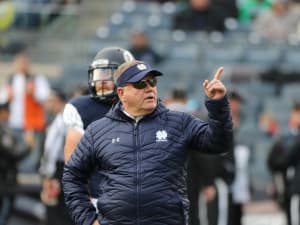 Notre Dame Head Coach Brian Kelly and the other three coaches of the College Football Playoff participants held a joint press conference in Atlanta on Thursday afternoon.
Here you will find everything Kelly had to say during the conference the event.
Q: Opening Speech.
BRIAN KELLY: "Well, it's certainly an honor for the University of Notre Dame to be part of this large group of coaches and teams. We are the new kid in the block. This is our first time in the College Football Playoffs, but it's something we look for every year, of course. We look forward to an incredible match against a team in Clemson and a coach in Dabo Swinney who has been here for four years and knows how it is and we have a big challenge. However, we have great respect for all the coaches who are here. You have done it before. We certainly consider it a goal for our football team every year. It is a difficult thing that we all look forward to. So again a great honor, great to be with these coaches today and look forward to the challenge ahead of us.
Q: This applies to all four coaches. What is the X-factor you saw with your opponent? KELLY: "So when you talk about playing an opponent, it's the ability to finish games, the ability to win and know that's Clemson. They know how to win football games. They have won. "I think everyone up here has developed and built a winning culture in their football team. You can not set that to a specific player. This is something that is part of the football program that has been built up over time. That would be the X-factor.
Q: Obviously, the new Redshirt rule this year was a bit of a game changer. I just want to know how this affected each team, and whether there are one or two players you could give a name that you think might help in the playoffs. [1
9659002]
KELLY:
"Yes, I would agree with everyone that we make most of these decisions earlier this year, and then make some sort of progress toward who is talking, who is talking, who is not. There are, however, some positive aspects. We lost a good player in the first game of the year. We will be able to retrieve him for this game, and then he only has two games and the potential to win back a year because he is not redshirted.
"We played a freshman quarterback that we probably would not have cleaned up. So you have the chance to get him out and gain some experience in such situations. But I think on the whole, I think that really did not change the landscape. It may give you some inventory in special teams here and there, but on the whole it has been a good rule. "
Source link