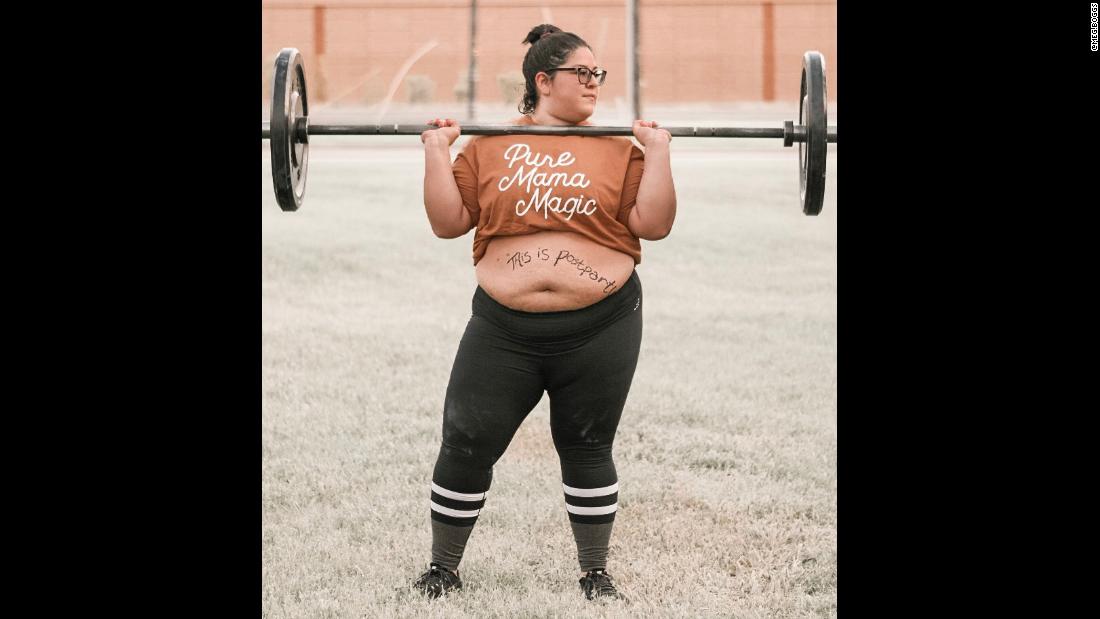 If she could say two things to mothers to send them on a self-love journey, then it would be "looking in the mirror" and "taking pictures with their children". The mother and blogger says she refused to be photographed for the first few months of her daughter's life: "I'm so sorry I was not in the photos with her, it's so important, and you have to Their children and they want to think about you in the photos with them. "
In 2018, Boggs was the first mother of a 7-month-old baby and was dealing with negative body image issues. As a plus-size woman, she did not feel like other pregnant or postpartum women on social media. It started during pregnancy: "I would see pictures of a perfect bump and I have nothing to do with it because I definitely did not have a perfect bump." Boggs searched for images that she could refer to online, but did not find what was insulating: "I felt that my postpartum journey and my body did not count."
In an attempt to connect with similar women She started blogging On MegBoggs.com she posted her first postpartum photo on Instagram and got started on how the internet could react. "To my surprise, my messages were full of positivity and things like & # 39;; I needed that today. & # 39; That was when that idea found its way into my heart," Boggs said.
This week was the culmination of a love work in which she recruited 25 mothers with the #This_is_postpartum hashtag on Instagram to share her experiences with postpartum body image problems, postpartum depression and anxiety, child loss and grief.
"It was alright to need a little help"
One of the women Boggs teamed with was Ashley Dorough of houseofdorough.com. For Dorough, this campaign was an opportunity to tell other women that they are not alone. She struggled with anxiety and depression after her eldest daughter was born with a congenital heart defect. "Every day, my focus was on keeping her alive and living with her to the fullest every day," Dorough said. Several years later, after the birth of her second daughter, she suffered from postpartum depression affecting every ninth woman. "I felt like I was in survival mode all the time, which is normal to a degree, but then it started to turn into trouble and I knew that I really am not, I'm not an angry person," she said.
After seeing other bloggers online to learn about her experiences with antidepressants, she felt empowered to talk to her OB. "My doctor told me it's okay to need a little help now, and that really bothered me," Dorough said. The combination of therapy and medication was a "complete change" for her last month, and her transparency has even led to one of her readers asking for help from her own doctor.
#This_is_postpartum So, Dorough serves as a platform to encourage other women to go deeper into what is really important and the process of self-love from the inside out begin. "When I look in the mirror, I feel like my body is a little bit destroyed, I just want women to know it's normal to feel that way, but it does not have to define you." She wants her daughters to grow up and know that their looks do not match their value.
She calls her her "hopeful wounds."
Desiree Fortin knew that having triplets would change her body, but she told herself she did not care. After struggling against infertility, she believed that nothing else mattered than the fact that she would become a mother. When she received her babies born from in vitro fertilization or IVF, she noted, "My body has changed more than I expected, there was a lot of extra skin, stretch marks were everywhere." She knew that a change of perspective had to take place. Fortin started writing and talking about hugging her body.
Such a painful experience as infertility helped Fortin to focus on her perspective, knowing that there were women on the same journey they wished they had stretch marks and extra skin. "They are the roadmap to my motherhood, they are an illustration of my three miracle babies that I would not have had if I had not gone through infertility and taken three people at the same time," says Fortin's beauty in every single stretch mark on her body. She calls them her "hopeful wounds" because they are "things I prayed for and longed for".
Although some As reactions to these photos were critical, Fortin continues to focus on why she's doing this at all to empower women to love themselves and share their stories: "It's like making a connection because you're vulnerable. It's so beautiful and it fills my heart and reminds me why I share. "
"They are beautiful, no matter what society tells them"
Bethanie Garcia was inspired by her husband and children to see their bodies as they did it acted as if it were perfect. "After I had forced myself to believe that I was beautiful, I began to see everything in a different light and began this whole journey of self-love and self-esteem," said the mother of four children. Garcia wants to help create a world where her daughters can feel beautiful without unattainable standards. She wants women to know that "they are beautiful, no matter what society tells them or what they look like."
Before her fourth child was born, Garcia had a miscarriage in the first trimester. The loss was not only physically and emotionally traumatic, but she said he had created a sense of failure. Miscarriages are common – about 10% of all pregnancies end in miscarriages – but Garcia says she knew that, but she still feels that her body has failed.
She decided to report her loss and received thousands of messages from women who said they were ashamed or failed because of their own miscarriages. Garcia heard of women who had never said anything to anyone but their partners, "The answer helped me feel much less alone."
For Meg Boggs and these 25 women, the only way to normalize postpartum experiences is to be transparent and raw and continue the conversation. Sometimes there are people who try to bring them down and cause pain with their words, but Boggs says, "I can get hundreds of negative comments, but it's this one message I get, even if it's just the one that says, "I had to see this today," It's these messages that remind me it's worth it. "
Source link