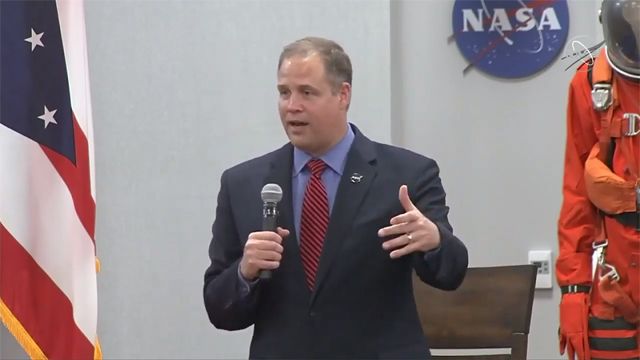 With NASA trying to land astronauts on the moon by 2024, the agency's boss reminded staff today (June 10) that Mars, not the moon, is the agency's ultimate destination.
"The Moon Is Not the Destination The Moon is the Waypoint" for a future human mission to Mars, NASA Administrator Jim Bridenstine said during a city hall-style discussion at NASA's Glenn Research Center in Cleveland, Ohio.
Bridenstine also defended a controversial statement by President Donald Trump, who tweeted on Friday (June 7): "NASA should NOT talk about going to the moon – we did that 50 years ago the much larger things we do, including Mars (to which the Moon belongs). "
Related: Will NASA's onslaught on the Moon take us to Mars faster?
While some speculate that Trump threw cold water at NASA's new moon plans (a program that the President initiated himself ), his own space policy reversed and possibly confused the Earth Moon with the Martian moons, Bridenstine offered a more forgiving interpretation of Trump's tweet.
Regarding Trump's claim that the Moon is part of Mars, Bridenstine said, "We're going to the Moon to get to Mars." Anyone who literally interpreted this tweet would just read too far, he added.
Bridenstine speculated that Trump's tweet was sparked off a television segment of the Fox Business Channel, during which a discussion about NASA's plans to land astronauts on the moon in 2024 led to a debate over the issue whether the exploration of man by the moon is even valuable. "The moon is valuable because it's a test field to get to Mars, and that's exactly what the president did," said Bridenstine. This exploration of the moon gives NASA the opportunity to demonstrate the technologies needed to make humans to bring to Mars.
NASA's Lunar Orbital Platform Gateway a proposed lunar space station that serves as a waypoint between the Earth and the lunar surface, is one of these technologies. "It's our access to Mars," he said. "Now the first gateway will bring us to Mars? No, but we have to prove the technology."
E-mail Hanneke Weitering at [email protected] or follow her @hannekescience . Follow us on Twitter @SpaceTotcom and on Facebook .