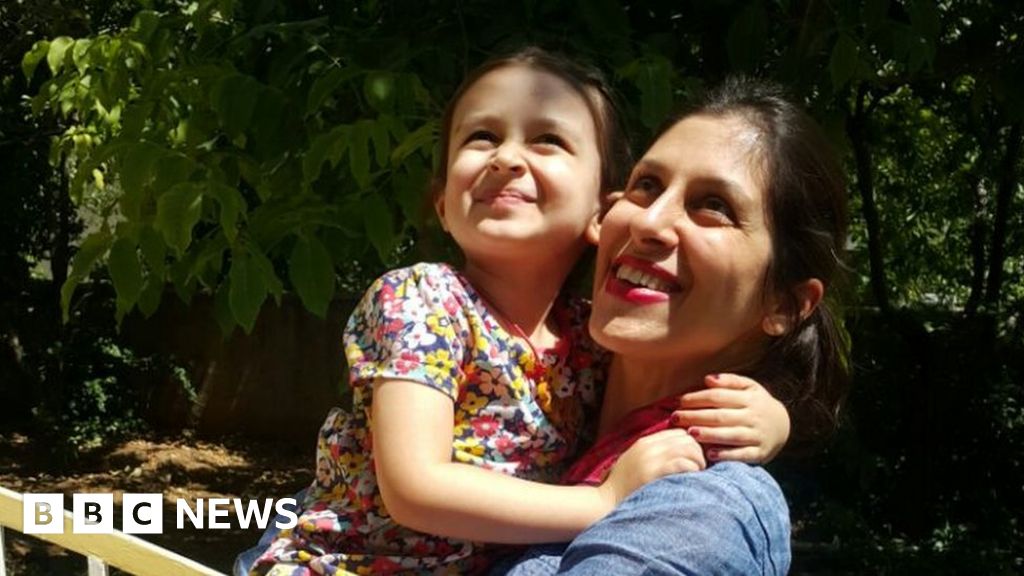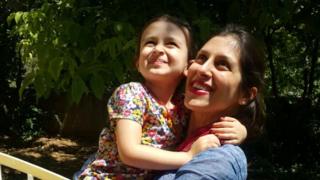 Nazanin Zaghari-Ratcliffe has voluntarily returned to prison after a three-day release in Iran, her husband reports.
The British-Iranian charity worker was reunited with her family and her four-year-old daughter during the operation
She requested an extension, but she was turned down, said Richard Ratcliffe.
The charity worker decided to return to jail "head-high," instead of being "dragged out" your child, he said.
Ms. Zaghari-Ratcliffe, who works for the Thomson Reuters Foundation, was arrested in 201
6 for espionage for five years, which she denies.
She was arrested at the airport in Tehran after visiting her family on vacation. She insisted that the visit of her daughter Gabriella was presented to her relatives.
Mr. Ratcliffe said her lawyer was initially confident that his appeal would be granted for an extension of the release.
After receiving mixed messages throughout the day, she was told that she would have to return to the prison on Sundays at sunset, as the required permit had not been signed.
On the Twitter account of the Free Nazanin campaign, a picture of her was released in which she said goodbye to her daughter.
In a statement, Mr. Ratcliffe said, "After a discussion with her family in Iran, Nazanin decided that she would go to jail."
"She did not want to be dragged out of the house in front of her baby, but she would be uplifted Head to jail.
He said her daughter Gabriella, who was living with a family in Iran, was crying when she noticed her mother was leaving.
He said, "Nazanin was waiting for Gabriella to wake up before saying goodbye and left her family to return to Evin Prison.
Ms. Zaghari-Ratcliffe from Hampstead in northern London told her daughter, "The next time she saw her, it would be forever, not just for a few days, for the right freedom, not just for the holidays" and "the next time" they will go back to London to be with dad. "
The Foreign Office said in a statement," We remain very concerned about all of our dual nationals arrested in Iran and continue to take decisions that will
"Beyond Cruel"
Her husband had thought she would not have to go back to prison another extraordinary decision, "he said in the statement," I did not believe after all the effort it took to get out, it would only take three days. "
Ms. Zaghari-Ratcliffe told him she was worried about the effects of the recent development on her young daughter and said, "You can not send a baby girl her mummy and then take her back after three days, it's cruel cruel. "
She had just announced ten minutes that she was released on Thursday, it said in the campaign. The possibility of a temporary release had already been discussed, but there were a number of "false days".
The campaign group said on Thursday that a three-day release was "standard practice" before long jail sentences threatened.
Mr. Ratcliffe has been campaigning for release since her imprisonment and met Foreign Minister Jeremy Hunt earlier this month, who has vowed to "do whatever he can to bring her home".
Ms. Zaghari-Ratcliffe's family has previously criticized the British government for failing to negotiate her release.
Boris Johnson provoked consternation in November last year when he told MPs that Ms. Zaghari-Ratcliffe "trained" journalists in Iran
The then foreign minister later declared in the House of Commons that he had "no doubt" about their vacation and called for Tehran to be cleared up after the Iranian authorities doubled their sentences.
Source link