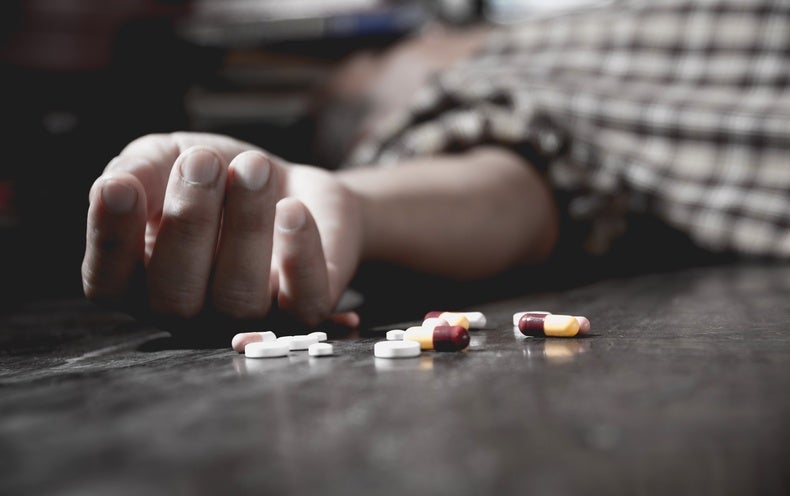 Overdoses of drugs are the leading cause of death for US adults under the age of 50, with more than 70,000 people killed in 2017 alone.
Researchers and health professionals have done their best to eradicate the devastation caused by the opioid epidemic. Some states have introduced harm reduction strategies such as the production of the opioid antidote naloxone, which is freely available, but too many people still do not receive the life-saving drug on time. "Overdose is unique in that it is an acute disease that is completely reversible with naloxone or assisted airway therapy," says Jacob Sunshine, assistant professor of anesthesiology and pain medicine at the University of Washington. "The problem is that people who suffer from overdose are linked to these well-established therapies that work pretty well each time."
Sunshine's new Science Translational Medicine paper this week proposes a unique tool to do just that: a smartphone app that monitors respiration and sends a warning to the ambulance service in the event of an overdose. In overdose, death usually occurs for five to eight minutes after someone stops breathing. This gives the EMS crews enough time to respond to an immediate alert.
The software transforms a microphone's microphone and speakers into a short-range sonar system that detects disturbed breathing. The speakers constantly send inaudible "chirps" and these sound waves bounce off the user before returning to the phone's microphone. As the sound waves ping around between the phone and the user, the app keeps track of any changes in the sound that indicate movement.
During regular breathing, raising and lowering the breast produces tiny variations in the signal that cause it. The app registers as usual. If a person breathes extremely slowly (less than seven breaths per minute) or stops altogether, the signal remains constant and the app diagnoses that something is wrong. After 30 seconds without a breath, the app triggers an alarm. If the user does not answer, he can call 91
1 or his friends or family members. "We designed the system so that there is a multi-level approach that does not bother the user if you only have a central apnea event or if you do not breathe for 10 seconds," says Shyamnath Gollakota. an adjunct professor of computer science and engineering in Washington and co-author of the newspaper.
The researchers tested the app in a secure injection facility in Vancouver (there are no legal safe injection sites in the US). Safe injection sites have been proposed to prevent overdoses by allowing drug users to inject themselves into a clinical environment where health professionals can administer naloxone as needed. In Vancouver, the app correctly recognized 45 out of 47 cases (96 percent) when a user stopped breathing for 10 seconds or more.
A second test of the app on individuals who had undergone anesthesia prior to surgery was also successful. Opioids such as fentanyl are used in anesthesia, which causes an induced overdose that helps to make the person unconscious. (The patient stays on a ventilator.) The app has successfully detected the moment the patient lost consciousness and stopped breathing in 19 out of 20 cases. "I love the idea of ​​the app," said Sheila Vakharia, a political manager for the Drug Policy Alliance, a non-profit organization focused on minimizing harm to end the war on drugs. "I think it's exactly the kind of technology and innovation we need to think about: how do we develop technologies that recognize people's concern with risk practices? How do we develop solutions that are actually rooted in reality? "Adds them."
"It's a clever application and a good use of the capabilities of these mobile phones," says Levent Degertekin, a professor of engineering at Georgia Tech, who was not involved in the study. "It's a solid one Approach. "
Like all new technologies, the app is not free from deficiencies that still need to be tackled, and Vakharia points out that it does not take into account that many drug users live and use opioids in chaotic environments to get accurate readings 'The phone must be stationed on a flat surface, such as a table or bedside table, within a meter of the user.' People who are unstable and homeless do not necessarily inject in such situations, 'she says. 19659002] Another potential problem: The user must start the app after self-injecting Sunshine claims a person has time to begin before the drug reaches its central nervous system. "From a clinical perspective, that's quite possible," he says.
Elizabeth Brico, a writer concerned with drug policy and her own past heroin use, questions Sunshine's calculations. She says an overdose may occur immediately after the injection, so a person may not have time to start recording. "I have been overdosed a few times," says Brico. "For the majority, if not all of [those episodes] I went out immediately. I would not have had the opportunity to turn this app on. "
Despite some reservations, Brico and Vakharia agree that the app has the potential to promote safer drug use by helping people act proactively on the risk of overdose, and this could even save lives , In the current epidemic, any tool that can prevent overdose overdose is worth a try.
Source link