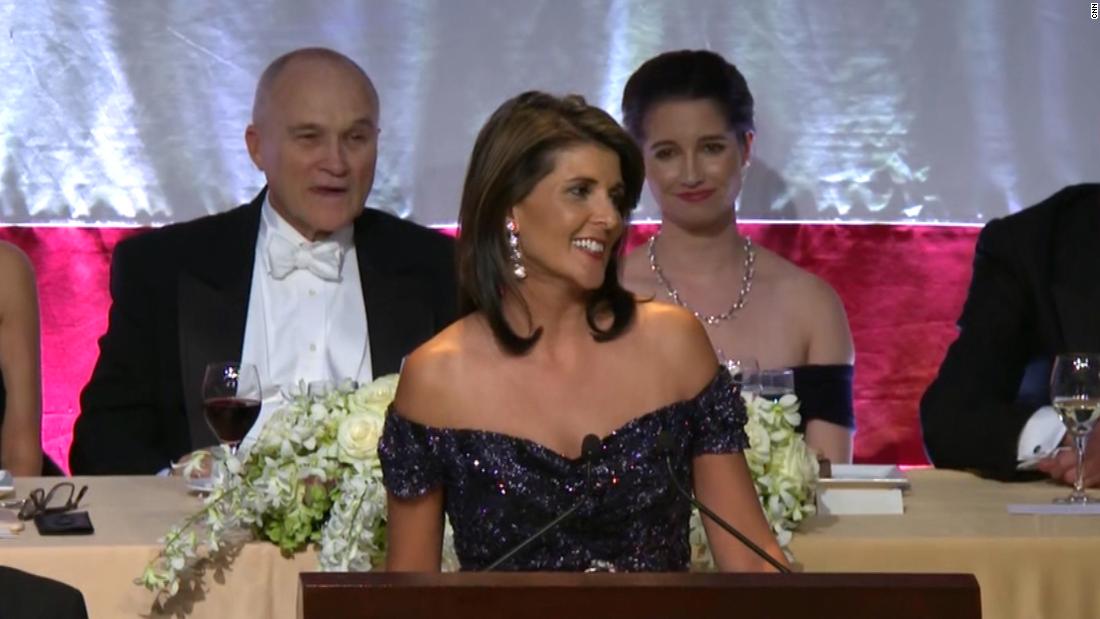 At dinner, which is known for political figures joking during the keynote address, Haley said that after the speech of President Donald Trump at the charity dinner for the Catholic Church two years ago and Paul Ryan held a "chorus boy" speech "This year, you wanted to spice things up, right?" Haley said.
"I understand you wanted an Indian, but Elizabeth Warren did not pass her DNA test," joked Haley.
"When the President found out I was Indian-American, he asked if I came from the same tribe as Elizabeth Warren," she quipped.
Haley announced last week that she will return her post and leave administration at the end of the year.
Here are 1
0 key lines from Haley's speech: [19659003] 1. "A few weeks ago I had a great breakfast with Cardinal Dolan and I asked him if I could do anything to really increase my participation. He said, "Why do not you step back as a UN ambassador? "You did not tell me you were kidding!"
2. "Jeff Flake would be here, but he wanted to give the FBI a week to look."
. 3 "With all our differences, there is still one thing that unites all 193 [UN member] countries – at one point every single Paul Manafort paid."
. 4 "People are always wondering if I feel different or isolated as an Indian American in rural South Carolina, in fact, there was an advantage in it – it totally prepared me to be a Republican in New York."
. 5 "I'm still someone who is very interested in Halloween, but in this poisonous environment is causing even the political argument." Bernie Sanders wants sweets for everyone for free. "Mitch McConnell calls it a typical Democrat giveaway program it's the best Halloween of all time – something like never before, huge! "
6. "As a member of the UN delegation, I have diplomatic immunity … an exemption from prosecution or, as Mayor de Blasio calls it, a sanctuary city! Oh, look, I drank the mayor on the stage – no ice cream! "
. 7 "People are always asking me what to call me, Governor, Ambassador, Nikki, you can call me anything, do not call me anonymous."
. 8 "I saw Jeff Sessions this morning – not in New York – I saw him on LinkedIn looking for a job, actually we were both."
. 9 "I saw when [President Barack Obama] said recently that we should not use the FBI or the Justice Department to punish political enemies Comey, McCabe and Strzok said, now you tell us! What President Obama wanted to say -" Use for we the IRS. "
10." The President really got mad because of Woodward's book, really crazy. The book compared him to a fifth grader. Many Democrats took this up until they realized that they were beaten by a fifth grader. "
Source link