All game platforms, from phones to tablets to consoles, have Parental Control systems that allow parents to protect children from sophisticated content and restrict their access to the device, but none of them do it as well as Nintendo does Switch. In this Nintendo Switch manual, we'll show you how to set up parental controls and what features and limitations you can use.
Nintendo Switch Parental Controls
Nintendo Switch Parental Controls offer the following important features: daily limit, content restrictions, social media restrictions, e-shop restrictions and many others described below.
Setting up Parental Control
From the Home screen, select the Gear icon
Menu System Settings> Parental Control
How to use the Parental Control app (Android and iOS) connects
The Parental Control app is not found directly on the App Store, but do not worry – here's a direct download link for Android (). It's a free App and can connect to multiple Nintendo switches.
How to connect Nintendo Switch to the Parental Control app
Sign in or create a new account if you do not already have an account.
Make sure that you have the same Nintendo account as the switch you want to control.
To connect the console to the app, enter the registration code sent by the Parental Control app into the switch console.After you can select User Smart Device.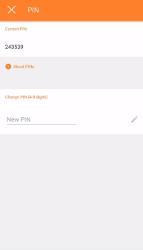 Note: Make sure you have the PIN stored in the PIN section, and you will need this PIN if you remove the restrictions. This e PIN is set by the app during registration.
Parental Controls
Daily Limit
Set how long the Nintendo Switch can be used daily. You can set time limits starting at "No Limit", then at 15-minute intervals up to 6 hours. It also shows you what your child is playing with the user account
When the limited time has elapsed, the console notifies your child at the top of the screen, but access to the game or switch is not affected. Your child has access to the game and the Nintendo Switch and the alarm will continue to be displayed every 15 minutes.
There is a separate option that allows you to completely restrict access to the game or Nintendo Switch after the daily time limit
Set Content Restrictions
You can set content restriction types by using parental controls set the Nintendo Switch. The available options are None, Teen, Preschool, Child and Custom. For the custom option, you can choose ages from 3+ to 18+.
You can set the content restriction type Nintendo Switch with parental control, available options are none, teen, pre-teen, child and Custom. For the custom option, you can select age limits from 3+ to 18+.
Restrictions on posting on social media
Your child may not use a built-in Facebook and Twitter screenshot
Set Eshop restrictions
Restrictions on purchases in the Store to your Nintendo Account Settings
Register your switch from the Nintendo Switch Parental Control app [19659013] Home screen> System Preferences
Parental Controls> Unsubscribe App
Decide which game you can play [19659011] Depending on the age of your child, you can set up games suitable for your chosen age on your system. You can also track all games played on your Nintendo Switch.
Remove restrictions
Go to the Switch console home screen and select Parental Controls icon above Enter the PIN you need when setting up the app was assigned.
Enter the Re-enter PIN when the console is turned on or back off sleep mode after lifting restrictions.
To set up parental controls for your Nintendo Switch and your Andriod or iOS device.