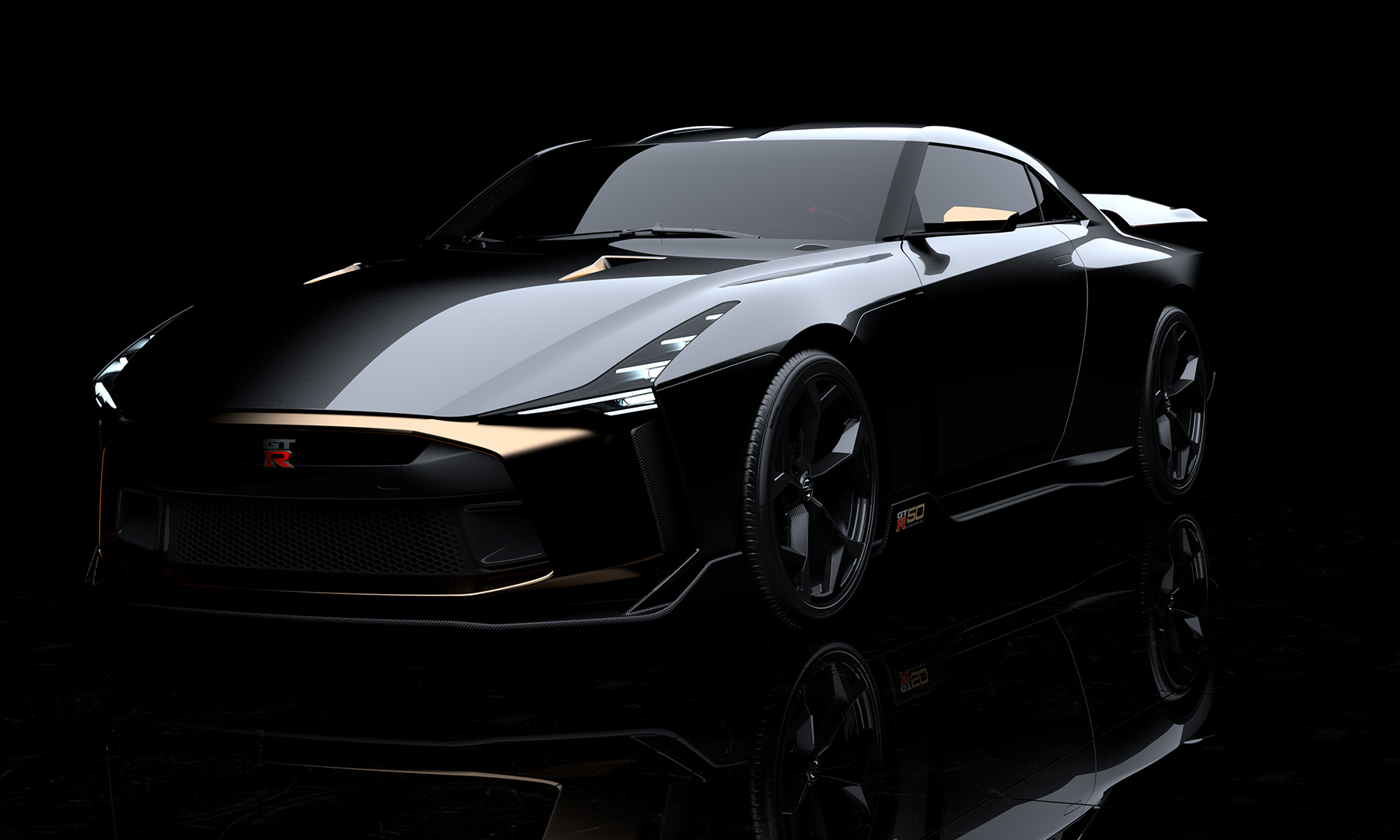 Italian design and engineering company Italdesign has recently announced a unique Nissan GT-R to celebrate its 50th anniversary, coinciding with that of the Nissan GT-R! The prototype is based on a production of the Nissan GT-R NISMO 2018.
The collaboration seems unlikely, as Italdesign is currently owned by Lamborghini, a subsidiary of the Volkswagen Group. The prototype is called the Nissan GT-R50 by Italdesign and represents the first collaboration of the companies.
The car was designed and built by Italdesign, using the designs at Nissan Design Europe in London and Nissan Design America. It uses a gold inner element at the front that is replicated across the side of the vehicle (via the wheel outlets) and backwards. The gold elements are even contained in the interior.
Nissan GT-R50 by Italdesign
The bonnet gets a bigger bulge and thin LED headlights. The roofline sits 54 millimeters lower with a tapered shoulder line that tapers around the bottom of the rear window. The tailpipes are new, as is the large, adjustable rear wing.
21
inch wheels were developed exclusively for this car. It gets a Liquid Kinetic Gray color and Energetic Sigma Gold accents. Inside, two different carbon fibers were used, combined with Alcantara and black leather. The steering wheel is tailor made and has a flat bottom.
NISMO has plastered the 3.8-liter V6 engine to produce 720 hp and 780 Nm of torque. It gets GT3 competition turbochargers, larger intercoolers, a reinforced crankshaft, pistons, connecting rods and bearings and a tailor-made exhaust system among other components. He uses a sequential six-speed dual-clutch transmission.
Alfonso Albaisa, Nissan's Senior Vice President for Global Design, said: "How many times will you ask," What if we were to create a GT-R without frontiers? This is a rare window of opportunity in which two great moments intersect: 50 years of Itdesign that shape the automotive world, and 50 years of Nissan creating excitement through our iconic GT-R To celebrate this convergence, Nissan and Italdesign have developed this custom GT-R to underscore their 50-year leadership in mechanical engineering, and while this is not the next generation GT-R, it's an exciting celebration of two anniversaries in a provocative and creative way – wrapping one of Nissan's best technical platforms and wrapping Japanese design with the Italian body shop. "
Source link