Surfers aren't the only ones who are interested in the amazing Noosa Festival. This eight days of pure joy have sparked the attention of everyone and completely turned Noosa upside down—from just a fishing village to a huge tourist hot spot. The local government in Noosa knew that their place had something special to offer. They have made sure to set aside 30% of the land just for national parks and protected areas. They have built a solid infrastructure to provide surfers with everything they might need in these magical eight days; from restaurants to hotels and national parks.
The Noosa Festival of Surfing is considered to be the home that brings surfing legends, tandem surfers, different people from all over the world—and even dogs—together for a week. It's considered to be a celebration of the spirit of surfing. Every surfer knows that it's not about the skill of riding a number of waves, the money, or how good you are. Even though this festival attracts more than 600 competitors from all over the world, many surfers view surfing as a non-competitive sport; they know that it's not about winning or losing. The spirit of surfing is in the mind and the heart of every surfer. Even people who are not interested in surfing are captivated by this magical journey; it's an event that will most definitely change your life.
The Spirit of Surfing
The essence of surfing can be seen and found in small daily gestures. There are some unspoken rules between surfers that everyone should respect. If you are still new to all of this, here are some of the general concepts that every surfer should adopt.
Surfers respect the sea not only because it̵

7;s the place that gives them the opportunity to enjoy their favorite activities, but they also respect it as the home to other living creatures. Protecting the beach should be the top priority of every surfer.

Every surfer should respect their fellow surfers.

Every single surfer is part of a bigger family. All forms of wave riding should be respected; from bodyboards, hand boards and skimming, to stand-up paddleboards, windsurf boards, and kiteboards.

As tourists, we should learn the local culture and traditions to avoid offending the locals. Respecting the values and the lifestyle of the place you are visiting is the responsibility of every foreigner.

Following the surfer protocol and etiquette is a must.
What is the Noosa Festival of Surfing?
The humble beginnings of this festival date back to the 90s. This beginning quickly took a huge turn, and the festival became one of the most popular events in Noosa, and probably in Australia. It started out as an amateur surfing competition by members of the Noosa Malibu Club. Back in 1992, it was called "The Noosa Malibu Classic," which only included longboarders. This name didn't change until the event grew to a higher level in 1996. After that, the festival kept growing until it included all forms of wave riding. Today, the vibes that art, music, yoga, dogs, and surfing give to the festival are incomparable.
The event starts early in the morning—around 7 am—and lasts until sunset—around 5 p.m. There is something so satisfying about watching surfers from different backgrounds and different skill levels compete. However, the festival is not only about surfing, but people also get to enjoy music, delicious food, and outstanding art exhibitions. After the event, people head to bars to party and enjoy the rest of their evening. This event doesn't only gather people from all over the world like Japan, the USA, France, and New Zealand, but it also allows special dogs to show off their talents. Fromwill find people of all age groups participating in this festival. From 15 years or younger and up to 80 years and more.
Surf Competitions In Australia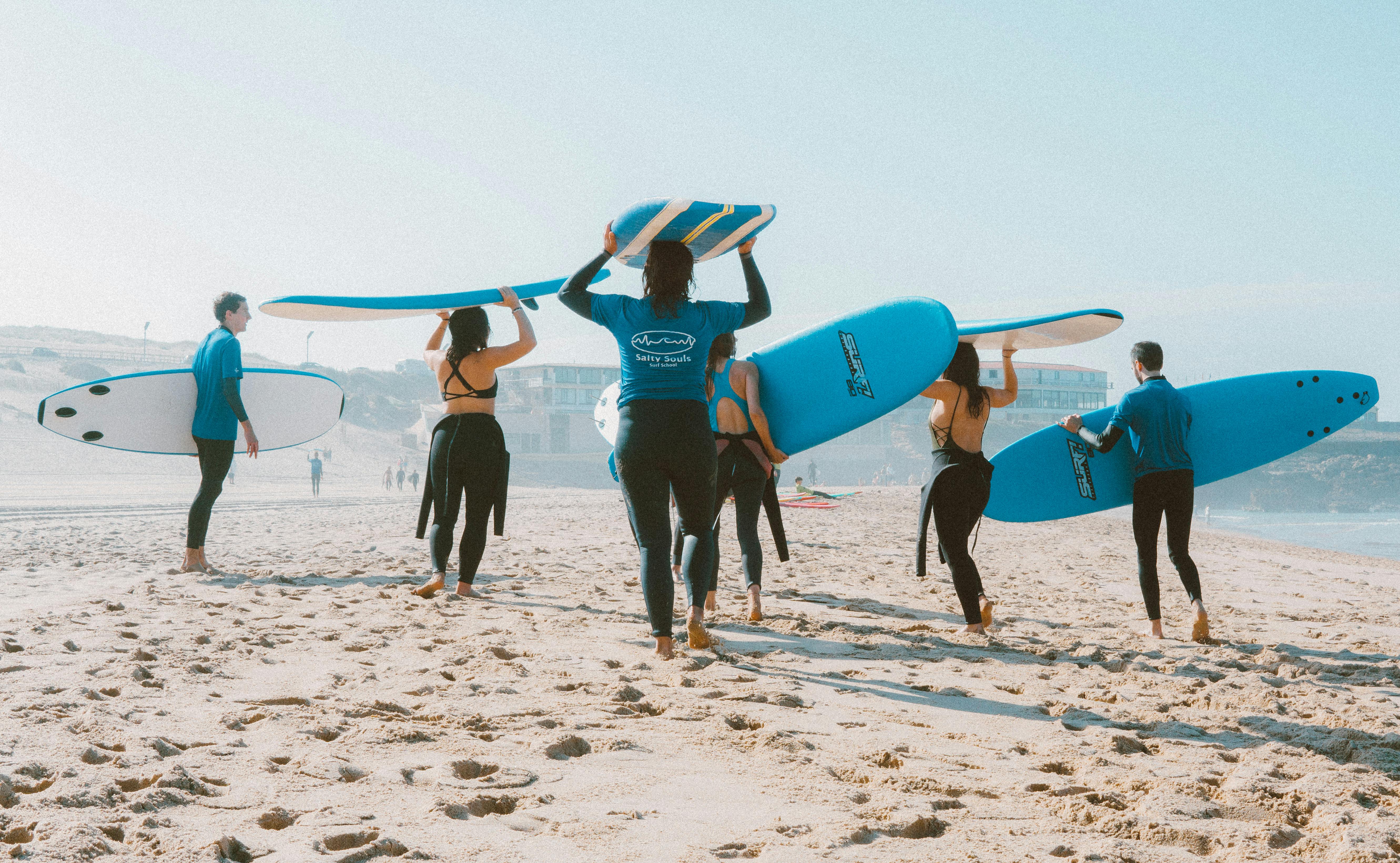 Competitors are categorized by age and gender. Women, for example, compete in groups of teenagers, young adults, other groups for the ages of 35 to 50, and various other specialized challenges. Men are also divided according to age groups; juniors and boys, 45 years and older, 55 and older, 65 and older, and other challenges. Each form of surfing is showcased over these eight festive days. The best spot for longboarders is the first point at Noosa Heads. This goes back to the breezes that come from the south and move around the tip of the Noosa National Park.
Have the Right Gear
Surfing equipment can easily be found in many shops located in the area. However, you will need to be prepared when it comes to your clothing as a surfer. If you are someone who likes to be prepared before any vacation, you can get help from a surf shop online to order whatever you need in advance. You will find surf accessories and hardware to suit any rider, in addition to men's gear, and a huge collection for women with all the necessities. Even if you are not into surfing, you need to be prepared, because beach entertainment and different activities are available to everyone.
Things You Didn't Know About the Noosa Festival of Surfing
Every March, people gather in Noosa to celebrate surfing and surfers. If this is your first time attending this event, then there are some basic things you need to know about the Noosa Festival.
It's an Event for Every Surfing Style:

There are eleven different special events. You will find borders defying gravity, boardless surfers, awesome surfing dogs, and more. Every form of surfing is celebrated and incorporated in the festival.
It's for Everyone:

Whether you are still 13 years old or a 70-year-old surfer, you will find a competition for you. Age isn't an excuse not to get up on your board and show off your talents.
You Don't Have to Have Surf Knowledge:

Whether you are a surfer or not, the Noosa Festival has something to offer to anyone and everyone. There are custom parties, 90-minute yoga sessions, Pilates and training sessions, bars, art exhibitions, music festivals, surfing documentaries, and many more activities that you can enjoy the beach. There are surf film festivals and workshops with tips on filmmaking, and the latest technologies. During these eight days, you can enjoy yourself by the beach and enjoy the feeling of sand on your body. After all, it wouldn't be a true beach experience without the sand and the sand castles.  
This Event Might Change Your Life:

There is something magical about being out there surrounded by nature. Surfers show respect to Mother Nature, and it gives back spectacular waves. The spirit of surfing can really be felt while you are in the middle of the water, riding waves. Some people have admitted that they have found themselves while being surrounded by all these positive and friendly vibes.
It Has the Coolest Prizes:

This is not just a chance for a fun break, it's also a chance to win a variety of cool prizes, like the mysterious surf holiday package to an unknown destination, offered by World Surfaris.
Surfing Tips
Whether you are just a beginner or you have been riding waves for as long as you can remember, there is always room for further improvement. With some time and effort, you can easily reach an advanced level of surfing. As a beginner, here are some valuable tips that will help you become better at surfing.  
Get the Right Surfboard
While surfing is an activity that is known to be cool with amazing surfboards, beginners tend to get the biggest and coolest-looking surfboards without thinking about whether it's the right one for them or not. The best way to determine if the surfboard is right for you is to calculate the necessary volume. You can use apps or websites to calculate the average volume that you'd need instead of doing a lot of math in your head. Surfboard volumes that are lower than the ideal are more sensitive and require a high level of control that most amateurs don't have early on. A higher volume surfboard is usually the most recommended one for beginners as they are easier to control and ride. You can paddle or catch huge waves easily using high-volume surfboards. As you progress, you can begin to pick other surfboards with lower volumes to put on an amazing show with great control and maneuverability.
Getting Familiar with the Board
Surfboards are made of materials that are naturally buoyant in the water: softwoods, hardwoods, or polyurethane. The key to achieving complete control over a surfboard is for your body's weight to be distributed in the right way, which means to be in the center of gravity. You want your body on the surfboard not to alter the surfboard's natural buoyancy without any weights on top as much as possible. A lot of beginners use an effective technique, which is marking a spot for their chin on the best or most balanced spot on the board for their body. The surfboard reacts differently to different positions: pearling—the surfboard's nose digging into the water—requires you to move your chin and body back a bit to get balanced; and working—placing too much weight on the back—can be quite impractical in catching waves.
Paddling Technique
You may be tempted to paddle with both hands as it provides the board with explosive speed, but the problem is that when you use both hands, your speed becomes inconsistent, slowing down and speeding up quickly. Your hull speed needs to be as constant as possible to be able to control the board and catch waves easily. The key is to paddle using a technique called crawl stroke. It will look like you're crawling with one hand pushing the water and the other alternating with it. This ensures that your speed remains constant as long as you keep paddling and that you don't waste your stamina, as it's much easier on the body to paddle consistently and alternatingly.
Sitting and Standing on the Board
Sitting and pivoting on the board is a very important technique to be able to collect information about the whereabouts of waves. Simply lying flat on the board can also make it quite hard to turn the board to catch waves in different directions. Naturally, it will take a few failed trials to get the natural balance on the board right; try your best to sit right behind the middle of the board. The key is to stay calm—this is very important for most surfing techniques as shakiness or not being still can make you very wobbly. With time, you learn to become calmer and less nervous on the board, which will translate into better maneuvering and control.
Standing up on the surfboard is the universal cue to start surfing and catching waves. Standing up is something we're all used to, but on the surfboard, you may need to make some tweaks. Make sure your chin is up, get into a push-up position, and then slowly get up with your upper body and get your legs under you, in the center of gravity. Make sure that you don't stand up with your back erect as you normally do; like a sumo wrestler, place your feet wide apart and press on the board. Don't look below at your feet and keep your hands above your waist, or else you'll probably fall into the water. Standing up on the board is one of the techniques that have a tougher learning curve than others, so make sure you have an expert by your side to watch your technique and tell you if you're doing anything wrong. Practice for hours until it becomes a natural movement.
Due to Australia's nature, the spirit of surfing has become embedded in its lifestyle. The abundance of Australia's beaches does not only offer normal beach activities and sunbathing, but some of the best waves for surfers. The Noosa Festival that only lasts for eight days fulfills the dreams of every surfer with surfing competitions of any kind, film festivals, music, art, and other beach activities to enjoy.