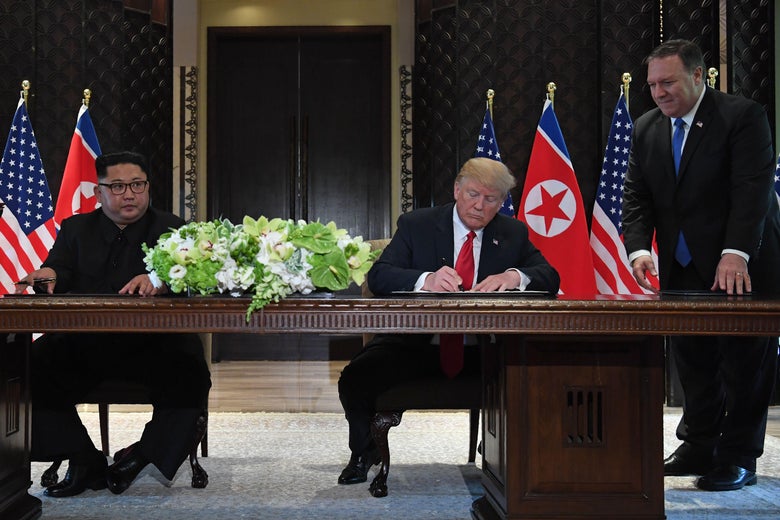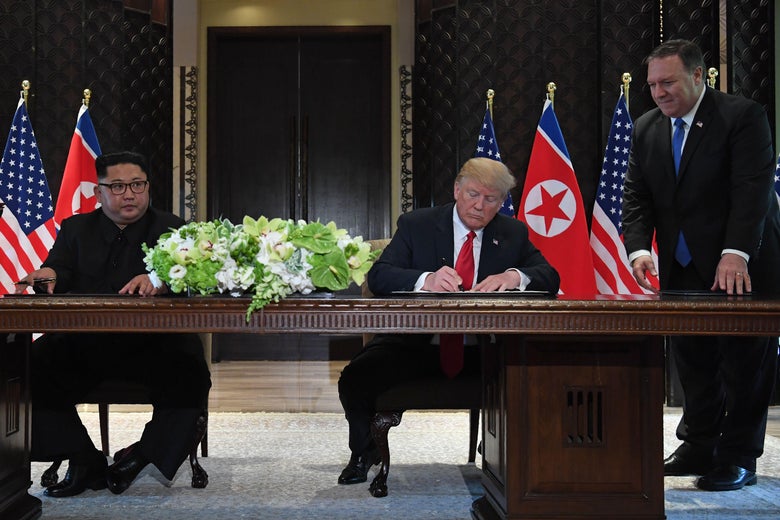 Before President Trump flies to his summits with the leaders of NATO, then with Russian President Vladimir Putin, the government has another, less profiled but no less tense diplomatic mission: one more Trip to Pyongyang in early July by Foreign Minister Mike Pompeo.
It will be Pompeo's first meeting with North Korean officials since Trump's June 12 summit with Kim Jong-un. The exact agenda is unclear – the fact that the meeting was reported by the Financial Times and attributed to four sources has not been announced by the State Department – but the main issue is likely to be North Korea's inaction in dismantling its nuclear arsenal.
As almost every outside observer at the time noted, the joint statement signed by Trump and Kim at their summit in Singapore is among the most authoritative documents in recent diplomatic history. In it, Kim promised to "work towards complete denuclearization of the Korean peninsula", but nothing was said about a timetable (neither to dismantle or declare nuclear weapons, as Kim now possesses nuclear weapons), nor verification procedures or even the definition of "denuclearization ".
Trump still trumpeted in a fog of victory from the summit, claiming that the two leaders had signed a "very, very comprehensive document" that North Korea was no longer a nuclear threat and that Kim – a man worthy of his "trust "- would start" de-nuking "immediately after his return to his homeland. Pompeo, by nature not so naive, swallowed a glass of Team Trump Kool-Aid and announced right after the Summit that more detailed talks would start within days and scream at a reporter who had the audacity to ask if a deal once hit, would be verifiable.
It would therefore be embarrassing if it turned out that the North Koreans had not taken a single step towards disarming or even serious negotiations in this area. But that is exactly the state of affairs.
It would be embarrassing if it turned out that the North Koreans had not taken a single step towards disarmament or even negotiations.
Highly regarded site 38 North, which detailed the analysis of North Korea's issues, released commercial satellite imagery on June 21, demonstrating that work – including infrastructure improvements – on the plutonium production reactor and the Yongbyon Nuclear Scientific Research uranium enrichment facility Centers continued and in some cases were accelerated.
The site's analysts pointed out that this work "should not be seen as a link to North Korea's denuclearization commitment," as the regime's "nuclear squad" can carry on as in Pyongyang. "
And that's the point: no such orders were issued – nor can they be expected in the foreseeable future, since the statement Trump and Kim signed is not at all an agreement.
Siegfried Hecker, a physics professor at Stanford University and a leading expert on North Korea's nuclear program, wrote in an e-mail to me: "The North Koreans have not said they would close the complex – and you have not. "
Hecker warned that the satellite imagery shows little, in one way or another, whether the North Koreans accelerate or slow down the production of nuclear weapons. The plutonium reactor may or may not operate at full power; The centrifuge plant could enrich uranium at a high or low level. This type of knowledge can only come from international inspectors who are authorized by an international agreement to be inside the facilities.
It is not only Pompeo's appointed negotiators who are close to reaching this agreement, but they have not broken North Korea's resistance to continue negotiations.
In the weeks leading up to the summit, US negotiators in the cable back to Washington complained that their North Korean counterparts were not moving on any vital issues – defining "denuclearization", setting schedules, revealing their current supplies, and so forth. The White House answered in effect: Take only the common explanation, forget the details . Trump wanted the summit, and he wanted it on June 12th. The North Koreans knew what gave them a lot of influence. Since the summit, Trump and Pompeo are even more eager to reach an agreement than Kim – and so the North Koreans remain and have no incentive to behave differently.
Back in Singapore, Trump also agreed to cancel the annual US South Korean military exercises to the surprise of the South Koreans and the Pentagon in exchange for new commitments from Kim. Pompeo and other officials noted that the strong economic sanctions against Kim's regime would persist until disarmament. But the United States has nothing to do with North Korea anyway, so the sanctions, whether sustained or suspended, have no effect. They had some influence when Trump – and before him President Obama – persuaded the UN Security Council to sanction the sanctions. Especially since the summit and the associated reduction of tensions, China and South Korea have significantly reduced the barriers. Goods of all kinds are moving in and out of North Korea; Trucks that were once inspected at the borders for prohibited materials are now being woken up for the most part without delay.
I've asked some former US officials who know about North Korea and arms control negotiations, how long Kim Trump could continue to make some feint and gestures toward disarmament – blowing up a test site, disassembling a rocket that has a few grams of plutonium exported – without doing or agreeing to anything meaningful. They estimated that he could maintain this for about a year before the game was inevitably clear.
This is why Pompeo flies to his summit the week before Trump (where the Allies fear he will insult the insults he had at the G-7 summit in Quebec) and Putin (where I'm afraid he will make such a blank agreement as Kim or perhaps even more dangerous.Pompeo's hope may be that Kim can be persuaded to make a gesture that at least promotes diplomatic progress then trump Trump into a triumphant triumph before settling in Brussels and the bear trap in Helsinki, but what will Kim demand for this favor and how long and at what cost of American prestige and security will the farce go on?
Source link