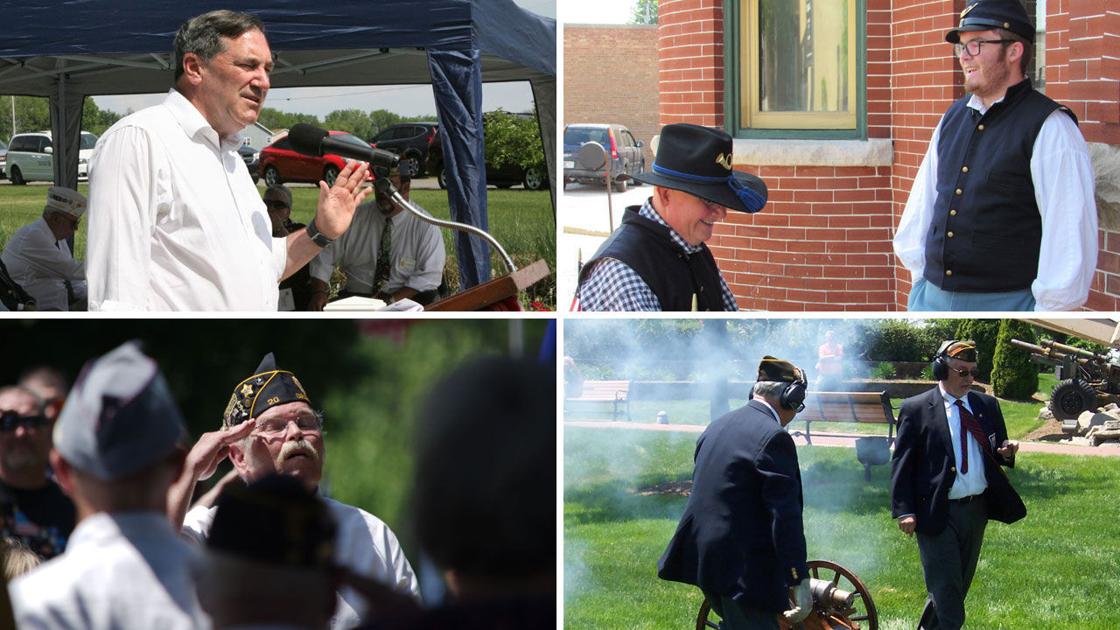 A lone chair on the stage of the Memorial Opera, decorated with soldier's uniform, hat and sword of the Civil War, represented the "soldier who never came home."
The historic opera house was the scene of a morning commemoration Memorial Day in Downtown Valparaiso
Members of the South Shore Orchestra's string quartet played tunes of the time, including Stephen Foster's "Jeanie with Light Brown Hair" and "Oh Shenandoah" between Gettysburg Address and General Order readings The Narrator Bernard Doyle said Indiana was the first state to form a complete company of soldiers to fight in the Civil War.
"Many locals have made the highest sacrifice," said Doyle, a camp member. "They have laid the foundation for the place we call home today."
At the conclusion of the indoor program, sponsored by members of David D. Porter Camp No. 1
16 Sons of the Union Civil War veterans, spectators posted outdoors to watch the garment-clad members of the camp, three salvos in the To shoot air and to listen to taps.
An afternoon performance of the Valparaiso Community / University Concert Band was highlighted by patriotic songs and a reading of the Sullivan Ballou Letter, read by the ancestor Everett "Budd" Ballou from Valparaiso.
Sullivan Ballou, an officer of the Union Army, wrote the letter in 1861 to his wife Sarah. Sullivan Ballou died a few weeks later of the injuries he suffered in the first battle of the bull run. The letter became famous after being cited in 1990 in Ken Burn's documentary "The Civil War."
"My dear Sarah", Budd Ballou read. "The signs are very strong that we will be moving in a few days – maybe tomorrow, so that I can not write again, I feel compelled to write a few lines that may fall under your eye when I'm no longer there
More than 200 people participated in the performance, including Barb Thomas, Kathie Kraszyk, and Joan Smith, who used the concert to relax after a service, dinner, and admissions.
Kraszyk, a new concertgoer, said the music was "stirring", while Thomas, who was present The concert over the past few years, said the event is "fantastic."
"I do not know how to explain it," said Thomas from Valparaiso. "The music just makes something for you."
– Susan O'Leary, Times Correspondent
Source link