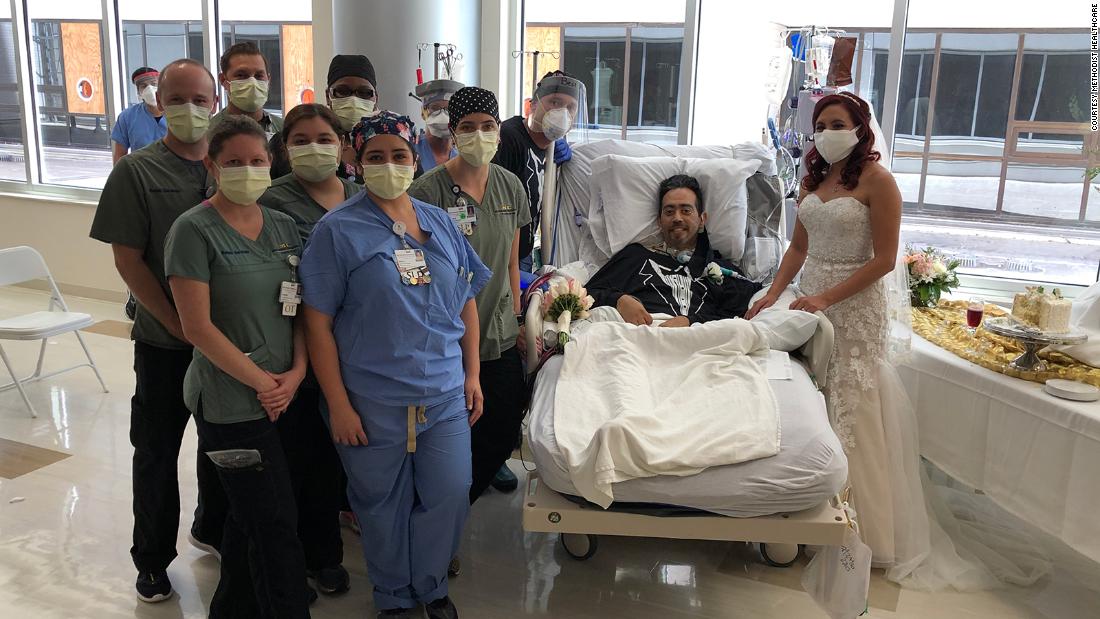 Carlos Muniz and Grace Leimann were due to get married in mid-July when their wedding plans were put on hold, according to hospital staff after Muniz contracted the virus.
The future groom was admitted to the San Antonio Methodist Hospital on July 15 and was in the hospital's Covid-19 department for almost 10 days before his situation worsened and he was transferred to the intensive care unit. There, according to the hospital staff, he was put on an ECMO machine as the last effort to save his life.
As soon as Nurse Matt Holdridge found out about his patient's canceled wedding ceremony, he immediately got the idea for a hospital wedding. Since caring for a patient̵
7;s emotional needs often helps in physical recovery, the nurse said he knew he had to hold a wedding to keep his struggling patient in battle.
"The ball rolled from there. Lots of people volunteered for it. Before you knew it, every nurse on the unit knew about it and was trying to find ways to make it more special," Holdridge said.
In the days after Muniz learned his wedding plans were revived, his condition began too.
"We were able to remove his feeding tube and he could eat and drink on his own … everything about his overall picture kept getting better," said Holdridge.
To prepare for the big day, Holdridge bought matching tuxedo t-shirts for himself and the groom and told the patient he would be his best man. Muniz agreed.
On Tuesday, August 11, the happy couple was married at a socially distant wedding that was attended by immediate family and hospital workers who had helped care for Muniz over the past month. Cute wedding instruments played while nurses rolled the grinning groom down a corridor in his hospital bed to wait for his beautiful bride.
"I don't think there was a dry eye in the room, considering everything he went through and what he went through to get to this point," said Holdridge. "It was a pretty magical event."
At the end of the ceremony, the bride thanked her families for their support and the hospital staff for their dedication to their patients.
"I know you have a difficult job. But just know that many people value you," she said.
Holdridge said the wedding meant a lot to hospital staff, who also faced difficult times during the ongoing pandemic.
"We needed this as much as she did," he said. "It was a great motivation for our employees to continue fighting for our patients and our community here."
Muniz has continued to improve, Holdridge said. The day after the wedding he was able to move from his bed to a chair for the first time. Muniz was taken off the ECMO machine early on Friday morning.
Source link